OGX DMDM Hydantoin Facebook Post
Claim
Consumers should avoid OGX products due to the presence of DMDM hydantoin, as the brand was sued over its formulations.
Like this fact check?

Reporting
On July 5 2021, a Facebook account shared a post warning people about OGX brand shampoo and DMDM hydantoin, writing:
**UPDATED**
If you are not aware, these are some of the OGX shampoos that Johnson & Johnson is being sued over. They have a chemical called DMDM hydantoin, which is a base component in formaldehyde. It can cause scalp irritation and hair loss as well as being a known carcinogen.

*Edit did not expect this to go as far as it did, but here are the shampoos and conditioners and to clarify what DMDM hydantoin does. It is a preservative known to slowly leach formaldehyde when it comes into contact with water

[Link]

products listed in the lawsuit.

OGX Biotin + Collagen Shampoo
OGX Biotin + Collagen Conditioner
OGX Renewing Argan Oil of Morocco Shampoo
OGX Renewing Argan Oil of Morocco Conditioner
OGX Anti-Breakage and Keratin Oil Shampoo
OGX Anti-Breakage and Keratin Oil Conditioner
OGX Detox + Pomegranate & Ginger Shampoo
OGX Detox + Pomegranate & Ginger Conditioner
OGX Marula Oil Conditioner
OGX Nicole Guerriero Midnight Kisses Shampoo
OGX Nicole Guerriero Midnight Kisses Conditioner
OGX Nicole Guerriero Mistletoe Wishes Shampoo
OGX Nicole Guerriero Mistletoe Wishes Conditioner
OGX Nicole Guerriero Ice Berry Queen Shampoo
OGX Nicole Guerriero Ice Berry Queen Conditioner
OGX Extra Strength Hydrate & Repair and Argan Oil of Morocco Shampoo
OGX Extra Strength Hydrate & Repair and Argan Oil of Morocco Conditioner
OGX Ever Straightening and Brazilian Keratin Therapy Shampoo
OGX Ever Straightening and Brazilian Keratin Therapy Conditioner
OGX Kandee Johnson Candy Gumdrop Shampoo
OGX Kandee Johnson Candy Gumdrop Conditioner
OGX Kandee Johnson Frosted Sugar Cookie Shampoo
OGX Kandee Johnson Frosted Sugar Cookie Conditioner
OGX Kandee Johnson Sparkling Cider Shampoo
OGX Kandee Johnson Sparkling Cider Conditioner
OGX Quenching + Coconut Curls Shampoo
OGX Quenching + Coconut Curls Conditioner
OGX Hydrate + Defrizz and Kukui Oil Conditioner
OGX Youth Enhancing + Sake Essence Conditioner
A photograph of eight OGX shampoos was attached to the DMDM hydantoin warning, and a link included with the post led to a Justia.com "Dockets & Filings" page for a lawsuit brought by an individual against OGX's parent company, Johnson & Johnson.
Like other popular Facebook advisories, the post referenced a common product (OGX shampoo), a nefarious-sounding ingredient (DMDM hydantoin), and a pending lawsuit. Several of the elements included background or context, which we'll look at piece by piece.
What is OGX Beauty?
OGX is a retail-market (not sold in salons) hair care line, with formulations based on ingredients such as argan oil or coconut nilk:
Cold hands, soft hair. Our Argan Oil of Morocco shampoo, conditioner and oil helps renew, soften and strengthen your hair. #xoOGX pic.twitter.com/TO3XLwWWUe

— OGX Beauty (@OGXBeauty) February 10, 2017
An October 2017 Forbes profile described OGX's beginnings as a drugstore brand:
After a two decade-long game of trial-and-error, [Founder Todd] Christopher finally released OGX in 2006. Without a multi-million dollar budget or access to famous spokesmodels, Christopher focused on the point-of-sale moment, as he calls it. That meant attracting buyers at the shelves, when they are making the split-second decision on a purchase. "Our bottle needed to speak to and catch the attention of our consumers."

The OGX bottles are short and squat, boldly-colored in matte tones. The front has curly text to the brim, richly describing its ingredients in a story-like narrative. A few ingredients include coconut milk, Brazilian keratin therapy, argan oil of Morocco and soft & smooth shea.
In a previous section of the article, Forbes reported:
… Christopher has snipped and cut his way into The Forbes 400 list of the richest Americans with a net worth of $2.1 billion. He started selling hair-care products in the mid-80s out of the trunk of his car and grew it into Vogue International, a beauty powerhouse, releasing brands such as FX Styling, Proganix, Maui Moisture and his biggest hit, the monochromatic bottles of OGX. He sold a 49% minority stake to private equity firm The Carlyle Group in 2014. Two years later in July 2016, Christopher and Carlyle sold the entire company to Johnson & Johnson for $3.3 billion. Not bad for a high school dropout, only one of two in The Forbes 400.
What is DMDM Hydantoin?
ChemicalSafetyFacts.org described DMDM hydantoin as a common preservative in personal care products:
DMDM hydantoin is a "formaldehyde donor," which means that to work as a preservative and antimicrobial, it releases small levels of formaldehyde throughout the shelf-life of a personal care product or cosmetic product. According to the Personal Care Products Council, preservatives such as DMDM hydantoin that "slowly releasing small, safe amounts of formaldehyde over time" help prevent harmful mold and bacteria. A recent safety assessment published in the International Journal of Toxicology reaffirmed that formaldehyde can be used safely in cosmetics if established safety limits are not exceeded.

The Cosmetic Ingredient Review (CIR), an independent expert scientific panel established by the Personal Care Products Council, also has evaluated the scientific data and concluded that DMDM hydantoin is safe as a cosmetic ingredient at current levels of use –  0.074 percent, or less. In 2005, the CIR Expert Panel considered available new data on DMDM hydantoin and reaffirmed its safety conclusion.

The Cosmetics Directive of the European Union also has approved DMDM hydantoin as a preservative in cosmetics and personal care products at a maximum concentration of 0.6 percent.
The Environmental Working Group (EWG), whose claims have been occasionally characterized as "alarmist" or "misleading," maintained a consumer guide for DMDM hydantoin. That site also described the preservative as a "formaldehyde releaser," but a three-part risk-level chart did not identify it as particularly carcinogenic:

Directly underneath that, a dropdown table provided counts for the number of products known to contain DMDM hydantoin: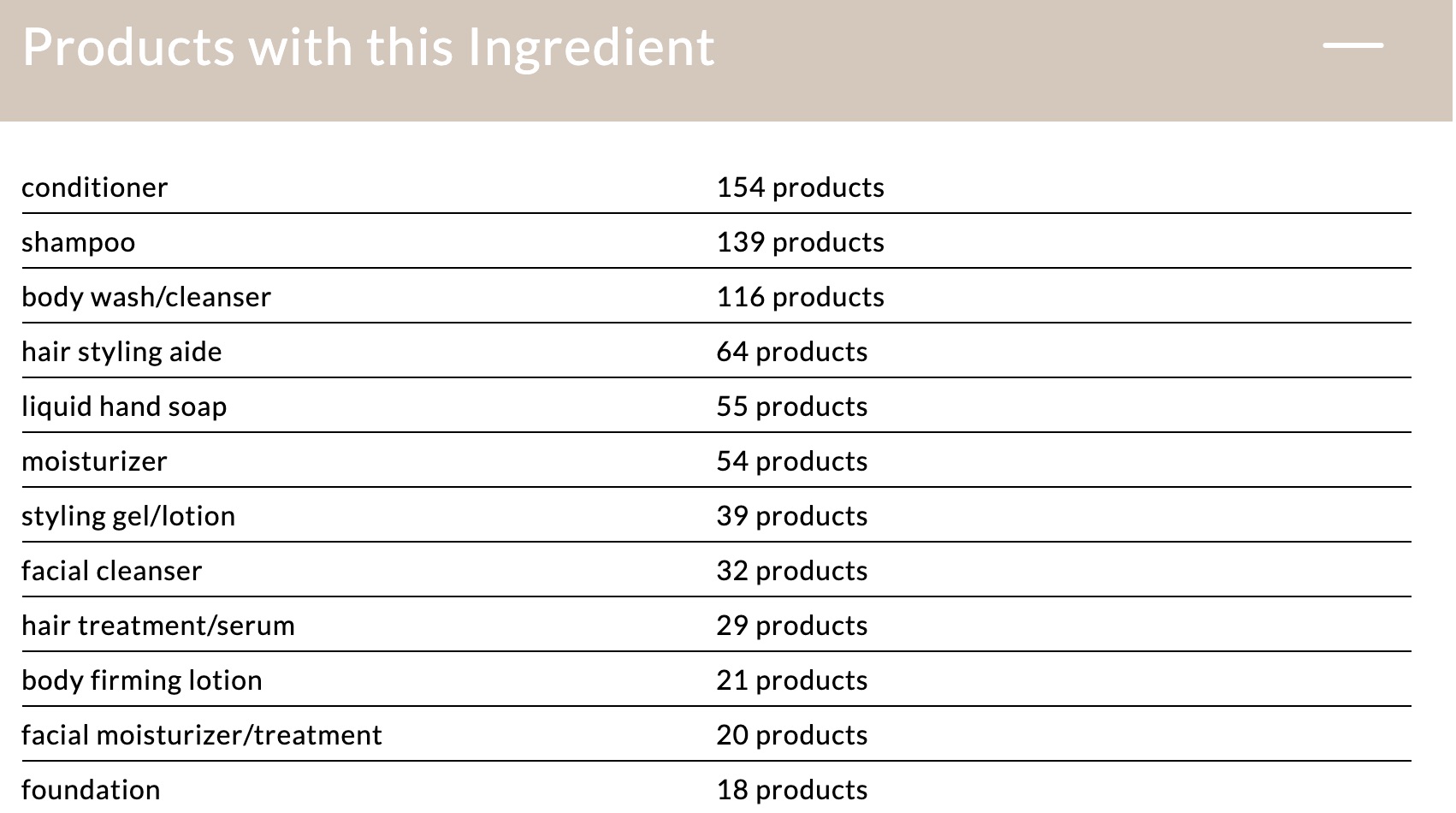 "Conditioner" was the largest number (154 products containing DMDM hydantoin), followed by "shampoo" (139 products) and "body wash/cleanser" (116 products). EWG also provided a list of products containing DMDM hydantoin, from "best" (presumably the lowest levels) to "worst."
Sorting by "best" led to a page of products, several of which were OGX brand — at that same numerical ranking of "four" were products by brands including Axe, Neutrogena, VO5, Suave, Nexxus, Paul Mitchell, and Tresemme. Products by Dove and TIGI were ranked at a higher "five" than the OGX products on the first page.
Contrast that with a July 6 2021 WZTV report about the suit, which cited Neutrogena as an example of a successful formulation without DMDM hydantoin:
With the success of owning more than 250 subsidiary companies with brands like Neutrogena, Johnson's and Tylenol, Whipple is asking why Johnson & Johnson kept using DMDM hydantoin as a preservative for more than a decade instead of using alternatives like derivatives of glyoxylic acid, sorbic acid, rosemary oil extract, lavender oil or grapefruit seed extract.
Immediately, it was quite clear that OGX was not unique in its usage of DMDM hydantoin, and that the preservative was present in a large number of popular brands.
Why Do So Many Brands Use DMDM Hydantoin?
According to cosmetics industry expert Paula Begoun, DMDM hydantoin is generally considered safe in personal care products:
[DMDM hydantoin is a] Synthetic, formaldehyde-releasing preservative that has mixed research on its potential to aggravate skin. Despite its connection to formaldehyde, the Cosmetic Ingredient Review Board has confirmed the safety of this preservative in three separate reviews, each spaced several years apart.
On a separate page about formaldehyde-releasing preservatives, Begoun's site explained:
Common type of preservative found in cosmetics. Despite some claims, there is no higher level of skin reaction to formaldehyde-releasing preservatives than to other preservatives. In fact, there is a far greater risk to skin from a product without preservatives, because of the contamination and unchecked growth of mold that can result if no preservatives are used.
The Derm Review addressed the necessity of preservatives in products used on skin and hair:
… food isn't the only thing with a shelf life. Skincare and makeup have it too, which is [why] they often contain preservatives. CosmeticsInfo.org explains it this way. "Without preservatives, cosmetic products, just like food, can become contaminated, leading to product spoilage and possibly irritation or infections. Microbial contamination of products, especially those used around the eyes and on the skin, can cause significant problems. Preservatives help prevent such problems."
Shampoo and conditioner are traditionally dispensed through a pump or flip cap, but many of the personal care products intended for daily or frequent use are exposed to potential contamination each time:
Makeup and skincare can — and does — go bad for a variety of reasons. According to the US Food and Drug Administration (FDA), skincare products can degrade over time if they need to be scooped out with fingers, which introduces microorganisms as well as moisture, thereby making it easier for bacteria and fungi (yeast) to grow. The FDA notes that temperature changes and exposure to sunlight and air can cause products to smell, and change their color and texture.

So why are skincare products susceptible to breaking down? For one, they tend to be water based. According to a 2018 paper by Noureddine Halla, Isabel P. Fernandes and Maria Filomena Barreiro published in the National Center for Biotechnology Information (NCBI), "Water is an ideal growth factor for microorganisms… Cosmetics, like any product containing water and organic/inorganic compounds, require preservation against microbial contamination to guarantee consumer's safety and to increase their Shelf-life."

[…]

According to WebMD, it may be difficult to try and avoid formaldehyde completely. "A recent study commissioned by the Campaign for Safe Cosmetics in conjunction with the Environmental Working Group, found formaldehyde in baby lotion, baby bubble bath, and baby shampoo. The chemical was not an intentional ingredient but was a byproduct of the manufacturing process."
A subsequent section explained that bacterial contamination can be potentially dangerous for more than just cosmetic reasons:
Have There Been Any Major Issues With Bacterial Outbreaks in Skincare Products?

Yes. According to The New York Times, bacteria-contaminated facial lotions caused a small outbreak of blindness in the 1950s, which then lead to the use of parabens in cosmetics. Cosmetic and skincare recalls do occur. In 2019 Health Canada issued a recall for Herbivore Botanicals Pink Cloud Moisture Cream due to the possible presence of mold. In 2017 a lot of Beautycounter's Nourishing Day Cream contained the bacteria Pluralibacter gergoviae, and the company issued a voluntary recall. In 2018 the US FDA, along with the Centers for Disease Control and Prevention (CDC) investigated a multistate outbreak of B. cepacia infections linked to Medline Remedy Essentials No-Rinse Cleansing Foam, which was recalled.
As widely indicated, preservatives like DMDM hydantoin are not present in formulations for no reason; they are used to prevent products from becoming contaminated in humid bathrooms after they are opened.
What About the OGX Lawsuit? Does DMDM Hydantoin Cause Hair Loss?
In the initial complaint filed in June 2021, the plaintiff alleged that Johnson & Johnson, which acquired OGX in July 2016, marketed OGX as a product which improves the texture and appearance of hair.
In the suit, the plaintiff stated DMDM hydantoin was the cause of hair loss, and as such, the claims were misleading: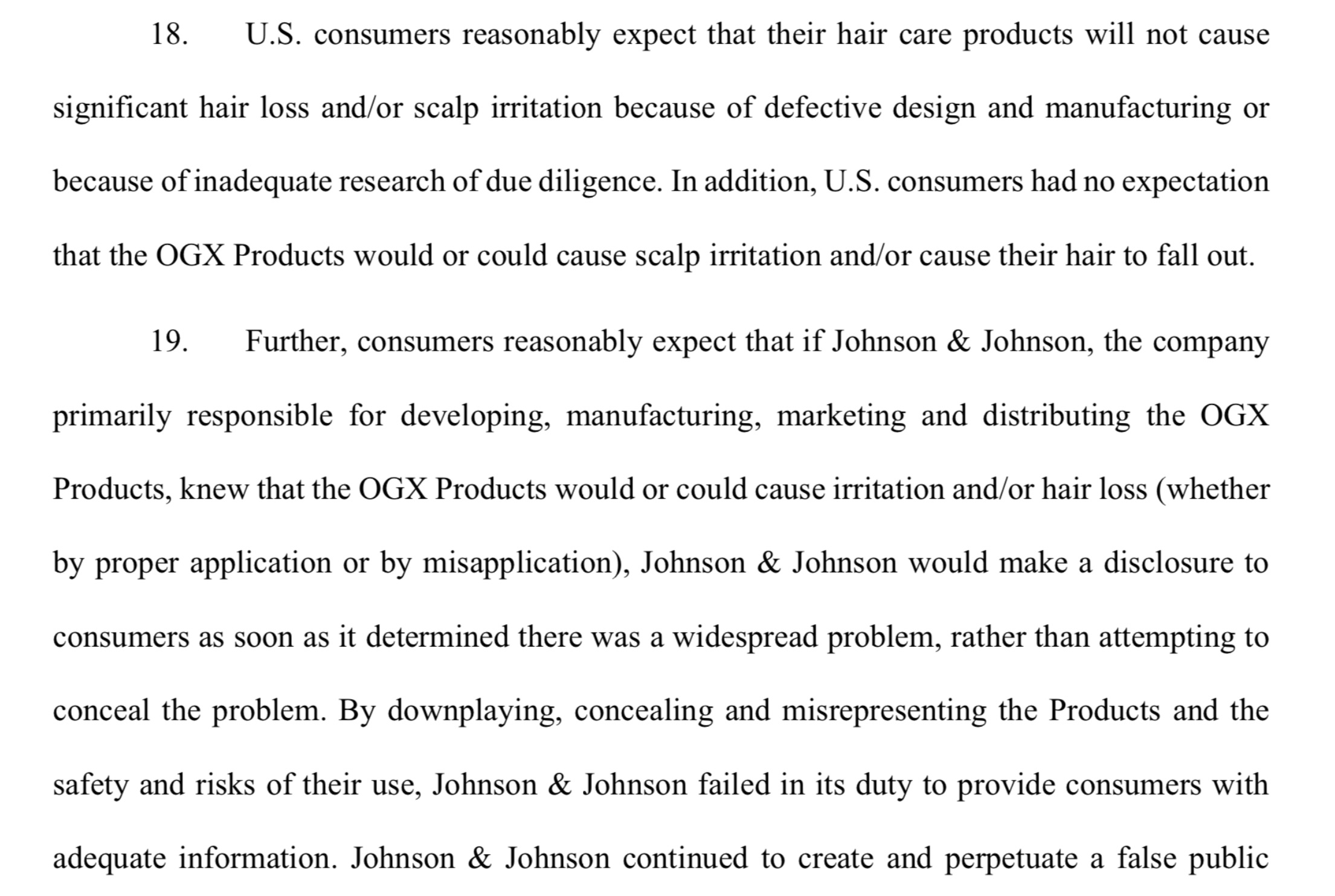 A July 6 2021 item published to a cosmetics trade site about the lawsuit addressed the suit and similar efforts:
The products are marketed to nourish, smooth and revive hair but according to Plaintiff Larissa Whipple, the products "falsely represent" those claims with their combination of ingredients including DMDM hydantoin, which has previously been alleged to cause hair loss and scalp irritation upon contact with water.

Previous DMDM Hydantoin Allegations

A previous suit was filed against Unilever/​Conopco for its DMDM hydantoin-containing TRESemmé Keratin Smooth Color Shampoo, to which industry expert Perry Romanowski, a consultant and former formulator on the TRESemmé brand, responded, "…There is zero scientific evidence to indicate DMDM hydantoin would cause any hair loss."

The ingredient is a formaldehyde donor and is used to preserve formulations. Romanowski noted that numerous hair care brands use the ingredient in formulas and have done so for decades. "If this ingredient was causing hair loss problems, certainly the ingredient would have been noticed by consumers long before now.
With respect to the lawsuit's status, the site reported:
Currently [as of July 6 2021], the suit is still under review, meaning there's nothing consumers need to do to join the lawsuit. It will take time before a lawsuit reaches the point where consumers need to take action by filing a claim, which occurs if and when a settlement is reached.

If the case moves forward and settles, those affected will be able to join and should receive notice of the settlement with instructions on what to do next.
In March 2021, beauty-focused site Byrdie published "Here's What Dermatologists Think About 'Bad' Hair Ingredients," addressing scarelore on social media (among other things):
In the age of the influencer, it only takes one negative review for an ingredient or product to be baselessly written off (and for brands to adjust their marketing jargon accordingly). But we have to keep in mind that for certain ingredients, the very reason they don't work for one hair type is what makes them so successful for another … after conducting thorough research and interviewing two board-certified dermatologists and a trichologist, we've discovered that a lot of "bad" haircare ingredients actually have a rightful place in certain formulations.
Byrdie ultimately examined eight ingredients frequently described as dangerous, with formaldehyde at number five and DMDM hydantoin at number six; each ingredient had its own section. Although consumers were advised to avoid formaldehyde if possible, the DMDM hydantoin section was different:
DMDM Hydantoin, also known as a formaldehyde donor, is an odorless, crystal-like substance that works as an antimicrobial agent, Dr. Markowitz explains. It is used as a preservative in personal care products to prevent the growth of bacteria. DMDM Hydantoin has received a lot of attention recently, as many consumers discovered it was a chemical that can release formaldehyde during use. Consumers reported experiencing hair loss after using products, like shampoo and conditioner, that contained DMDM Hydantoin.

The Verdict: [Dermatologist Dr. Orit] Markowitz cautions that it has a bad reputation because it has been linked to hair loss and several haircare brands have had lawsuits filed against them where hair loss has been claimed. She says it has also been linked to dermatitis, so she advises that "If you have a history of skin diseases like eczema or other skin allergies, it may be best to steer clear from products with DMDM Hydantoin, however there is no scientific data of any long term side effects." [Trichologist Gretchen] Friese adds that "According to scientific research DMDM hydantoin is however a safe cosmetic ingredient when used at regulated levels. The amount of formaldehyde released from DMDM hydantoin is about the equivalent to the amount that naturally occurs in one medium sized apple or pear."
In the broader context of safe formulation of cosmetics and personal care products, experts concurred that average consumers without pre-existing sensitivities were not at risk due to the presence of DMDM hydantoin. It was described as a "safe cosmetic ingredient."
Moreover, Friese stated that the amount of formaldehyde released during standard usage of personal care products was similar to the "amount that naturally occurs in a medium sized apple or pear."
Summary
A widely-shared July 2021 Facebook post claimed OGX products contain "a chemical called DMDM hydantoin, which is a base component in formaldehyde," and it can cause scalp irritation and hair loss "as well as being a known carcinogen." DMDM hydantoin is an antimicrobial formaldehyde releaser preservative, not "a base component in formaldehyde," and it is generally considered safe and necessary by experts in formulation. Cosmetics expert Perry Romanowski addressed DMDM hydantoin concerns in reporting on the lawsuit, explaining that myriad hair care brands have used DMDM hydantoin for decades.