Claim
A member of the Okeechobee County Commission in Florida promoted a claim that using a blow dryer could cure people of COVID-19.
Reporting
A member of a small county commission in Florida became an online laughingstock after video spread of him endorsing a widely-debunked cure for COVID-19 (a.k.a. the "coronavirus") by a right-wing "news" outlet to his colleagues.
During the March 20 2020 meeting, Okeechobee County commissioner Bryant Culpepper reassured his colleagues that his information was legitimate because he saw it on One America News Network (OAN or OANN), which he described as "the new Fox News."
"There's a lot of baloney out there on social media. You've gotta be really careful. But I only brought it up because it came from a pretty reliable source," Culpepper said.
According to a story he saw on the channel, he said, an OAN guest claimed that it was possible to beat COVID-19 by training a hair dryer on one's face at a temperature of 136 degrees Fahrenheit. (This is not true.)
"In this interview with one of the foremost doctors who has studied the coronavirus, [he] said that the nasal passages and the nasal membranes are the coolest part of the body," Culpepper said. "That's why the virus tends to go there until it then becomes healthy enough to go into the lungs." (This is also not true.)
But using the hair dryer, he said, would cause the virus to fall apart. "You hold a blow dryer in front of your face and you inhale with your nose, and it kills all the viruses in your nose," Culpepper claimed, falsely.
He also indirectly promoted the "cure" on his own Facebook page, linking to local coverage of the meeting without mentioning that it covered his remarks: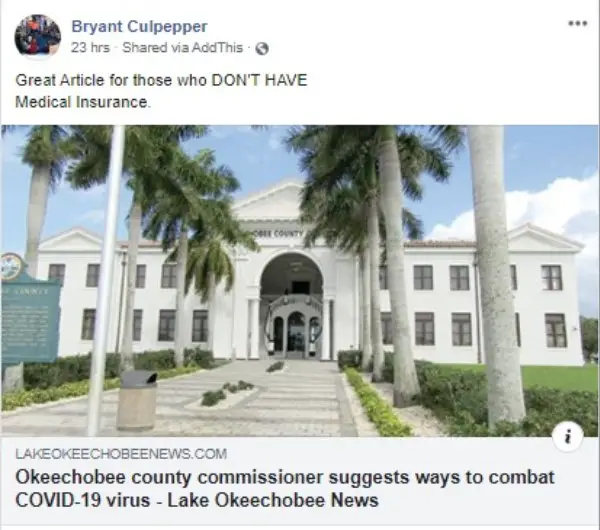 The claims that he said OAN and the "foremost doctor" were promoting have been roundly and completely debunked. And in reality, OAN is far from "pretty reliable." In fact, as the media analysis site Media Bias/Fact Check reported in reviewing the California-based channel, it's exactly the opposite:
We rate One America News Far right biased based on story selection that consistently favors the Right and Mixed for factual reporting due to promotion of conspiracies, lack of sourcing and a few failed fact checks. OAN is one failed fact check away from moving to the Questionable Source list.
The review cited an AdWeek story saying that staff members felt that the channel's billionaire founder, Robert Herring Sr., had become a "de facto news director" who pushed OAN into becoming supportive of United States President Donald Trump's run for office in 2016:
According to internal emails, Herring has directed his channel to push Trump's candidacy, scuttle stories about police shootings, encourage antiabortion stories, minimize coverage of Russian aggression, and steer away from the new president's troubles, according to more than a dozen current and former producers, writers and anchors, as well as internal emails from Herring and his top news executives.
Besides getting local coverage, Culpepper's attempt to paint the "blow dryer" cure as legitimate was shared on social media:
Okeechobee County Commissioner Bryant Culpepper at emergency meeting says you can kill coronavirus by holding a blow dryer up to your nose after he saw it on "reliable source" OANN, warns "there's a lot of baloney out there on social media" #BecauseFlorida pic.twitter.com/n9dGDBQ4WW

— Billy Corben (@BillyCorben) March 22, 2020
According to the Friendly Atheist blog, which covers religious affairs, Culpepper reacted angrily at first to the criticism:
No one is holding a gun to your head to do anything you do not want to do but for some they don't have alot [sic] of options. All this wonderful Science you believe in yet Thousands die everyday from Cancer, Lukemia, ALS so why haven't they been cured with all the Scientist working on for years
Go ahead laugh all you want and feel like fools when I am proven Right.
However, he apologized on his Facebook page on March 22 2020. "I am Heartfully Sorry for comments I made on Social Media," he wrote:
I was only trying to give comfort to those in Okeechobee who have no insurance to treat there [sic] families. I should have ignored the comments that I perceived as hateful and the embarrassment I caused to my Fellow Commissioners and our Administrator And [sic] her staff. I will not offer anymore suggestions unless they are tried and proven.
Given the huge amount of disinformation circulating both on and off social media and the credulity with which certain officials are repeating it, it is probably best to receive health guidance from medical experts, not public figures without expertise who regularly quote ideas from far-right television networks without credibility.