Photo of First Lady and Daughters at the Olympics- Fiction!
 
Summary of eRumor:
 
This is a forwarded emails that contains a photo of First Lady Michelle Obama with daughters, Sasha and Malia.  The email alleges that the photo was taken at the 2012 Olympics in London, England and that the daughters of the President are wrapped in flags from South Africa.
 
The Truth:
The photo of Michelle Obama with her daughters Sasha and Malia is real but it was not taken at the 2012 Olympics.    According to a June 20, 2011 article in Chicago Sun Times the image was taken June 18, 2011 when they landed in South Africa.    Also accompanying the First Lady on this trip. to Johannesburg and Cape Town, South Africa and Gaborone, Botswana were her mother, Marian Robinson, and Leslie and Avery Robinson, the children of her brother Craig.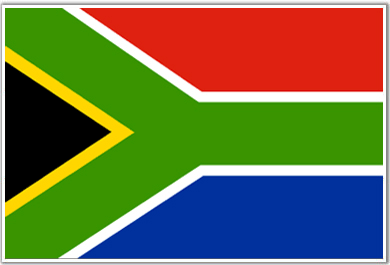 The Obama girls are not sporting South African flags either. The article said that Sasha and Malia Obama were given "South African blankets with colors of the nation's flag by young children of the protocol officer as a welcome" and to keep them warm on that chilly night.
The official South Africa flag, as shown in the image on the left, has no writing on the surface.
Updated 09/08/12