Order an Angel Shot at the Bar for Help-

Truth!

&

Fiction!
Summary of eRumor:
Women can order an angel shot at bars to signal to staff that they need help getting out of a bad situation with a date.
The Truth:
At least one restaurant in St. Petersburg, Florida, offers angel shots for customers to signal for help — but ordering an angel shot isn't a universal distress signal that bar staff everywhere will understand.
The concept of ordering angel shots at bars to signal for help gained widespread attention after the Tampa Bay Times published an article on December 29, 2016, under the headline, "St. Petersburg Restaurant Wants to Help Women Escape Bad Dates," that reports:
Iberian Rooster, a Portuguese fusion eatery that opened on Central Avenue in November, placed the framed sign in the women's restroom the day it opened.
"The goal for this place was to be a safe place where people can go on a romantic date," said owner Russell Andrade. "We don't want someone else to ruin a good a time."
If a guest feels unsafe and needs help, the sign encourages them to order an angel shot at the bar or through their server at their table. That code will alert staff that someone is in need, Andrade said. The Iberian Rooster staff take this policy seriously, he added.
If a guest orders an angel shot neat, a bartender will escort them to their car. If they order it with ice, the bartender will call an Uber or a Taxi. Order it with lime and the restaurant staff will call the police.
The angel shot concept isn't a new one, either. Andrade said he got the angel shot idea from the "Ask Angela" movement in England that gained attention in November 2016. Fliers  posted in restaurants and bars advised patrons to "Ask for Angela" if they were in a situation that needed to be defused by bar staff: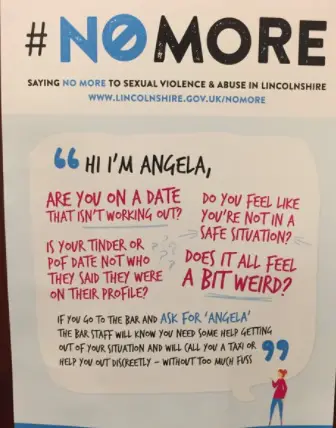 Like ordering an angel shot, the BBC reports, Ask Angela was designed to help women subtly escape from potentially dangerous situations:
It encourages people to discreetly ask for help by going to the bar and 'Ask for Angela' – a phrase aimed at alerting bar staff to the cry for help so they can help defuse the situation.
The poster also includes a phone number for Lincolnshire Rape Crisis for anyone who needs to talk.
One of the posters was tweeted by IZ (@iizzzzzi ) and has since gone viral and retweeted more than 28,000 times.
It is the work of Lincolnshire County Council and has even caught the attention of Hollywood.
The angel shot and Ask Angela movements can be helpful for women who feel endangered or just plain awkward on a date — but they should be approached with caution. Women shouldn't assume bar staff will know what an angel shot means. Also, if the movement were to become too widespread, everyone would know what ordering an angel shot meant — including perpetrators who women might be trying to flee.
So, while it's true that ordering an angel shot at a bar in Florida signals to staff that you need help — we aren't aware of any other bars taking similar steps by offering angel shots at this point. That's why we're reporting this one as truth and fiction.