Oregon State Leaves Donald Trump off Ballots-Fiction!
Oregon State Leaves Donald Trump off Ballots-Fiction!
Summary of eRumor:
Donald Trump's name does not appear on ballot for the 2016 presidential election in Oregon, instead Hillary Clinton's name appears twice.
The Truth:
Donald Trump's name has not been left off voter ballots in Oregon.
That rumor started as a joke by Twitter user John Lussier who tweeted a picture of what appears to be a ballot that appeared to show Hillary Clinton's name listed twice with the comment, "The Oregon state ballot doesn't even bother with putting Trump on as a choice for president this year!!"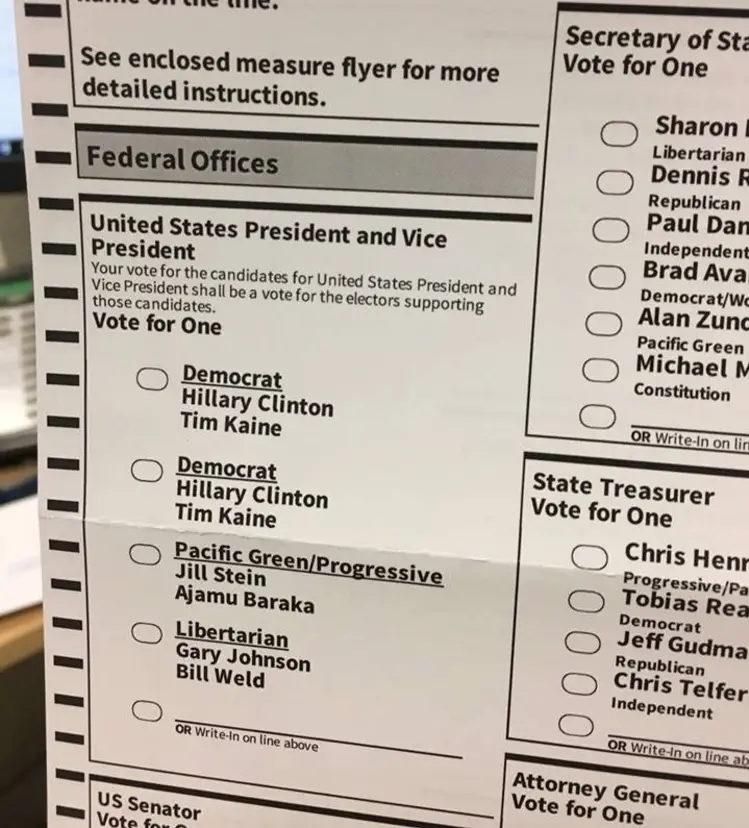 Trump supporters and right-wing websites quickly shared the original tweet. The site Red State Watcher ran the story under the headline, "Breaking: Look What Oregon State Did to Their Ballot," that fueled rumors that the election was rigged.
But within an hour, Lussier deleted his original tweet and tweeted that it was nothing more than hoax:
The Oregon Secretary of State's Office said it had launched an investigation of the hoax and would establish whether Lussier had violated any of the state's election laws.
For his part, Lussier explained why he perpetrated the prank in an statement provided to NBC affiliate KGW:
 "A friend photoshopped that ballot image and posted in on Facebook. I shared it on Twitter and tagged some influential folks from the #TrumpTrain on Twitter — I wanted to see their reaction. I was not expecting so many retweets and shares. I'm now getting all kinds of replies: "Look, this all is rigged!" "Can this be real?" "My ballot has Trump on it!" After it took off I wanted to make sure folks knew it was fake, but by then it was too late. I'm not sure whether to delete the tweet, or continue replying to people letting them know, "Hey this was a hoax. You can't trust everything you read or see and we're each responsible for checking on the information we pass on." It's shocking to me how much traction this has. Folks are clearly worried about this election, and this kind of hoax resonates with their worries. At the end of the day I hope this causes people to look a little more carefully at what they're spreading, and to get out and vote responsibly. I'm glad people are finally looking at their ballots."
So, given that the original source of this rumor has admitted that it was a hoax, and that the Oregon Secretary of State's Office has confirmed as much, we're calling it "fiction."
---
A real example of the eRumor as it has appeared on the Internet: Collected on: 10/24/2016