Pembroke Pines 'Don't Say Gay' School Walkout
Claim
A TikTok video shows a March 2022 school walkout in protest of Florida's "Don't Say Gay" bill.
Like this fact check?

Reporting
On March 22 2022, Twitter user @diabeyonce shared a purported video showing high school students conducting a protest walkout against Florida's controversial "Don't Say Gay" bill:
i am in full blown tears dude pic.twitter.com/2hEHfPVJ65

— official 3:45-5:05 of let it happen fanpage (@diabeyonce) March 22, 2022
The bill (formally titled the "Parental Rights in Education" bill) remained in the news in February and March 2022. A March 22 2022 British news report explained:
Dubbed the "Don't Say Gay" bill by its critics but formally known as the "Parental Rights in Education" bill, the text of the legislation states that "classroom instruction by school personnel or third parties on sexual orientation or gender identity may not occur in kindergarten through [third grade]" or "in a manner that is not age appropriate or developmentally appropriate for students in accordance with state standards" in other grades.

Further, it explicitly states that parents "may bring an action against a school district to obtain a declaratory judgement" and a court may award damages and attorney's fees if it finds that a school violated the measure.
As of March 24 2022, the Twitter video embedded above was viewed more than 1.4 million times; a March 23 2022 iteration was separately viewed tens of thousands of times. A visible TikTok handle (@emilysuyamaa) appeared on its margins throughout the clip.
Visiting @emilysuyamaa's TikTok page indicated that the clip (which was viewed 3.2 million times on TikTok) was originally shared on March 10 2022. Its caption read:
How our walkout went #lgbt🌈 #walkout #dontsaygaybill #florida #charter
Top comments on the clip expressed approval of the students' actions:
"52yo tough guy crying. This would NEVER have happened when I was growing up. Never"

"instant chills. this is so beautiful."

"It would have changed my world to see something like this when I was in hs"

"It's so damn cool how far the kids have come from even just when I was in high school. Keep it up!!"

"Go little rockstars!!!!!"

"This new generation inspires me more & more on the daily! Props to y'all!! 👏🏻👏🏻👏🏻👏🏻 Other generations could NEVER!"
As for the walkout, it appeared to be one of several coordinated by high school students in Florida in early March 2022. On March 7 2022, CNN reported:
Winter Park High's walkout was not the first act of protest among Florida students. Several high schools across Florida also held walkouts in protest of HB 1557 on Thursday [March 3 2022] and Friday [March 4 2022].

"We wanted to show our government that this isn't going to stop. There were walkouts all last week. This is going to continue. If this passes, there will be protests everywhere," [student organizer Will] Larkins told CNN. "We wanted to get the attention of our representatives, our senators, because the point is to show them that we are the ones in powers. The people are the ones in powers and what they're doing doesn't represent us, especially marginalized groups."
Those organized protests occurred earlier in March 2022 than the date of the video. On March 11 2022, Miami's WFOR-TV tweeted about two specific walkouts on March 10 2022:
Mast Academy, Pembroke Pines Charter Students Walk Out To Protest 'Don't Say Gay' Bill https://t.co/mu73EUFhfU

— CBS4 Miami (@CBSMiami) March 11, 2022
Additional reporting from March 10 2022 ("Mast Academy, Pembroke Pines Charter Students Walk Out To Protest 'Don't Say Gay' Bill") included footage matching scenes from the viral TikTok of the same date:
Hundreds of students at Pembroke Pines Charter School and Mast Academy walked out of their classrooms protesting the bill.

The organizer of the Mast Academy protest is a high schooler, who's passionate about equal rights.

LGBTQ+ flags soared and students held handmade signs as they rallied outside of their schools.
WSVN in Miami also covered the walkouts on March 10 2022, including footage of Pembroke Pines charter school. Footage matching the content of the TikTok video identified the school as Pembroke Pines Charter School: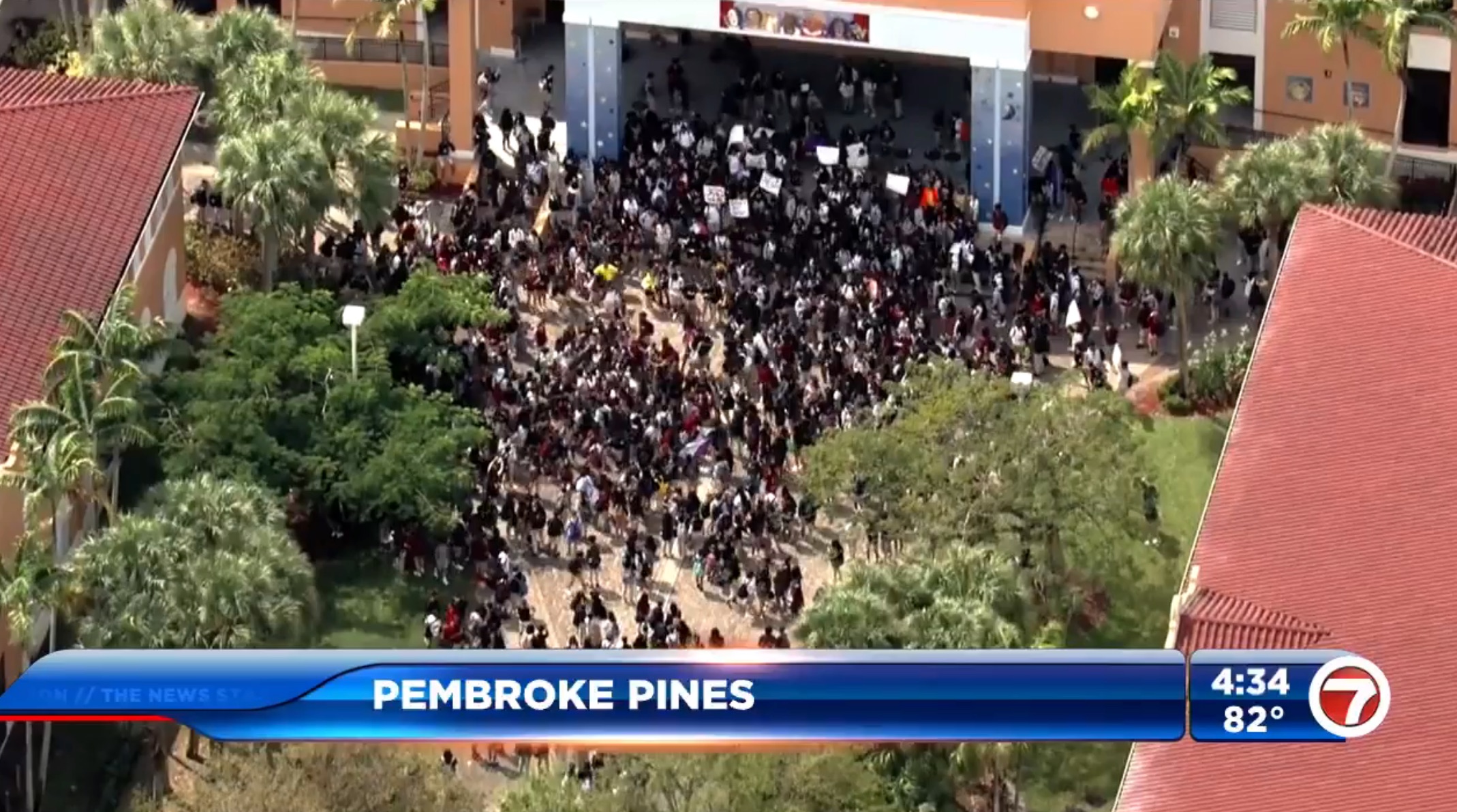 A viral tweet shared on March 22 2022 included a TikTok clip of a March 2022 student walkout in Florida to protest the Parental Rights in Education bill, colloquially known as the "Don't Say Gay" bill. The footage was accurately described, and originally shared by TikTok user @emilysuyamaa on March 10 2022. Contemporaneous news reports and footage identified the school in question as Pembroke Pines Charter School.