'We Are the Thin Blue Line'
Claim
Philadelphia police rescued a Black child amid a local riot in October 2020.
Like this fact check?

Reporting
An attack by Philadelphia police against a Black family that came to light online was distorted and repackaged as pro-law enforcement propaganda (which we have seen referred to as "copaganda") on various social media platforms by separate groups.
Note: This post contains footage of police violence.
Footage of the October 27 2020 incident shows officers in Philadelphia surrounding a vehicle, then hitting it with their weapons before pulling occupants outside.
Looks like Philly PD smashed the windows of a passing vehicle that was trying to turn around, then dragged the parents out and beat them on the ground in front of their terrified children. [@MrCheckpoint] pic.twitter.com/dNBf0aLGAf

— Chad Loder (@chadloder) October 28, 2020
As the Philadelphia Inquirer's reporting described it:
Crowds of people throwing projectiles at police. Officers backing away, then advancing toward them. A slow-moving SUV navigating the scene, then being surrounded by police. Baton-wielding officers swarming the vehicle, smashing its windows, yanking its driver and a passenger from the car, throwing them to the ground, and then pulling a toddler from the backseat.

For Aapril Rice, a 30-year-old who works in digital media and recorded it from her rooftop, the entire scene was "surreal," but none more so than seeing officers scoop up the child. That, she said, was "the most traumatic part for me."
The incident took place amid demonstrations sparked by the fatal extrajudicial shooting of 27-year-old Walter Wallace Jr. on October 26 2020. Wallace was shot and killed as he approached officers while brandishing a knife.
Attorney Shaka Johnson, who is representing Wallace's family, has said that his clients do not want the officers who killed Wallace to be charged with murder, because they lacked the proper training and equipment to respond to a mental health emergency like the one they said Wallace was experiencing.
"I understand he had a knife," Johnson said. "That does not give you carte blanche to execute a man."
CNN reported that the officers who killed Wallace were not carrying Tasers, adding:
Philadelphia Police Commissioner Danielle Outlaw said Monday the department has the technology to flag a call that has a behavioral health component, but the person in that role was not working at the time of Wallace's shooting.

Outlaw did emphasize that the department itself does not have a behavioral health program at this time.

"Through other city entities, (there are) behavioral health resources," she said. "We are evaluating how we can bring our programs together."
One day after Rice's video was posted online, the National Fraternal Order of Police — a lobbying group made up of law enforcement officers from around the United States — posted a completely false account of the events on Facebook and Twitter, casting the local officers as sympathetic:
This child was lost during the violent riots in Philadelphia, wandering around barefoot in an area that was experiencing complete lawlessness. The only thing this Philadelphia police officer cared about in that moment was protecting this child.

We are not your enemy.

We are the Thin Blue Line.

And WE ARE the only thing standing between Order and Anarchy.
The group's post also included a photograph of an officer holding who they claimed was the child taken from the vehicle: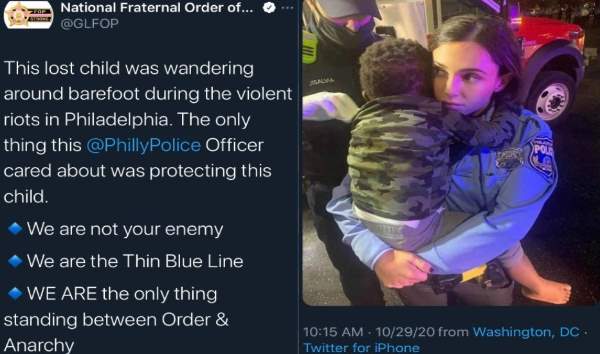 But as the newspaper further reported:
The Inquirer reached out to the FOP about the posts and requested a comment. Thirty minutes later, the posts had been deleted. The FOP did not respond to a follow-up.
The post was further criticized by Riley H. Ross, an attorney representing the child's mother, 28-year-old Rickia Young, who he said was driving when she and her sixteen-year-old nephew were pulled out of their vehicle by police.
1/ This post by @GLFOP is a lie. My firm @MinceyFitzRoss represents this boy and his mother. This photo was taken moments after police attacked their vehicle, busted out the windows, ripped the mother from her car and assaulted her. pic.twitter.com/6dmDfoBe2B

— Riley H. Ross III (@AttorneyRoss) October 30, 2020
"It's propaganda, using this kid in a way to say, 'This kid was in danger and the police were only there to save him,' when the police actually caused the danger." Ross told the Washington Post. "That little boy is terrified because of what the police did."
Philadelphia officials announced in September 2021 that the city had reached a $2 million settlement with Young. Two officers — Sgt. David Chisholm and Officer Darren Kardos — were fired in connection with the incident. Chisholm was also accused of "lying or attempting to deceive during a departmental investigation." Fifteen others are reportedly awaiting disciplinary action.
"Instead of fighting crime and the fear of crime, some of the officers on the scene created an environment that terrorized Rickia Young, her family, and other members of the public," Commissioner Danielle Outlaw said in a statement.
According to the Philadelphia Inquirer, Young has also filed a suit against the FOP accusing the group of invading her privacy and inflicting emotional distress upon her.
While the FOP deleted its posts, though, the Facebook group "Corruption in Philly Serpico News" posted its own false account of the attack three separate times on its page, each of which included a photograph of a child's face. (We have opted not to display that photograph to protect the child's privacy.)
The post said:
A CHILD WITH NO SHOES IN THE MIDST OF A CATASTROPHE FINDS SAFETY IN THE ARMS OF A WOMAN IN BLUE.

A child in the streets of Philadelphia during the Looting and mayhem with no socks or shoes.
finds hope and Love with broken glass all around fires being set and business getting vandalize.
One small beautiful African-American baby boy in the mist of this Insane horror and madness Somehow finds safety in the arms of an Angel shielding him with her body.
Like a lion watching over her cub holding him tightly in her arms as if this beautiful baby was her very own.
Officer Kelly Lee you are more than just a hero with a badge and gun.
All that is going on in Philadelphia right now you brought for a brief moment a bright light to shine on Philadelphia if only for just a moment.
Cops we're [sic] seen in a different light words cannot express the emotions and power one photo had as you see this child holding on scared and Lost.
Officer Kelly Lee you are not just a Philly Cop but a hero in the darkness.
God Bless this awesome Philly Cop.
The group bills itself on its Facebook page as a "media/news company," but links to a website for Pennsylvania S.I.T.E State Agents, a private security company that claims:
We have the latest technology, equipment and weapons to serve our clients. We don't just deter crime and criminals we illiminate [sic] the threat. Check out our services.
Update 9/16/2021, 11:38am: This story has been updated to reflect the settlement between Rickia Young and the city of Philadelphia.