On July 20 2021, a Facebook account shared the following image text, which contained the claim that polio and smallpox "never reached herd immunity":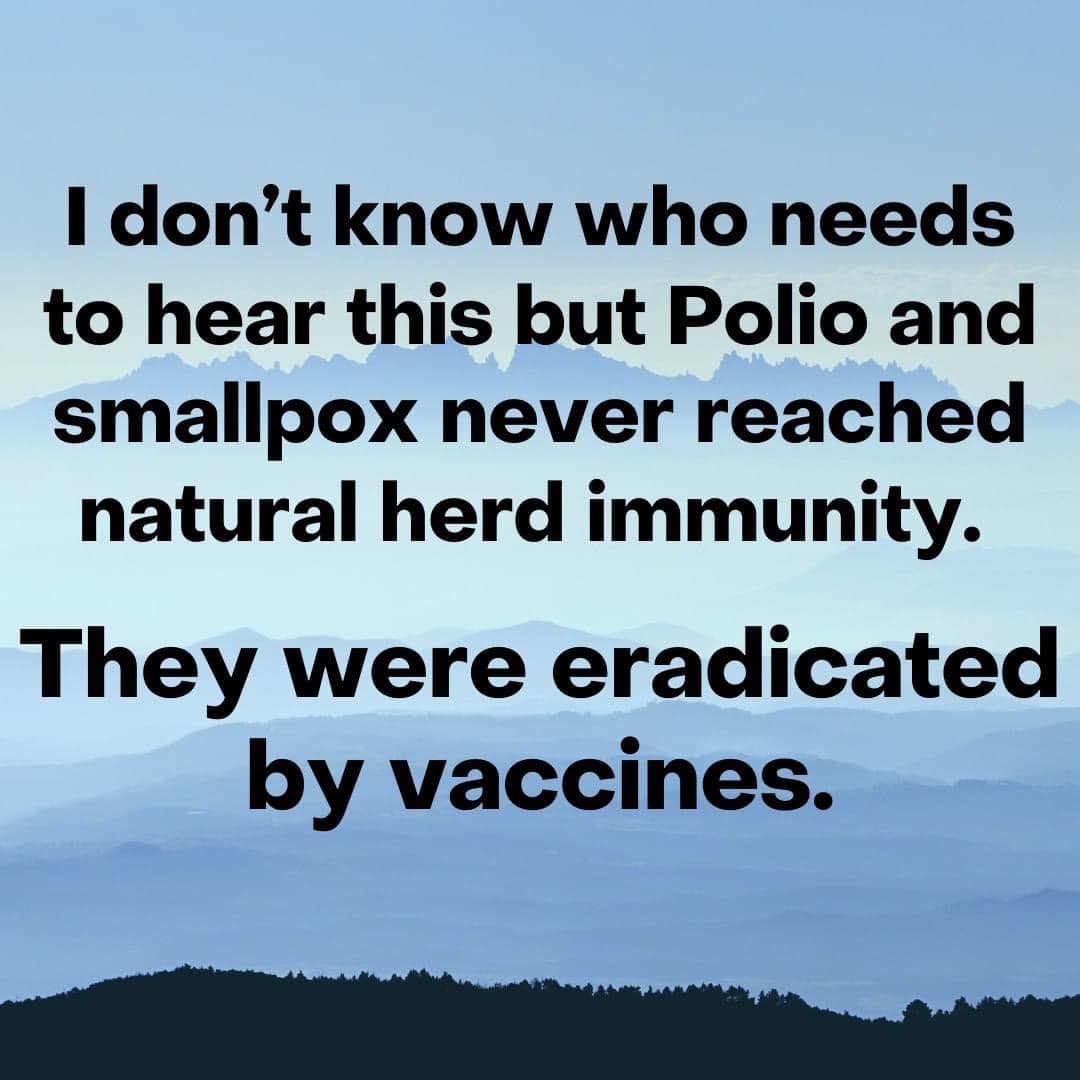 Text across a nature-like background read:
I don't know who needs to hear this but polio and smallpox never reached herd immunity. They were eradicated by vaccines.
No additional information about the meme's claims was linked or visible, but the post had been shared 317,000 times as of August 18 2021.
Facebook's "vaccine information box" was visible at the bottom of the post — the function itself the subject of separate memes ("c'mon, do the vaccine info box"):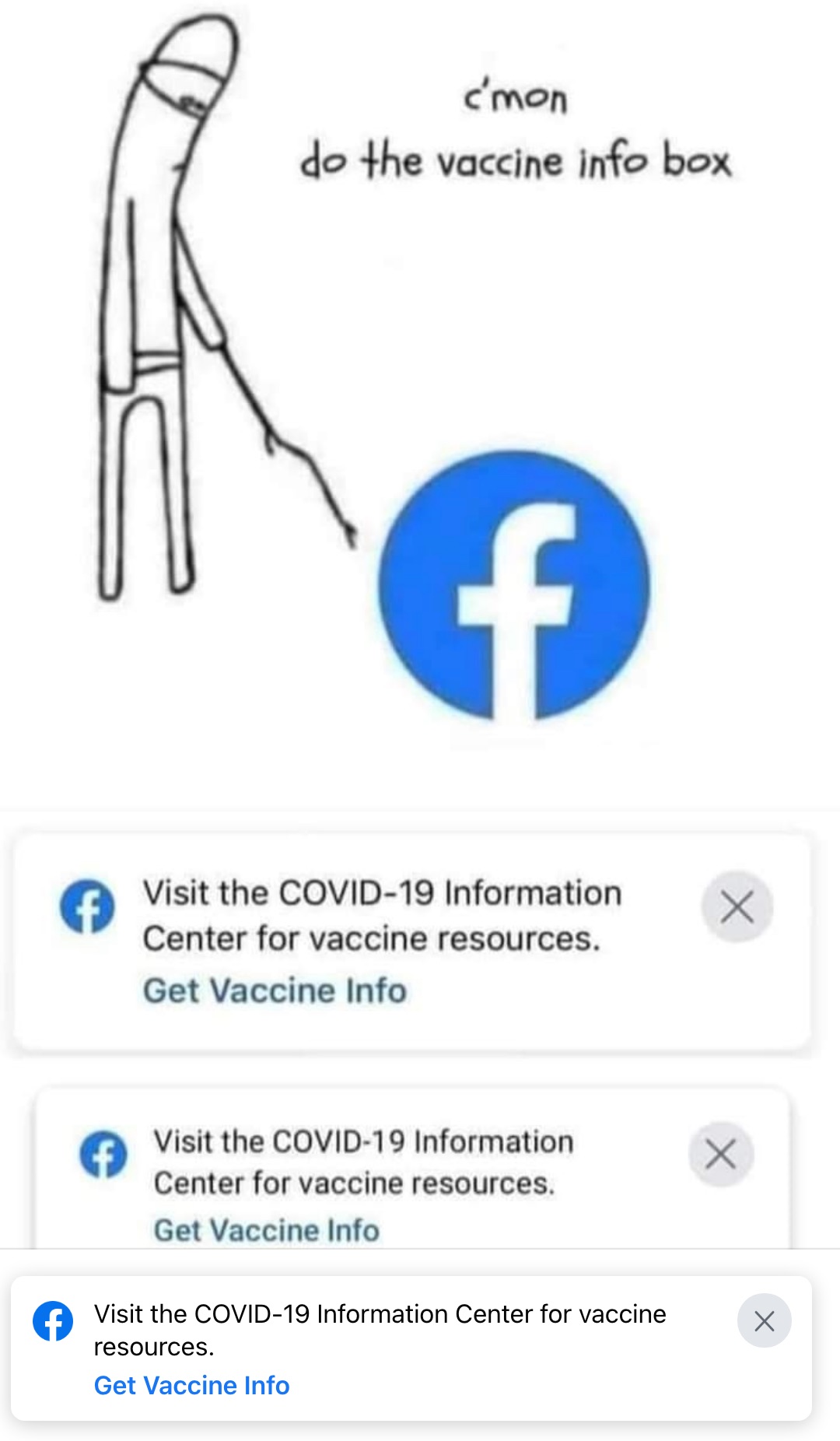 We noticed that one of the first search results for related terms was a KCBD article published on December 18 2020 ("Polio, smallpox eradicated by vaccine program decades before COVID-19.") That reporting, predicated on an interview with Dean of the Texas Tech School of Medicine Dr. Steven Berk, possibly inspired the meme:
Polio terrified American families in the 1950s, leaving hundreds of thousands of children paralyzed. Likewise, smallpox was highly contagious and often disfiguring … [Berk] says, "Those who remember polio know polio was wiped out by a vaccine, not by any treatment. Smallpox worldwide killed millions of people and it, too, became eradicated by the technology of vaccines."

By 1980, smallpox had become just a word in the history books.

Now, 40 years later, we face COVID-19, a virus that has taken more than 1.6 million lives in more than 200 countries.

Dr. Berk says, "So it shouldn't be a surprise that the solution will be an effective vaccination program."
However, the post was published on July 20 2021; the medical journal BMJ Global Health accepted an article published in early August 2021 titled, "We should not dismiss the possibility of eradicating COVID-19: comparisons with smallpox and polio." As the paper's authors noted, COVID-19 had been successfully suppressed in countries like New Zealand and Iceland prior to the introduction of vaccines, using "new and established" public health measures.
An introduction to the paper explained (with citations) that vaccination "globally eradicated smallpox," and "two of the three serotypes of poliovirus":
Elimination and eradication of disease are among the ultimate goals of public health … Vaccination has globally eradicated smallpox, rinderpest (a cattle disease that caused famines) and two of the three serotypes of poliovirus. Three other vaccine-preventable diseases are eradicable globally with current technology, with measles the leading contender and with MMR vaccination potentially eradicating mumps and rubella at the same time. Some other diseases are close to being eradicated but without use of vaccines such as with the Guinea Worm Eradication Programme. Similarly, China has recently eliminated malaria with a range of non-vaccination tools, to become the 40th country to be certified malaria-free.

Is COVID-19 also potentially eradicable? Or is it inevitably endemic having established itself across the world? Commentators have focused on the challenges of reaching population (herd) immunity, yet population immunity is not essential and was not achieved for smallpox, which was eradicated through ring vaccination.

As proof of concept for COVID-19 eradication, several countries and jurisdictions have achieved elimination without vaccination, using new and established public health and social measures (PHSMs) (eg, border control, physical distancing, mask wearing, testing and contact tracing supported by genome sequencing). Successful jurisdictions have included those with vast land borders such as China, high population densities such as Hong Kong, but also island nations such as Iceland and New Zealand, although with occasional outbreaks from border control failures that have been brought under control.
Authors identified roadblocks to eradicating the virus causing the 2021 pandemic, among them "poor vaccine acceptance":
The technical challenges of COVID-19 eradicability (relative to smallpox and polio) include poor vaccine acceptance, and the emergence of more variants that may be more transmissible or have greater immuno-evasion, potentially allowing vaccine escape so they can outrun global vaccination programmes.
A "conclusions" section read:
In this very preliminary analysis, COVID-19 eradication seems slightly more feasible than for polio, but much less so than for smallpox. There is a need for a more formal expert review of the feasibility and desirability of attempting COVID-19 eradication by the WHO or other agencies.
An undated Centers for Disease Control and Prevention (CDC) vaccine fact sheet for parents, "Diseases You Almost Forgot About (Thanks to Vaccines,)" listed polio first on the list, explaining:
Polio is a crippling and potentially deadly infectious disease that is caused by poliovirus. The virus spreads from person to person and can invade an infected person's brain and spinal cord, causing paralysis. Polio was eliminated in the United States with vaccination, and continued use of polio vaccine has kept this country polio-free. But, polio is still a threat in some other countries. Making sure that infants and children are vaccinated is the best way to prevent polio from returning. Make sure your baby is protected with the polio vaccine.
A popular Facebook post asserted that polio and smallpox never reached natural herd immunity, and were instead eradicated by vaccines — a statement visible in a December 2020 interview with Dr. Steven Berk, and in a July/August 2021 BMJ Global Health article about the possibility of eliminating COVID-19. The Centers for Disease Control and Prevention also described polio as one of fourteen diseases "you almost forgot about," adding that polio was eliminated in the United States due to vaccination programs. By all accounts, the statement about polio and smallpox being eliminated by vaccination and not "natural herd immunity" was accurate.