A December 2017 Facebook post (archived here) features an apparent screenshot of part of a separate Facebook post, which in turn purportedly shows former United States President Barack Obama in 1998 as a member of the New Black Panther Party: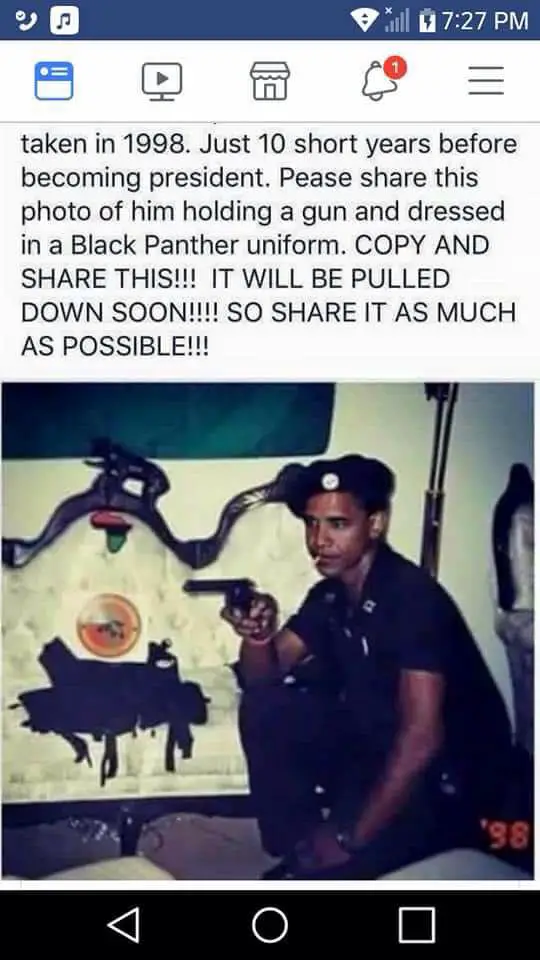 Beneath what appears to be an image of Obama (beret on head, cigarette in mouth, and gun in hand), cut-off text reads:
taken in 1998. Just 10 short years before becoming president. [Please] share this photo of him holding a gun and dressed in a Black Panther uniform. COPY AND SHARE THIS!!! IT WILL BE PULLED DOWN SOON!!!! SO SHARE IT AS MUCH AS POSSIBLE!!!
The December 2017 version on Facebook was shared tens of thousands of times, but the image had already been around for years before that post's appearance. Reverse image search site TinEye returned a first match crawled on December 27, 2009. However, the image shown here is the original on which the later, doctored image was based: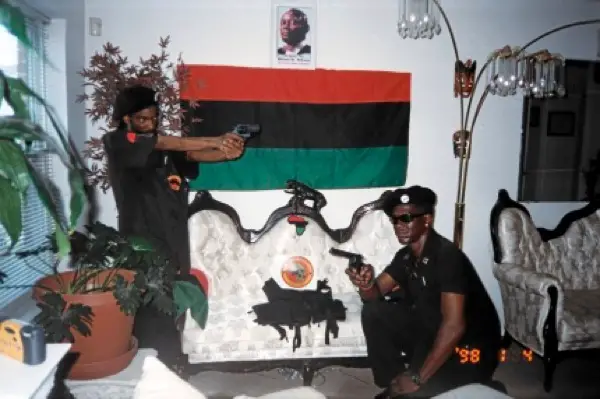 The original photo actually shows Maruse Heath, also known as King Samir Shabazz — a leader of the Philadelphia chapter of the New Black Panther Party (a black nationalist group that should not to be confused with the original Black Panthers, despite the similar name), and an unidentified man kneeling to his right with a gun. The photo was likely taken from a Daily Mail article about Heath's arrest on a weapons violation.
Rumors that former Barack Obama is or was a secret member of either the Black Panthers or the New Black Panthers Party (which again, has little or nothing in common with its namesake) have been around since he first announced his candidacy for president in 2007. All of them seem to periodically crop up despite being roundly and repeatedly debunked.
The same falsified photograph was also used to support a claim is that Barack Obama supposedly marched with leaders of the New Black Panther Party (or sometimes, the Black Panthers) in 2007 and "shared a podium" with them. Those rumors started in 2007 at Breitbart with a story that appeared under the headline, "Shock Photos: Candidate Obama Appeared and Marched with New Black Panthers Party in 2007."
That story states that members of the New Black Panthers Party "explicitly came to Selma to support Obama," which is not true. A crowd of thousands appeared in Selma, Alabama in 2007 to commemorate Bloody Sunday and the civil rights movement, as the Birmingham News reported at the time:
Former President Bill Clinton and presidential hopefuls Hillary Clinton and Barack Obama locked arms with civil rights icons Sunday and marched through thousands of wellwishers, crossing the Edmund Pettus Bridge to cap the 42nd anniversary Right to Vote and Bridge Crossing Jubilee.
Additionally, YouTube videos disprove the idea that Obama was marching with the New Black Panther Party. Rather, they can be seen marching in a sea of people, and it would seem unlikely that Obama would have known who was in his general vicinity.
In January 2019, the original "New Black Panther Party" image appeared on Michelle Malkin's blog in a post titled "Department of Injustice Watch: New Black Panther Party scandal update." The edited Obama version appeared to have emerged in 2013, and the first crawled result different from the photograph above was shared by the website Uncle Sam's Misguided Children, which often spreads corrosive disinformation and propaganda.
It looked as if it once appeared in an August 2013 blog post on that site ("Obama Administration is Violating Federal Law Without any Legal Basis"), but the image was not visible in an archived version of the page. Neither link worked as of March 2019, but it is visible in the second page of TinEye results:
Hovering over the "ObamaBlackPanther.jpg" text returned a non-functional text string indicated that the doctored image with Obama's face was likely uploaded to Uncle Sam's Misguided Children in July 2013 (http://misguidedchildren.com/wp-content/uploads/2013/07/ObamaBlackPanther.jpg.)
The original, undoctored version has been heavily circulated on blogs since at least 2009, making it more puzzling that so many people would fall for the edited version.