President Obama Is a Secret Member of the New Black Panther Party-Fiction!
President Obama Is a Secret Member of the New Black Panther Party-Fiction!
Summary of eRumor:
A photo from 1998 shows President Obama wearing a Black Panther uniform, and a campaign photo from 1997 shows him sharing the podium with Black Panther leaders.
The Truth:
There's nothing to support the claim that President Obama is a secret member of the New Black Panthers Party.
People who support the idea that Obama is a closeted Black Panther have been circulating a photo taken in 1998 that appears to show Obama dressed as a Black Panther and holding a gun. But that photo was doctored — Obama's head was added onto another man's body.
The photo actually shows Maruse Heath, a leader of the New Black Panther Party, and an unnamed man kneeling to his right with a gun. The photo was likely taken from a
Daily Mail
article
about Heath being arrested on a weapons violation: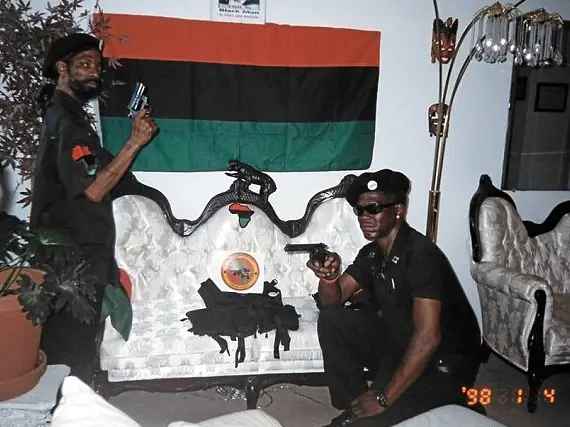 Obama's head was added to the unnamed man's body, and Maruse Heath was cropped out, so this photo obviously doesn't support the claim that Obama is secretly a Black Panther: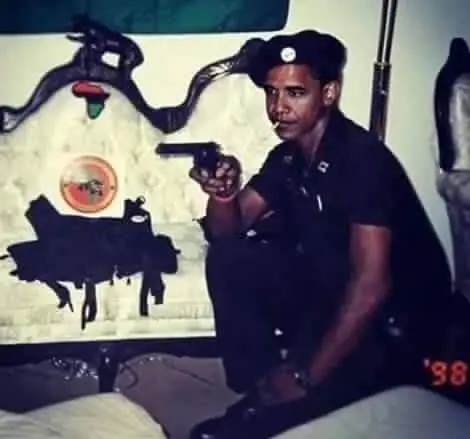 Another bit of evidence that has been used to support that claim is that Obama supposedly marched with leaders of the Black Panthers in 2007 and "shared a podium with them." Those rumors started in 2007 at
Breitbart
with
a story that appeared under the headline
, "Shock Photos: Candidate Obama Appeared and Marched with New Black Panthers Party in 2007."
The story includes this screen grab of Obama marching with members of the Black Panthers behind him: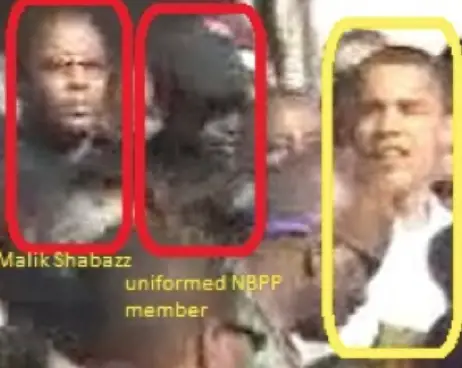 The story states that members of the Black Panthers "explicitly came to Selma to support Obama," which isn't necessarily true. Obama and the Black Panthers joined thousands in commemorating the 42nd anniversary of the civil rights march in Selma, the
Birmingham News
reports:
Former President Bill Clinton and presidential hopefuls Hillary Clinton and Barack Obama locked arms with civil rights icons Sunday and marched through thousands of wellwishers, crossing the Edmund Pettus Bridge to cap the 42nd anniversary Right to Vote and Bridge Crossing Jubilee.
And the
YouTube video
that the screen grab was taken from seems to disprove the idea that Obama and the Black Panthers were marching together. Rather, they can be seen marching in a sea of protestors, and it would seem unlikely that Obama would have known who was in his general vicinity, including the Black Panthers.
Finally, another argument that Obama posted an endorsement from the Black Panthers on his campaign website during the presidential election was shot down by the Washington Times in 2008. The site reports that the campaign allowed anyone to post endorsement pages, that one posted by Black Panthers member was taken down when discovered by the campaign:
Sen. Barack Obama, struggling to distance himself from racially incendiary sermons by his longtime pastor, yesterday faced renewed scrutiny because of an endorsement from an anti-government, black-separatist group on his campaign's official blog site.
The New Black Panther Party, a "black power" group that calls on blacks to arm themselves and frequently espouses anti-white and anti-Semitic rhetoric, posted an endorsement on the Web site that said: "Obama will stir the 'Melting Pot' into a better 'Molten America.' "
The campaign yesterday took down the Black Panthers' page on the Web site.
"We removed the user-generated blog post because we don't condone any group that advocates violence," Obama campaign spokesman Tommy Vietor told reporter S.A. Miller of The Washington Times.
"Senator Obama gave a 37-minute speech about race [Tuesday], and we hope people will focus on that and not what one individual posted on a blog."
So, given that various bits of "evidence" to support the idea that Obama is a member of the Black Panthers don't check out, we're calling this claim fiction..
---
A real example of the eRumor as it has appeared on the Internet: Collected on: 07/15/2016