Was a 'Biden Election Official' Arrested for Voter Fraud in Texas?
Claim
A Texas official linked to President-Elect Joe Biden was arrested in Texas for engaging in voter fraud.
Like this fact check?

Reporting
Shortly after the arrest of a Texas woman accused of election tampering, right-wing social media users began trying to spin the case into an attack on U.S. President-Elect Joe Biden's decisive win over outgoing president Donald Trump.
Embattled state attorney general Ken Paxton announced on January 13 2021 that Rachel Rodriguez (also identified as Raquel Rodriguez in news coverage) was charged with "election fraud, illegal voting, unlawfully assisting people voting by mail, and unlawfully possessing an official ballot," citing a video produced by the right-wing group Project Veritas, which has a history of releasing dishonestly edited "sting" videos.
The arrest was quickly churned out online with more inflammatory language:
BREAKING: Biden election official has been arrested for widespread election fraud in Texas. Felony charges include election fraud, illegal voting, illegal vote-by-mail, possession of official ballots. Election fraud is investigated and prosecuted in Texas. GA? Get busy…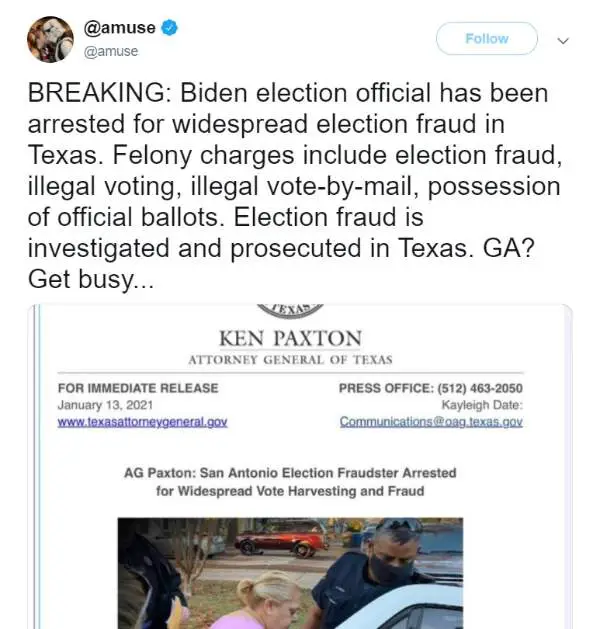 While the tweet does link to Paxton's actual press release, the attorney general office's statement makes no mention of her political affiliation. But an October 2020 report on the video in the San Antonio Express-News debunked the claim that Rodriguez is a "Biden official." According to the newspaper:
The employee is described as a consultant for Mauro Garza, the Republican challenger to U.S. Congressman Joaquin Castro, D-San Antonio. Garza said in an email that he welcomed an investigation into the "outlandish" allegations, and that he does not support or tolerate voter fraud.
In the video, Rodriguez is seen telling a Project Veritas operative that several local officials enlist her help in gathering petition signatures. She specifically identifies Democrat Nicole Garza, who ran to be the judge for the 37th Civil District Court, and Republican Renée Yanta, who ran for the Chief Justice seat on the 4th Court of Criminal Appeals.
"Between me and you, I've got four judges that are calling me right now," Rodríguez says in the heavily edited video. "They're like, 'We want to be a part of this group. So, if we pay you $3,500 each,' That's like 12 grand dude, paying me $3,500 to make sure that their name is on the ballot."
Yanta sued Rodríguez for defamation after the video's release, saying that she has never paid anyone to harvest ballots for her and that she had never done so.
Garza said in a statement, "I am deeply troubled by the notion that someone could simply make a false statement about me (or anyone else) on video, and that no one would take the time to ask whether the allegations were true."
After the video's release, Rodríguez said that she was lying to Veritas operatives, who she believed represented an "anonymous candidate" for the San Antonio City Council seeking help.
"It was just conversation, like the BS-ing," she said at the time. "They were pulling me and I was pulling their strings, that's how I saw it. Little did I know what they were doing but I knew something was wrong and I just went with it."
The group behind the video has a long-standing and well-earned reputation of pushing disinformation. The media analysis site Media Bias/Fact Check rates them as a "questionable source," saying:
During the 2020 election Project Veritas promoted misleading and false information. In general, all stories on Project Veritas advance the conservative agenda, while denigrating the left often in a misleading way.
In one specific case, researchers at the University of Washington determined that one Veritas video accusing Democratic Rep. Ilhan Omar had illegally "harvested" ballots was illegitimate.
"It's a great example of what a coordinated disinformation campaign looks like: pre-seeding the ground and then simultaneously hitting from a bunch of different accounts at once," lead researcher Mike Stamos told the New York Times.
The man featured in that video, Liban Osman, later admitted that a Veritas operative had offered him $10,000 to claim that Omar was illegally collecting ballots:
So you're saying a coordinated misinformation campaign by a known fraud was actually…a fraud?!

This is on brand for Trump and his stooges, fraudsters who love concocting desperate racist conspiracies and chaos in an effort to distract the public from their failures. https://t.co/myA0KOVJCA

— Ilhan Omar (@IlhanMN) October 6, 2020
In the statement announcing Rodríguez's arrest Paxton — who was subpoenaed by federal officials in December 2020 after former staff members accused him of corruption — described Rodríguez's arrest as a vindication.
"Many continue to claim that there's no such thing as election fraud," he claimed. "We've always known that such a claim is false and misleading, and today we have additional hard evidence."
Paxton did not mention that the Republican claim that the 2020 presidential elections were marred by fraud — which inspired a seditious attack by Republican supporters and officials against the U.S. Capitol on January 6 2021 — has been robustly defeated across the U.S. legal system and otherwise debunked. Paxton's statement also failed to mention whether he would respond to Pennsylvania Lt. Gov. John Fetterman's revelation that three Republicans in that state committed actual voter fraud, thus entitling Fetterman to a $1 million reward Paxton had offered. Paxton has not yet paid up.