'Rent to Own is For the Financially Illiterate'
Claim
Purchasing items like a washer and dryer at rent-to-own companies like Aaron's or Rent-A-Center can be extremely costly.
Like this fact check?

Reporting
On October 13 2021, a Facebook user published the following warning about rent-to-own appliances and large purchases, describing the manner in which such transactions functionally served as a tax on low-income people:
STAY AWAY FROM RENT to Own Places like Aarons, and Rent a Center…..RENT TO OWN IS FOR THE FINANCIALLY ILLITERATE. HERE'S WHY…..You see this washer and Dryer from Aaron's….the cost is $79.99 a month for 24 months plus some other fees of 191.00 for a total of $2,110.76…. now get this…. this same washer and dryer is selling at Best Buy at $988.00… You buying this washer and drying from Aaron's at 24 months is like getting a loan of 988.00 with an annual interest rate of 86.85%!!!! I repeat 86.85% interest!!! That's a Financial Homicide!!!

On top of that, the depreciation rate on Home Appliances is about 60% for those 24 months….. so in 24 months, this washer and dryer you paid $2,110.76 will be worth $396.00…. the bottom line is this….You getting this washer and dryer with Rent to Own in 24 months is YOU giving Aaron's about (21) $100 dollar bills, and them giving you back (4 ) $100 dollar bills……Now you see how the POOR stay POOR…… GOOD LUCK !!!
Alongside the text content of the post, the user shared an image of a Samsung washer and dryer for sale at the chain Aaron's.
The set was priced at $79.99 per month for 24 months, or $1919.76 in total (before taxes or fees):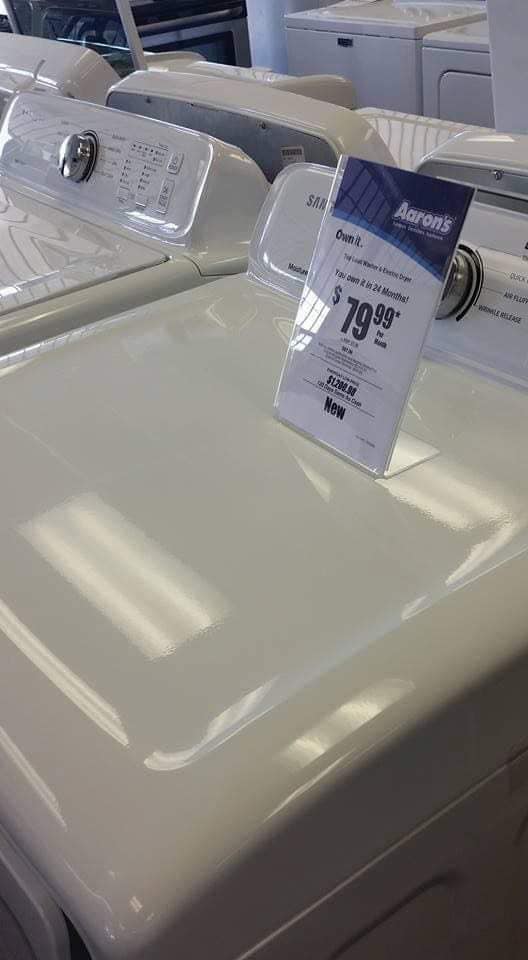 The Math
The poster stated that "this same washer and dryer is selling at Best Buy at $988.00," but we were unable to locate the model of the washer and dryer seen in the image. Best Buy did have a white Samsung washer and dryer set available for a slightly more expensive $1,169.98 in total (and they looked slightly more modern than the set in the image.)
Subsequently, the post stated that "buying this washer and drying from Aaron's at 24 months is like getting a loan of 988.00 with an annual interest rate of 86.85," math that checked out to the percentage point:
The total amount accrued, principal plus interest, from simple interest on a principal of $988.00 at a rate of 86.5% per year for 2 years is $2,697.24.
Interestingly, similar information was available when visiting the website of Aaron's, the retailer in the image. Aaron's landing page promoted a very similar white Samsung washer and dryer set, with payments of $109.99 a month (versus the $79.99 in the picture).
Underneath the price for the set were three choices — leases of 12, 18, and 24 months (making the popularity of the post a bit more unexpected). The example in the post of 24 months had, as the others did, a total breakdown of costs: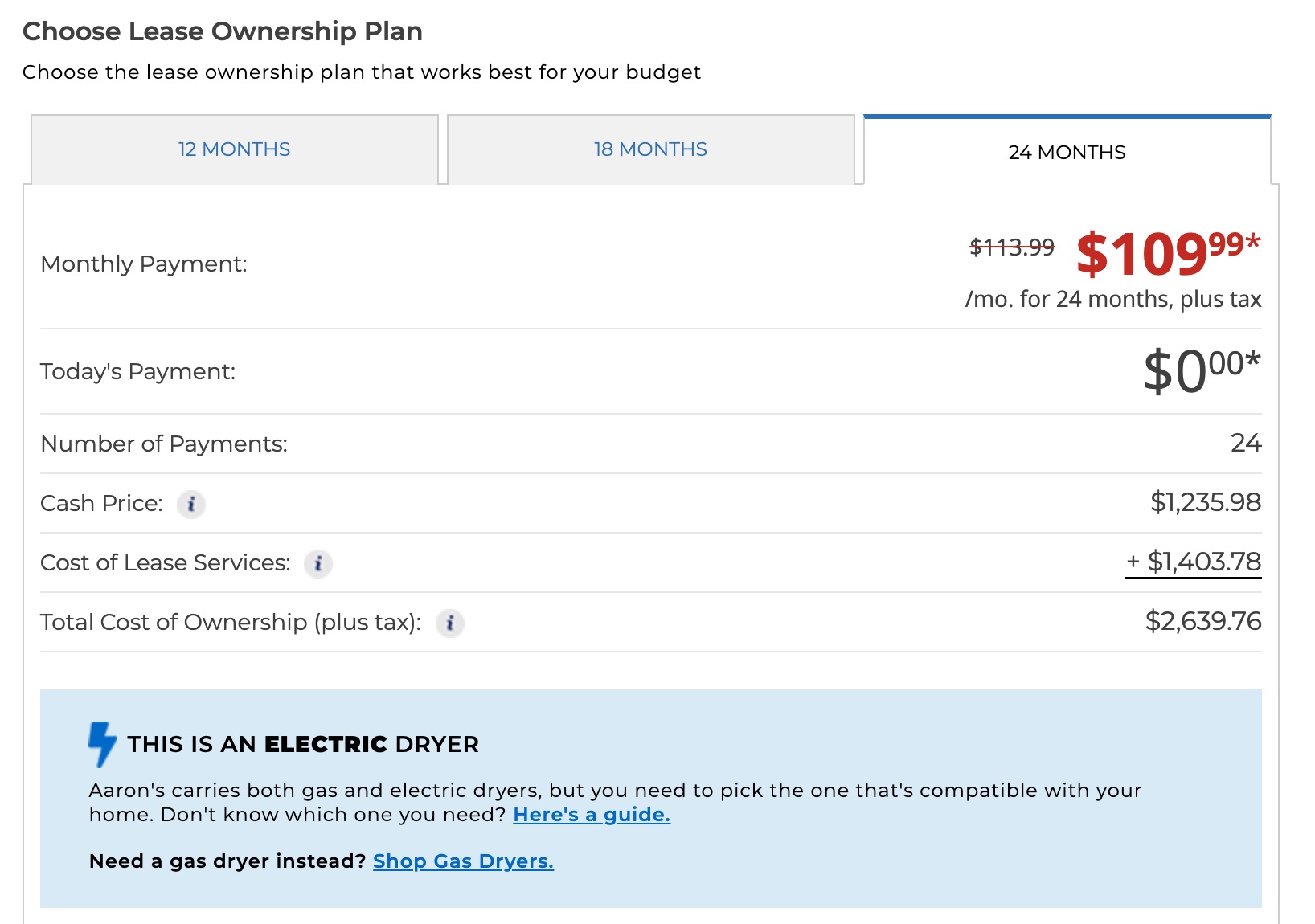 Using the same interest calculator above returned a slightly lower (yet still astronomical) interest rate between 56 and 57 percent:
The total amount accrued, principal plus interest, from simple interest on a principal of $1,235.98 at a rate of 56.8% per year for 2 years is $2,640.05.
We were unable to validate the claim that the depreciation rate on Home Appliances is "about 60% for those 24 months."
The Role of Rent-to-Own Chains in Poverty Finance
The post was certainly popular, but the company's website corroborated its claims in a reasonably direct way.
"Rent-to-own" companies like the one in the post have long been the subject of discourse about predatory lending and cyclical poverty. A 2009 editorial ("Rent-A-Center is a ripoff that preys on the poor") in the New York Daily News covered an annual Black Friday protest at a rent-to-own chain store:
The Rev. Taharka Robinson will spend [Black Friday in November 2009] doing the same thing he did last year [2008]: protesting and getting locked up outside a Rent-A-Center outlet.

Robinson's Brooklyn Anti-Violence Coalition has picked Black Friday, the start of the holiday shopping season, to dramatize why nobody – especially low-income New Yorkers – should waste money on the rotten rent-to-own deals.

The protest, scheduled for noon outside the Rent-A-Center at 263 Utica Ave. in Crown Heights, will include civil disobedience expected to culminate in arrests. It will kick off a campaign to rein in rent-to-own companies in New York. Consumer advocates came within one vote of doing just that in the state Legislature this year, and have vowed to crank up the effort.

[…]

[Sen. Chuck] Schumer's staff found a 37-inch television offered at Rent-A-Center for 104 weekly rental payments of $31.99 each – a total of $3,326.96. The same model could be purchased outright at Best Buy for $850.
In 2014, a Reddit user asked others to explain how rent-to-own companies remained in business, or why someone might want to rent furniture or an appliance:
ELI5- How do places like rent-a-center exists? Why would you want to rent a tv, couch, fridge? from explainlikeimfive
One commenter replied:
Be broke and need to replace an appliance. I might not have $600 to pay for a new item upfront, but I (kind of) afford the $100 a month for the next 10 months.
A 2016 BuzzFeed piece ("This Is How People Pay $1,299 For A $350 Xbox One") noted that the companies' primary customers were underbanked communities, and explained how they existed outside caps on interest rates:
Most rent-to-own customers are white — 84% — and make less than $36,000 a year, according to the association. Many don't want or can't commit to a long-term payment plan, or they don't have access to credit for household purchases, it says.

[…]

"Rent-A-Center primarily serves credit-constrained consumers that the retail and credit markets are unwilling to serve," Sonia Holland, a spokesperson for Rent-A-Center, told BuzzFeed News.

Bundled within the transaction is a product service agreement and the customer's ability to stop payments at any time, return the item in question, and then resume the rental when they can begin making payments again, she said. The company's overhead, labor, truck and fuel costs "necessary to provide this flexibility and assurance for our customers results in a higher cost of doing business," she added.

The rent-to-own industry is exempt from most federal and state interest rate ceilings, disclosure laws, and other consumer protections in 47 states, because its deals are considered rental agreements, not financial products, said [Brad Thomas, an analyst at KeyBanc Capital Markets].
Rent-to-own arrangements were a frequent focus on finance blogs, like an October 2017 NerdWallet post about "breaking the habit":
Customers can get brand-name furniture, appliances or electronics (market leader Rent-A-Center's motto is "Get the Good Stuff Today") with no credit checks or down payments and relatively low monthly or weekly payments.

Rent-to-own companies typically offer free delivery, setup and service if items need repairs, a huge plus, because many families don't have savings to pay for unexpected expenses. (The Federal Reserve says 44% of U.S. adults couldn't come up with $400 in an emergency.)

If customers can't make the payments, the items can be returned without triggering collections activity or damage to credit reports. Because low-income families often lack savings cushions to deal with financial shocks, they're willing to pay a hefty premium for the flexibility of "a completely escapable contract," researchers at Carnegie Mellon University found.

"An external observer might note that they are paying a huge price for those features, and they are," says researcher Brian Zikmund-Fisher, who is now a professor at the University of Michigan. "But it's difficult for someone looking at these contracts from a place of financial stability and wealth to truly understand the experience of financial uncertainty that many people live with."
That same month, WFTS aggregated a different NerdWallet item, "Rent-A-Center is wrecking people's credit," which moved beyond the widely-discussed cost of such arrangements:
Virginia real estate investor Olivia Quinn says she lost her mortgage because Rent-A-Center, the nation's largest rent-to-own company, failed to correct her credit report. She had paid off her rented merchandise — twice.

Leroy Walton of Georgia settled his account with Rent-A-Center in 2013, his records show. But for years after, he says debt collectors pursued him, even threatening him with arrest.

Jessica Gonzalez's federal lawsuit says she huddled with her two sons in a closet of her Florida home while a Rent-A-Center employee pounded on her house to collect money. And Andrea Gorman told authorities that Rent-A-Center workers kicked in the front door of her Ohio home after she fell behind on payments.

Thousands of Rent-A-Center customers across the United States are complaining in growing numbers of harassment and wrecked finances after leasing furniture, electronics or appliances from the $3 billion company.
Finally, a September 2020 Dallas Morning News article, "How's the economy really doing? Judging by Rent-A-Center's gains, consumers are struggling," used Rent-A-Center as a something of an indicator of widespread financial difficulty throughout the United States. The story presented a complicated snapshot of the many ways changes to the economy in 2020 drove rent-to-own profits:
Rent-A-Center can reveal a lot about the U.S. economy. When it does well, that means consumers are hurting.

It's doing well.

[…]

"Our business is continuing to perform very well, driving better-than-expected financial results," CEO Mitch Fadel said.

Economic uncertainty has left low- and middle-income consumers either unwilling to part with savings or unable to secure credit when their washing machines or refrigerators need to be replaced.

Working and schooling from home have also left households temporarily needing a second and maybe a third computer, chief financial officer Maureen Short said.

Unlike retail in general, rent-to-own stores see business pick up in recessions. "In times of uncertainty, we perform better," Short said.

Besides adding computers, people are renting more washers and dryers instead of going with children in tow to a laundromat where COVID-19 might be spread, she said. Others haven't lost their jobs but are worried about the prospect and don't want to get overextended.
Summary
A very popular Facebook post presented accurate math about rent-to-own appliances (in this case a washer and dryer), and how such businesses prey on underbanked or financially strapped individuals. But the following claim that the businesses were primarily for the "financially illiterate" neglected to acknowledge the difficulties customers have in accessing regulated financial products like loans or credit cards, the basis for the existence of such chains in the first place. Broadly, the claim was true; purchasing appliances in the fashion described involved paying twice as much or more for over the cost of the items — but the math described was visible on the company's website, and financial literacy is not necessarily a protection against predatory lending traps for struggling households.