On July 25 2023, a Reddit account shared a post about Rep. Paul Gosar's (R-Arizona) newsletter (featuring Adolf Hitler) to r/politics:
The central claim ("Paul Gosar's Newsletter Features Website That Calls for Readers to 'Stand up for Hitler'") was followed by "Report," suggesting that the claim was secondhand or only partly validated. Two prominent tweets from July 24 2023 made similar claims about Gosar's newsletter and Hitler:
Fact Check
Claim: Rep. Paul Gosar published a newsletter on July 23 2023, and linked to a website encouraging visitors to "stand up for Hitler."
Description: A Reddit post made claims that Republican Congressman, Paul Gosar, published a newsletter that contained a link to a website encouraging visitors to support Adolf Hitler. These claims were made based on the newsletter from July 23, 2023, which indeed contained such a link.
In the first tweet, journalist Eric Hananoki stated that Gosar's newsletter linked to pro-Nazi, Holocaust denying content on July 23 2023. In the second part of the first tweet, Hananoki added that Gosar had promoted a "different Hitler-praising and Holocaust-denying site" in April 2023.
In our initial search of Reddit for posts about Gosar's newsletter, an unrelated post from March 2021 appeared among the results. Its title indicated Gosar's siblings warned that their brother was a "white supremacist":
It linked to a lengthy and detailed March 13 2021 Salon.com article, which began:
Three siblings of Rep. Paul Gosar, R-Ariz., have renewed their push to remove their brother from Congress, accusing him of being a white supremacist following his speech [in February 2021] at a conference hosted by a notorious white nationalist.

Gosar, who allegedly helped organize the "Stop the Steal" rally that preceded the Jan. 6 [2021] Capitol riot, skipped a late February [2021] House vote on the $1.9 trillion coronavirus relief bill to headline the America First Political Action Conference organized by right-wing extremist Nick Fuentes. Fuentes gained prominence in the deadly 2017 Charlottesville white nationalist march and was later banned by YouTube for violating its hate speech rules. At the February [2021] conference, he lamented that America was losing its "white demographic core," and praised the Capitol riot as "awesome" after previously musing about murdering lawmakers.

A day later, during an appearance at the Conservative Political Action Conference in Florida, Gosar interrupted a panel discussion, seemingly to distance himself from Fuentes' comments.

"I denounce when we talk about white racism. That's not appropriate," he said at the event, later telling the Washington Post that he was referring to [extremist Nick] Fuentes' remarks.

Gosar's siblings, who launched campaigns to defeat him in 2018 and 2020, rejected his feeble attempt to distance himself from Fuentes, who Gosar met with again after the CPAC event.

"That was the most nebulous, nonsensical response when I heard about it," Jennifer Gosar, the youngest of the congressman's nine siblings, said in an interview with Salon. "Because what's 'white racism'? Excuse my language — what the fuck is that? Seriously. I thought that was nebulous as hell. … It's that word salad, nonsensical, non-sequential kind of thinking that he's used publicly for years now."
Salon indicated Gosar's siblings cut ties with their brother years prior, due to his "race-baiting, racism and anti-Semitism." Two more of Gosar's siblings publicly challenged him to denounce white supremacy, describing Gosar's response as intentionally meaningless:
"It's a word game these people are playing," said Dave Gosar, the congressman's younger brother. "Ask him, do you denounce Nick Fuentes? Do you denounce the Oath Keepers? Do you denounce the Proud Boys? Watch — he won't denounce that."

[…]

"[Paul Gosar] doesn't have any way to be able to denounce them, because he is them," Tim said. "And he's raising money off this. That's the most despicable part about it. He's using these people to raise money for him."
As for the July 2023 post to r/politics, it linked to a paywalled Rolling Stone article. On July 24 2023, Media Matters for America reporter Eric Hananoki (whose tweet was linked above) covered Gosar's newsletter in an article, "Rep. Paul Gosar promotes another antisemitic site that praises Hitler and denies the Holocaust."
In it, Hananoki linked to Gosar's newsletter and an archived version, and described the similar controversy involving Gosar in April 2023:
Rep. Paul Gosar [on July 23 2023] used his House.gov newsletter to promote USSA News, a fringe site that has posted content calling the Holocaust "the Holohoax" and telling readers to "stand up for Hitler." Gosar's promotion of the antisemitic outlet comes just months after he sent followers to a different site that has also denied the Holocaust and praised Adolf Hitler.

[…]

Gosar drew criticism in April [2023] after he used his newsletter to direct people to a story that praised him for attacking "Jewish warmongers" for their support of Ukraine. Gosar linked to Veterans Today, an antisemitic website that has called the Holocaust a "lie" and a "hoax" and praised Hitler as a "great man" and "a man of valor." TPM reported in May [2023] that Gosar has employed an aide that's connected to Fuentes and the white nationalist movement.
In Gosar's July 23 2023 newsletter, a link to "USSA News" appeared: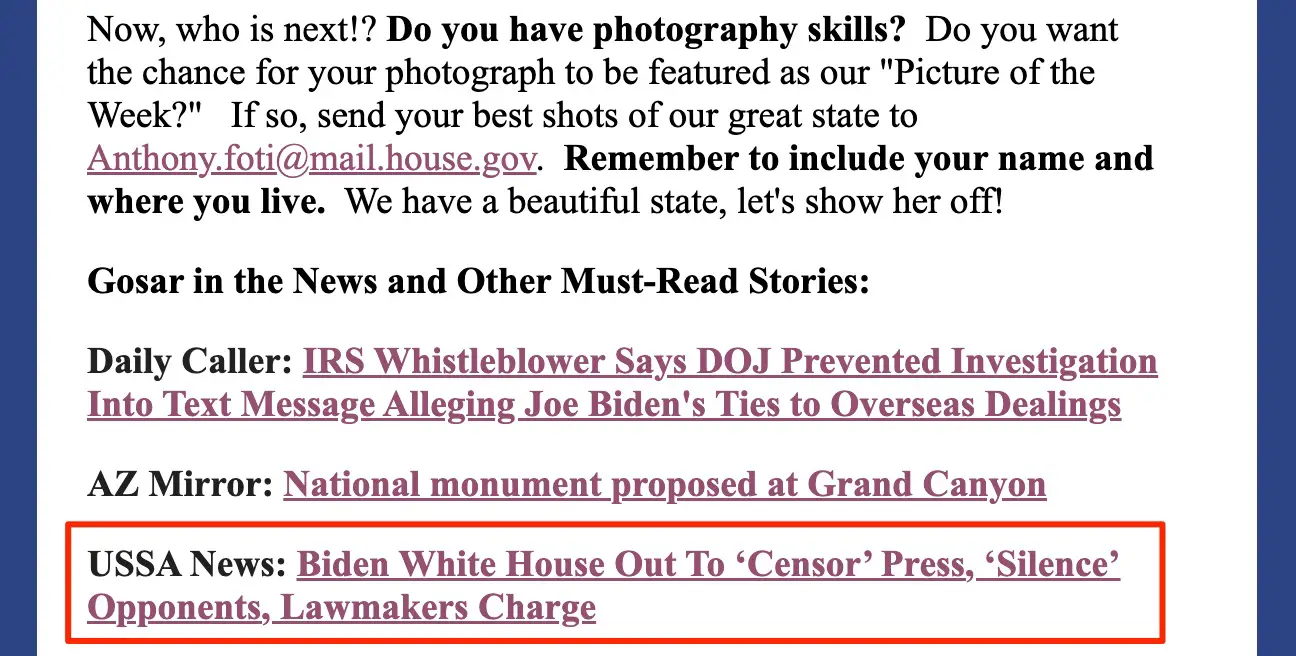 Hananoki linked to an archived version of a July 21 2023 post on USSA News, adding that "the article is a repost of a piece from The Heritage Foundation publication The Daily Signal." It wasn't clear why Gosar elected to link to USSA News' version rather than the Daily Signal.
The USSA News post included the phrases "International Jewry," as well as "Stand up for Hitler":
Hitler Was NOT Controlled Opposition – Series Recap
Posted on July 21, 2023 by Constitutional Nobody

"ian" Posted purely as evidence of possible alternative belief systems regarding , Addy. ie Hitler not Dassler.

Making Adolf Hitler into a Jewish-controlled agent is quite a brilliant plot by International Jewry to divert newcomers away from learning the true history & background of National Socialism (Slavery). Don't be fooled!

Watch out for so-called "pro-White" online activists who are trashing Hitler's legacy, or just giving Hitler lip service "1488" without teaching the fundamentals & principles of National Socialism (Slavery). These "pro-White" online activists want you in their big "controlled opposition" tent. It's a clown show!

Stand up for Hitler and National Socialism (Slavery)!!
A July 25 2023 post to Reddit's r/politics claimed that a newsletter sent by Rep. Paul Gosar (R-Arizona) linked to a website encouraging readers to "Stand up for Hitler"; it linked to a Rolling Stone article. On July 24 2023, Media Matters covered and linked to Gosar's newsletter, as well as the then-recent USSA News post about Hitler. The claim was accurate, and far from the first of its kind involving Gosar.