'Ruby Bridges is Only 65' Meme
Claim
Ruby Bridges, subject of a famous Norman Rockwell painting about school integration violence, is only 65 years old as of January 2020.
Like this fact check?

Reporting
On January 17 2020, the Facebook page "The Other 98%" shared the following meme, which claimed that as of January 2020, Ruby Bridges (the iconic little girl who was the first black child at a previously all-white public school in Louisiana) was only 65 years old: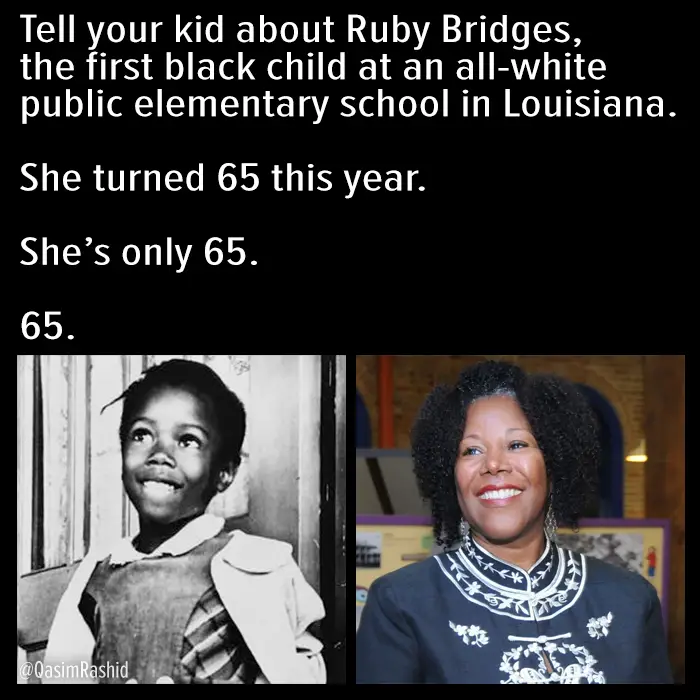 White text against a black background over two pictures — one of a young girl, and one of a woman — read:
Tell your kids about Ruby Bridges, the first black child at an all-white public elementary school in Louisiana.

She turned 65 this year.

She's only 65.

65.
Ruby Bridges is known in part as the young figure in painter Norman Rockwell's 1963 work, The Problem We All Live With. That painting was loaned to United States President Barack Obama's White House in 2011, and it depicts Bridges walking to school under guard during integration in Louisiana:
Ruby Bridges' historic walk took place six years after the 1954 United States Supreme Court Brown v. Board of Education ruling declared that state laws establishing separate public schools for black and white students were unconstitutional, and represented a definite victory for the American Civil Rights Movement. Among those Americans to take note of the event was artist Norman Rockwell, a longtime supporter of the goals of equality and tolerance. In his early career, editorial policies governed the placement of minorities in his illustrations (restricting them to service industry positions only), however in 1963 Rockwell confronted the issue of prejudice head-on with one of his most powerful paintings — "The Problem We All Live With." Inspired by the story of Ruby Bridges and school integration, the image featured a young African-American girl being escorted to school amidst signs of protest and fearful ignorance. The painting ushered in a new era in Rockwell's career, and remains an important national symbol of the struggle for racial equality.

"I was about 18 or 19 years old the first time that I actually saw it," says Ruby Bridges Hall, who now serves on the board of Norman Rockwell Museum. "It confirmed what I had been thinking all along — that this was very important and you did this, and it should be talked about… At that point in time that's what the country was going through, and here was a man who had been doing lots of work — painting family images — and all of the sudden decided this is what I am going to do… it's wrong and I'm going to say that it's wrong."

The illustration appeared in the January 14, 1964 issue of "Look" magazine, and earned Rockwell letters of both praise and criticism from readers unused to such direct social commentary from the illustrator. Rockwell would revisit the theme of civil rights in several other illustrations from the period, and in 1970 received the Million Dollar Club Award from The National Association for the Advancement of Colored People (NAACP), for having contributed $1000 to the organization.
Bridges was the first black child to be integrated into an all-white school in the South, and she was born the same year the Supreme Court's landmark Brown vs. the Board of Education decision was handed down:
Brown v. Board of Education of Topeka was a landmark 1954 Supreme Court case in which the justices ruled unanimously that racial segregation of children in public schools was unconstitutional. Brown v. Board of Education was one of the cornerstones of the civil rights movement, and helped establish the precedent that "separate-but-equal" education and other services were not, in fact, equal at all.
At the age of six in 1960, Bridges was escorted to school by United States Marshals due to violent activity and threats from segregationists. Rockwell's painting depicted Bridges, flanked by four men, walking past a racial epithet graffitied on a wall pelted with tomatoes:
Ruby Bridges was six when she became the first African American child to integrate a white Southern elementary school. On November 14, 1960, she was escorted to class by her mother and U.S. marshals due to violent mobs. Bridges' brave act was a milestone in the civil rights movement, and she's shared her story with future generations in educational forums.
An element of the post is Bridges' age relative to the average American memory of the civil rights movement, showing that it is neither ancient nor settled history. Oprah Winfrey, Jackie Chan, John Travolta, Denzel Washington, and Jerry Seinfeld were all born in 1954, and all were 65 as of January 2020.
As for the meme's claims, Ruby Bridges was born on September 8 1954. She turned 65 on September 8 2019, her age when the meme was shared in January 2020. It is, therefore, accurate — at least until Bridges turns 66 in September 2020.