Scannable QR Code in the Sky in Shanghai
Claim
Image depicts a scannable giant QR code in the sky in Shanghai in April 2021.
Like this fact check?

Reporting
On April 23 2021, an Imgur user shared a purportedly recent photograph from Shanghai, depicting a giant scannable QR code in the night sky:
Two days earlier, a Facebook user shared a clearer photograph, describing the QR code display as the "future of advertising":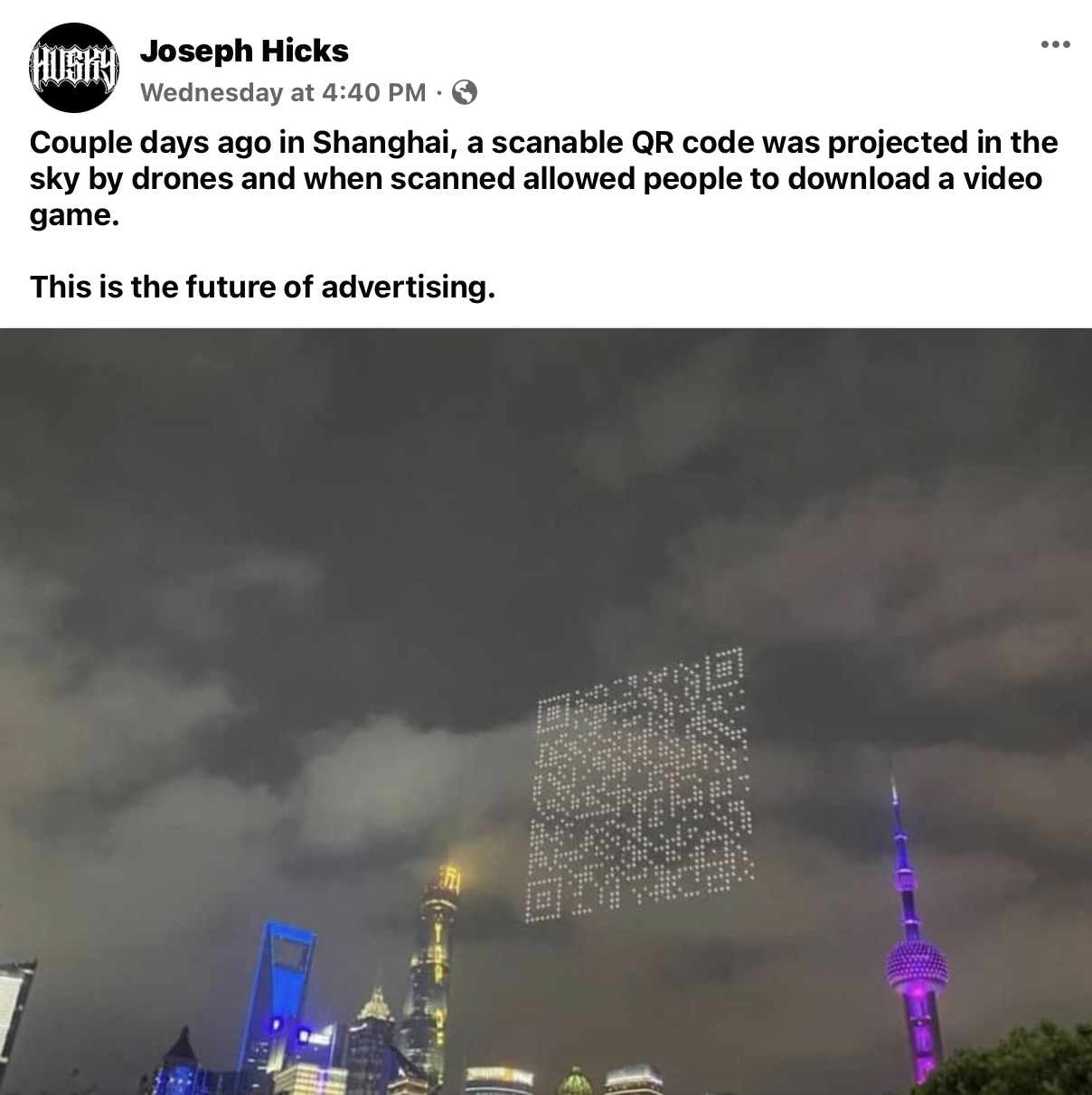 That user claimed the scannable QR code was "projected by drones," and when scanned, it "allowed people to download a video game." However, neither of the popular posts included any additional information or news stories indicating whether the image was authentic and accurately described.
A reverse image search indicated the image was first crawled on April 18 2021. On that date, posts on Reddit's r/interestingasfuck and r/Cyberpunk featured the same image:
Scannable QR code advertisement in the sky, made by drones in Shanghai. from interestingasfuck
Neither of the posts included a link with information substantiating the claims of the title. Standard search returned a single article by Vice.com, published on April 20 2021 and titled "Drones Light Up Shanghai's Sky With a QR Code (That You Can Scan)," reporting that viral images from Shanghai elicited a range of reactions on Twitter:
Hundreds of drones took over Shanghai's night sky on Saturday [April 17 2021] with a light show that ended with a giant QR code, a symbol of China's booming digital economy and consumerism.

The QR code is ubiquitous across China, used for everything from adding friends on messaging apps to paying for groceries at markets, ordering at restaurants, and even giving to panhandlers.

The illuminated QR code, effectively a billboard advertisement in the air, was part of a light show put on by Chinese video-streaming company Bilibili on the first anniversary of the China release of the Japanese role-playing game Princess Connect! Re:Dive. A photo of it went viral on Twitter on [April 18 2021], prompting reactions ranging from amazement to disgust.
Vice.com added that "1,500 illuminated drones formed into the game's logo and characters before transforming into a floating QR code that links to its homepage." An April 17 2021 tweet included the image and a description:
A scannable QR code advertisement created by drones above the skies of Shanghai.

Beautiful. pic.twitter.com/s3T4Fb9314

— John Pathfinder Lester (@Pathfinder) April 17, 2021
Another popular tweet was a retweet of the tweet above, expressing disdain for "ads in the fucking sky":
i'm kind of at a loss for words because this is a great example of us being in the shitty kind of cyberpunk future that uses the miracle of mass automation to literally put ads in the fucking sky https://t.co/RREKqJNMP2

— 🔞✨ Subliminal Criminal ✨🔞 (@KorpsPropaganda) April 18, 2021
Typically, the Shanghai QR code light display was shared as an image only, with little information and chronologically vague language enabling perpetual spread. The photograph depicted a light display created by drones in Shanghai on April 17 2021, and the QR code (when scanned) allowed people to download a Japanese role-playing game.