In an April 26 2021 Imgur post, an Occupy Democrats meme took Alaska state senator Lora Reinbold (R) to task for her purported refusal to wear a mask on an Alaska Airlines flight:
Text under a photograph of a woman read:
PLAY KAREN GAMES, WIN KAREN PRIZES:

Meet Alaska Republican State Senator Lora Reinbold. Last week, cops were called after she fought with Alaska Airlines staffers at the Juneau Airport because she refused to wear a [mask].

The anti-vax lawmaker accused the airline of being "mask bullies" and perpetuating "mask tyranny."

NOW THE AIRLINE HAS BANNED HER, and, because Alaska Air operates the ONLY flight from her home in Anchorage to the state capital, Reinbold now has to drive her car 14 long hours and take a ferry to go to work.

DO YOU FEEL ANY SYMPATHY FOR THE ANTI-MASK NUTCASE?
Although the original Occupy Democrats post did not include any links to substantiate the claims of the meme, the Imgur post included a link to a New York Post article about Reinbold and the Alaska Airlines incident:
A Republican state senator from Alaska who staunchly opposes COVID-19 restrictions has been banned from Alaska Airlines for refusing to wear a mask while flying.

Alaska State Sen. Lora Reinbold was handed the no-fly order by airline management after she resisted multiple requests by staff to abide by its policies requiring masks for all passengers.

[…]

Alaska Airlines has banned over 500 people for resisting their coronavirus restrictions …. Reinhold may have trouble shuttling back and forth to the state capital of Juneau if she remains banned for long. It's a 20-hour drive from her home to the capital city and Alaska Airlines offers the only scheduled air service.
On April 25 2021, the Anchorage Daily News covered the dispute between Reinbold and Alaska Airlines, including a statement from Alaska Airlines spokesman Tim Thompson confirming that Reinbold was banned and corroborating that her transportation options were now severely curtailed:
Alaska Airlines said [on April 24 2021] that it banned state Sen. Lora Reinbold, R-Eagle River, from its flights for continuing to refuse to follow mask-wearing requirements for travelers.

"We have notified Senator Lora Reinbold that she is not permitted to fly with us for her continued refusal to comply with employee instruction regarding the current mask policy," spokesman Tim Thompson said by email.

"This suspension is effective immediately, pending further review. Federal law requires all guests to wear a mask over their nose and mouth at all times during travel, including throughout the flight, during boarding and deplaning, and while traveling through an airport," he said.

The ban had cast uncertainty on how Reinbold might have rejoined the Alaska Senate when legislative work resumed [on April 26 2021]. No other airline has regularly scheduled direct flights between Anchorage and Juneau.
That story also included a link to footage of Reinbold at the Juneau airport, which was originally shared in an April 22 2021 tweet; the tweet appears to have tipped off national media to Reinbold's feud with Alaska Airlines:
Text with the video read:
Whoa! A source just sent this video of Sen. Reinbold at the Juneau airport. She was refusing to wear the mask and the police got involved! She's also filming @AlaskaAir employees and asking for their names. Hyper loose. A second video is below. #akleg
On April 25 2021, Reinbold published a Facebook post chronicling her journey by car and ferry from Anchorage to Juneau:
Alaska I went to new heights to serve you & have a new appreciation for the marine ferry system. I am keenly aware of the monopoly in air transport to Juneau that needs reviewed! Please thank my husband for giving up his birthday to make a long unexpected trip to Juneau by road/ferry system! Nothing could get in the way to be in the Capitol to fight to executive branch infringement on the legislature & defending your rights by trying to stop HB76 which is on the Senate floor tomorrow!
In a previous post that day, Reinbold chastised the airline for confirming her banned status to the media:
Ak Air: Until there is a fair determination, after thorough review of both sides, I believe this should be confidential. I learned about Ak Air decision before I knew there was even an inquiry and before I had a chance to talk to or discuss this with anyone at Alaska Air. I never recieved a warning via a yellow card per their policy either. There was no due process before a temporary decision that is "under review" was made public. Alaska Airlines sent information, including my name, to the media without my knowledge nor permission. I do believe constitutional rights are at risk under corporate covid policies.

Regarding Alaska Airlines I sent this to the media inquiry.

I was reasonable with all Alaska Airlines employees. I have been flying on Alaska Air for decades amd am an MVP gold. I inquired about mask exemption with uptight employees at the counter.

The timing of complaint and a specific employee is of keen interest. The most divisive disaster bill hb76 is up Monday. I have been assured this be looked into. I was respectful of Alaska Airlines policies. We had a pleasant safe flight with happy flight attendants and great talented pilots. I hope to be on an Alaska Airlines flight in the near future.
By April 26 2021, the story had gone viral and generated a lot of discussion:
As several articles noted, Reinbold's apologetic tone was slightly dissonant with her earlier commentary on Alaska Airlines. In November 2020, Reinbold published a photograph of an iced cake: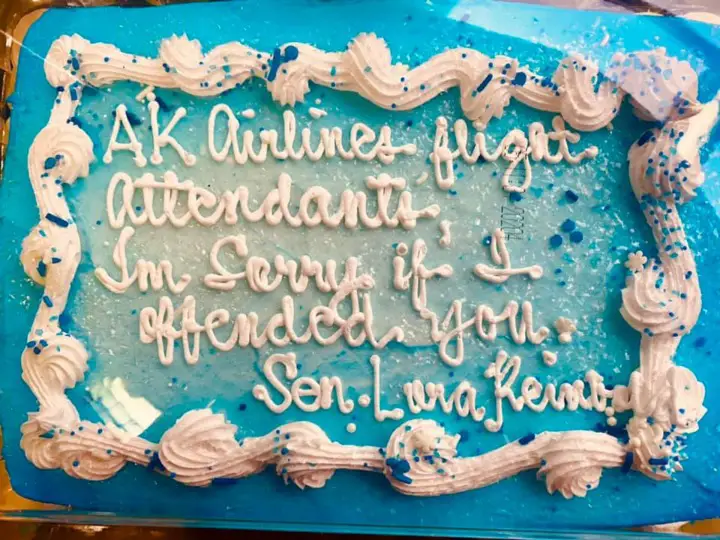 The script on the cake read:
AK Airlines flight attendants' [sic], I'm sorry if I offended you. Sen Lora Reinbold
She added in a comment:
Please note several fight [sic] attendants, employees and numerous customers are glad I'm asking the tough questions to board room one size (doesn't) fit all corporate policies.
Alaska Airlines also interacted with Twitter commenters about the dispute, including a popular New York Times tweet:
An Occupy Democrats post shared to Imgur indicated that Alaska State Senator Lora Reinbold had earned a ban of indeterminate length from Alaska Airlines after a documented history of refusal to comply with federal regulations mandating the use of face masks on commercial flights. Reinbold herself disclosed that the dispute left her with the sole option of a long car trip and ferry ride to commute from Anchorage to Juneau.
Although Reinbold's April 25 2021 Facebook post appeared to downplay her repeated objections to enforcement of mask regulations, a November 2020 post featuring a sarcastic "apology" cake aimed at Alaska Airlines suggested that by then, the airline already had cause to suspect that she would continue to argue with staff and violate federal regulations.