Is Rebecca Washington Replacing Sha'Carri Richardson on the U.S. Olympic Team?
Claim
Sprinter Sha'Carri Richardson will be replaced by a Mormon athlete, Rebecca Washington, on the U.S. Olympic Team
Like this fact check?

Reporting
A pseudonymous Twitter account picked up the story of Sha'Carri Richardson's exclusion from the U.S. Olympic team to spin up a rumor that quickly went viral.
The post, which came from a Twitter account called the Victory News Network, said:
4th place runner Rebecca Washington is set to replace Sha'Carri Richardson on the U.S. Olympic team.

The Mormon athlete says she hopes to help inspire the nation's children to say "no" to drugs.
The tweet was accompanied by a photograph and headline designed to mimic that of a website: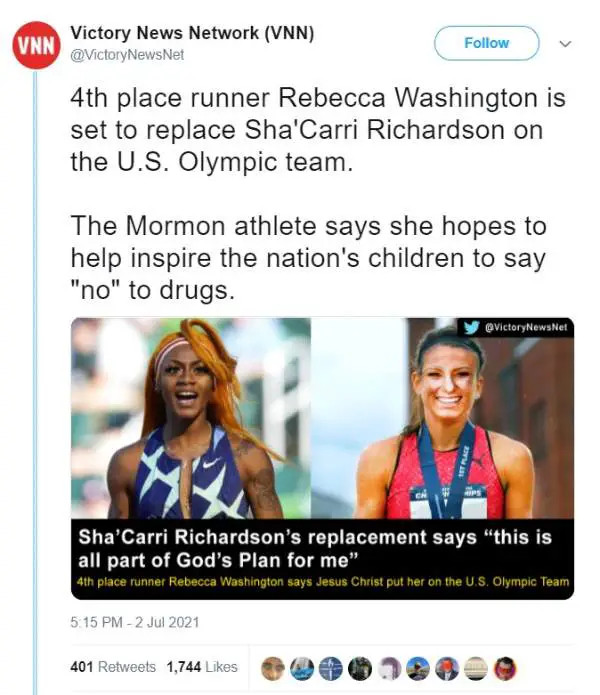 The tweet was shared thousands of times on the platform — presumably by readers who were drawn in by the faux headline too much to realize that the photo "Rebecca Washington" was digitally edited.
Also, there is no website; none of the links listed on VNN's account actually work. However, it has been up front with its intentions; the account's bio states, "It's parody." A July 5 2021 tweet spelled it out still more explicitly:
This is a parody account.

We write funny fake news.

If you see someone taking one of our made-up stories way too seriously, please let them know it's a joke.
Richardson became a national story for several reasons in the course of several days in late June going into early July 2021. She originally qualified for the Summer Olympics in the 100-meters sprint at the U.S. Olympic Trials with a time of 10.86 seconds.
But she was suspended for one month after testing positive for marijuana. She later confirmed reports of her suspension, saying that she had taken marijuana — which is legal for both medical and recreational use in Oregon, where the trials were held — in response to being told by a reporter that her biological mother had died.
"As much as I'm disappointed, I know that when I step on the track I don't [just] represent myself, I represent a community that has shown great support, great love," she said in an interview with NBC News' Today Show. "I apologize for the fact that I didn't know how to control my emotions or deal with my emotions during that time."
"Don't judge me, because I am human… I just happen to run a little faster."

Sha'Carri Richardson (@itskerrii) speaks with @SavannahGuthrie about her failed drug test. pic.twitter.com/aZKTDhYn6Z

— TODAY (@TODAYshow) July 2, 2021
According to the Washington Post, sprinter Jenna Prandini, who finished fourth in the 100-meters trial, would replace Richardson in the event at the Summer Olympics, which are still slated to begin on July 23 2021 in Tokyo.