Social Media Warnings About Gas Company Bandits-Fiction!
Social Media Warnings About Gas Company Bandits-
Fiction!
Summary of eRumor:
Posts have gone viral on social media warning that two men have been saying they're from the gas company to gain access to home they'll later burglarize.
The Truth:
This gag obviously plays off the plot from the classic 1990 Christmas movie "Home Alone," in which Kevin McCalliser went to war with home intruders pretending to be with the gas company.
A viral post shows a modern day picture of Joe Pesci and Daniel Stern, who played Harry and Marv, the "Wet Bandits," in Home Alone: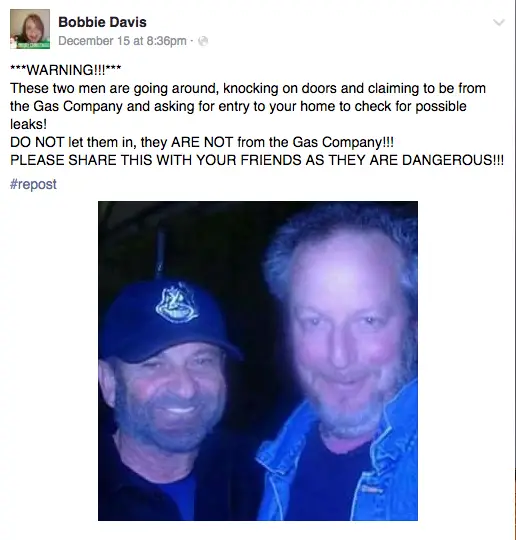 Thousands of people shared the post because they either found the gag funny, or because they believed it was a genuine warning about burglars posing as gas company workers. In reality, however, the photo originally appeared at Daniel Stern's Facebook page in December 2015:


But it should be noted that there are many credible reports of con men claiming to work for the gas company. These cons threaten to shut off power to a home or business's power unless overdue bills are paid immediately, they strip copper pipes, they steal items or case the home for burglary later (like the Wet Bandits), or they loot homes following natural disasters.
Still, we couldn't find any relevant warnings about gas company cons at the time this rumor went viral, so we're calling it fiction.