A photo of sci-fi icon Carrie Fisher in her youth made some fans assume it was linked to a new entry in the Star Wars canon. But while the photograph is legitimate, it has its own story.
The photograph, which shows the young Fisher holding a bird, began spreading online in June 2022:
Fact Check
Claim: The droid L0-LA59 on the show "Obi-Wan Kenobi" was named after "Lola," a bird Carrie Fisher owned in her youth.
Description: The droid L0-LA59 on the show "Obi-Wan Kenobi" was named after a bird called "Lola" that actress Carrie Fisher owned in her youth.
The sudden interest in the photo is likely linked to the new show Obi-Wan Kenobi, in which Vivien Lyra Blair plays future New Republic General Leia Organa — the character Fisher originated in the Star Wars film series. On the show, a ten-year-old Leia is kidnapped, forcing her adoptive father Sen. Bail Organa (Jimmy Smits) to enlist Kenobi (Ewan McGregor, reprising the role he played in the films) to rescue her. The young Leia has a small droid, L0-LA59 ("Lola" for short), which inspired at least one meme claiming that "Lola" was the name of the bird photographed with Fisher: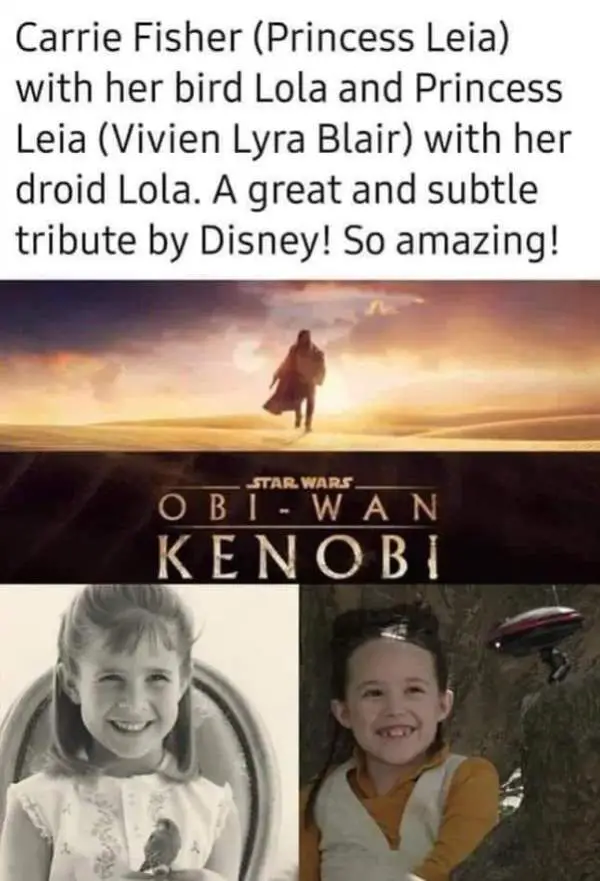 As mentioned, the photograph itself is real; but as other fans quickly pointed out, the name of Fisher's bird was actually Benny Karl. Entertainment Weekly reported in October 2017 that the photo was among thousands of items from the estates of Fisher and her late mother Debbie Reynolds — who took the photo — to be sold by Heritage Auctions. (Both Fisher and Reynolds died in December 2016.)
The collectibles site lists the photo (dated circa 1964) as sold, and also includes Reynolds' handwritten recollections about Benny Karl:
Our "wild" bird
Carrie raised it in Palm Springs
She hand-fed him
He sang and ate the same food as we did

One day we gave him a fly and he threw up
Smart bird.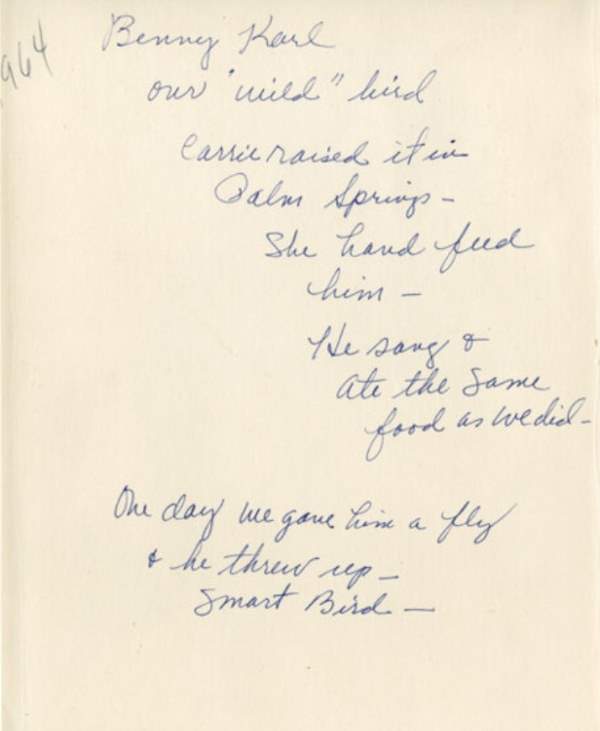 The auction also included Fisher's personal script from The Empire Strikes Back, which included annotations for her dialogue as Leia, foreshadowing her later work as an author and "script doctor."
"Every page with Leia dialogue is annotated by Fisher in pencil with subtext, with the underlying message being conveyed," Entertainment Weekly reported. "Her analysis and notes helped to provide direction on how she should deliver her dialogue, the auction house explains."
While photographs of Fisher with this particular bird have gained attention lately, photos of her flipping the bird have long been popular online: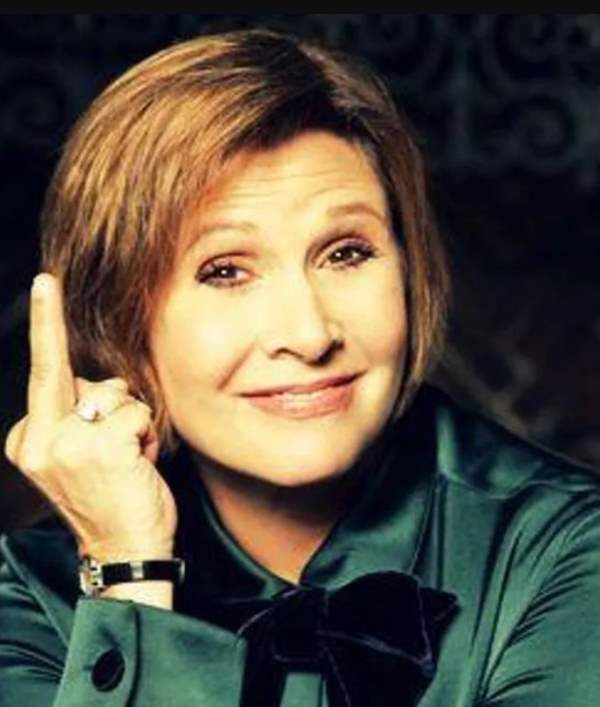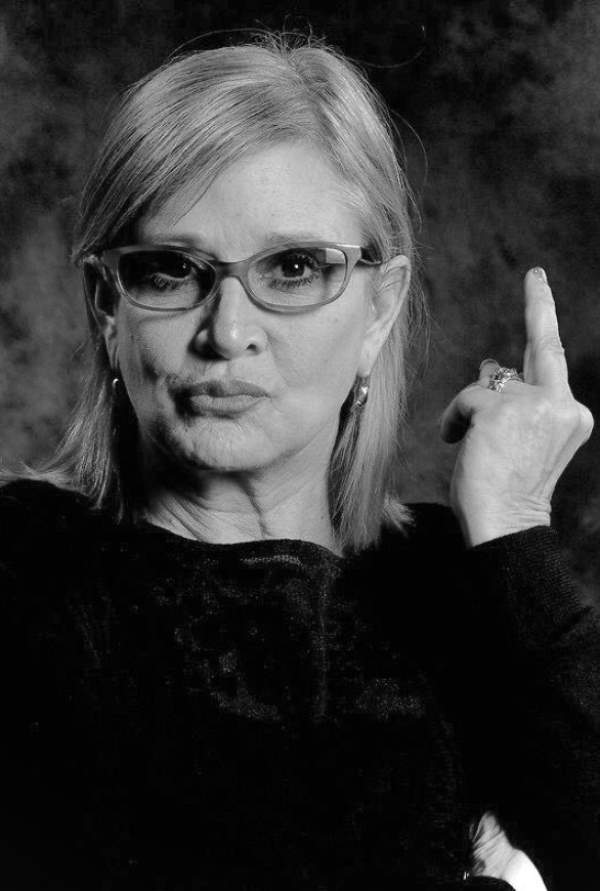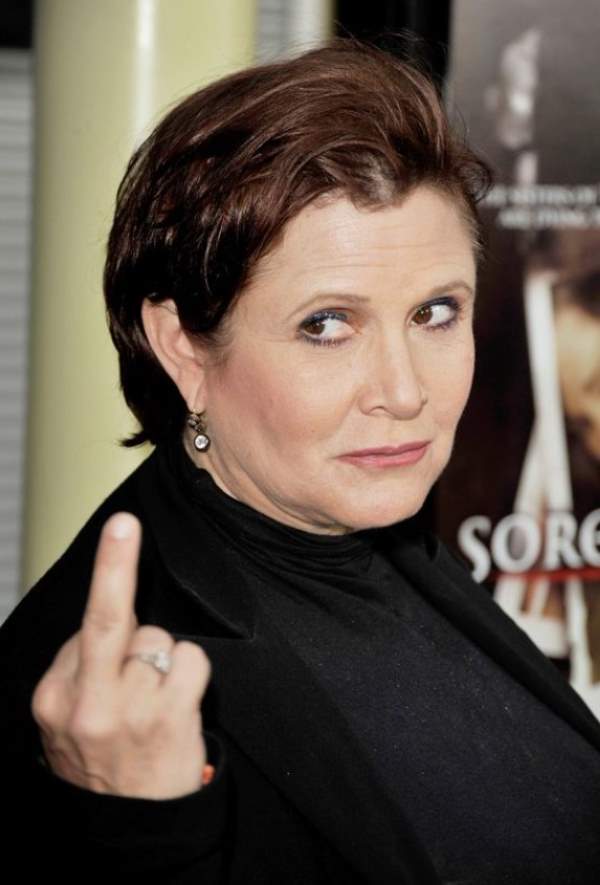 In an October 2017 appearance at the New York Comic-Con, Fisher's co-star Mark Hamill invoked the gesture to reassure fans after her passing, saying:
Worldwide, everyone feels that gap she left. But we all have to hang in there. And if she's out there somewhere, we have to give her the one-finger salute. Come on everybody, for Carrie.
We contacted Lucasfilm, the production company behind "Obi-Wan Kenobi," hoping to learn the real origin for "Lola" the droid's name. We have yet to hear back.