On June 10 2022, an Imgur user shared screenshots of a tweet from @RightWingCope, about the phrase "Let's Go Brandon" and its effects on a young boy with autism whose name is Brandon:
The account described the screenshots as "Unironically one of the most wholesome stories I've seen recently" in the June 9 2022 tweet above. On the same day, a Reddit user shared the article to r/neoliberal:
Fact Check
Claim: After a boy named Brandon believed "Let's Go Brandon" signs were created to support him, his mother wrote the book Brandon Spots His Sign.
Description: A young boy named Brandon with autism misinterpreted 'Let's Go Brandon' signs as a gesture of support for him. This incident inspired his mother to write a book titled 'Brandon Spots His Sign', which was acknowledged by President Joe Biden.
All three social media posts pointed to one article in Minnesota's Star Tribune on June 2 2022, "In a twist, 'Let's Go Brandon' helps a Minnesota boy let go of his fears." It began:
Brandon Brundidge saw the signs.

"Let's Go Brandon."

The message flapped from flagpoles, clung to bumper stickers and wobbled on signs jammed into the dust of the Texas RV park where 9-year-old Brandon and his family were visiting from Minnesota this spring [of 2022].

Brandon has autism, which can make the world feel like a scary place sometimes.

The trip to Texas was full of new experiences and big decisions. Should he jump in the pool? Take the training wheels off his bike? Enjoy the sensory-friendly activities at the Houston Livestock Show and Rodeo?

The signs were telling Brandon to go for it. Brandon took the signs at their word.

"Mama, the people here love me," his mother remembers him telling her. "They've got signs. They're cheering me on."
All of the posts mentioned a book produced for Brandon Brundidge, Brandon Spots His Sign. Brandon Spots His Sign has been published, is listed on Walmart.com and Amazon.com.
One of the pages was featured as a thumbnail on a Facebook video: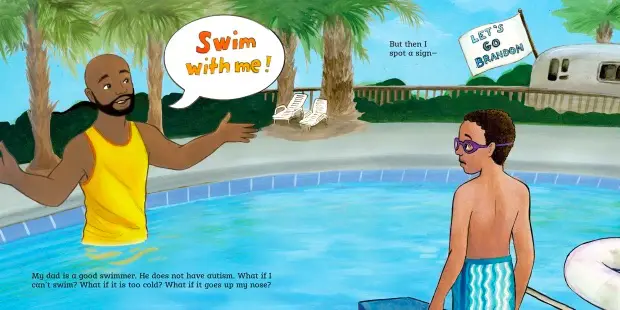 In the illustration, a boy stands on a diving board, looking at his father in the pool. Text read:
My dad is a good swimmer. He does not have autism. What if I can't swim? What if it is too cold? What if it goes up my nose?

But then I spot a sign — ["Let's Go Brandon"]
In the Star Tribune piece, a section explained that Brandon Brundidge received a letter about the book from United States President Joe Biden:
Last week [in late May or early June 2022], Brandon got another nudge of support from someone with experience in "Let's Go Brandon" messaging — President Joe Biden.

"Your mom sent me a copy of the book she wrote about you, and I loved it," the letter on White House stationery began. "I also know what it feels like to be a little different — I stuttered as a child, and some kids could be really mean. But remember, you are stronger because you persevere. Never forget that you are defined by your character and courage."
Several viral posts claimed the political slogan "Let's Go Brandon" led a boy with autism (Brandon Brundidge) to feel supported after he "spotted" the sign several times on a trip to Texas. His mother Sheletta Brundidge created a book — Brandon Spots His Sign — inspired by her son's reaction to the signs. The book was published in April 2022, was acknowledged in a letter to Brandon by President Biden, and was available for sale in June 2022.