On September 7 2021, "a message from Steve" of Blue's Clues fame was shared to the public Facebook group "Nostalgic Nick," partly captioned, "Finally we have some closure from Steve":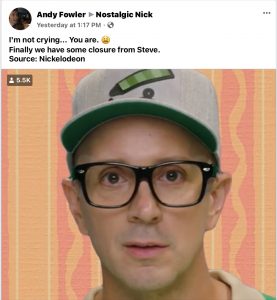 On Twitter, @NickJr shared the clip that day:
Blue's Clues began airing on Nickelodeon in 1996; the original host (Steve) left the show in April 2002. At the time, the New York Times reported:
[Addressing Steve's departure] was the [main] problem facing the creative team behind "Blue's Clues," the half-hour Nickelodeon show in which the host, Steve (Steven Burns), and his blue cartoon puppy, Blue, lead the pre-school audience in solving a mystery. After six years, Mr. Burns had decided to move on, and Nickelodeon had to engineer his goodbyes as well as his replacement.

"We kind of equate it with a pre-schooler going to school for the first time or meeting a new baby sitter," said Angela C. Santomero, the show's executive producer and co-creator. "We wanted the kids to be comfortable, and we had to be comfortable first."
On September 7 2021, Steve (the original host of Blue's Clues) appeared in the video clip above, addressing his audience. He said in part:
You remember how when we were younger, we used to run around and hang out with Blue and find clues and talk to Mr. Salt and freak out about the mail and do all the fun stuff?

And then one day, I was like, 'Oh hey, guess what? Big news, I'm leaving. Here's my brother Joe, he's your new best friend,' and then I got on a bus and I left and we didn't see each other for like a really long time? Can we just talk about that? Great. Because I realize that was kind of abrupt.
A separate post by a Facebook user collated emotional Twitter reactions from fans of Blue's Clues: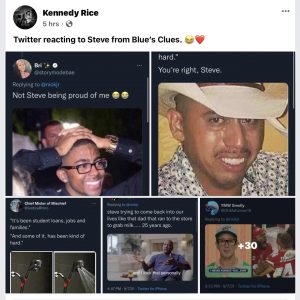 Later in the video, Steve added:
Look at all you have done and all you have accomplished in all that time, and it's just … it's just so amazing, right?

I mean, we started out with clues and now it's what? Student loans, and jobs, and families, and some of that has been kind of hard, you know? I know you know … and that's super cool.
Steve concluded his 2021 Blue's Clues message by saying, "I guess I just wanted to say that after all these years I never forgot you, ever, and I'm super glad we're still friends." He also told viewers that they "looked great" and to "keep doing" whatever they were doing.