Target Caves to Weaponized Narratives, 'Pulls' Pride Items
On May 24 2023, Target issued a statement regarding Pride Month in 2023, disclosing a controversial decision to change course in response to purported violent threats against its employees:
Target Statement on 2023 Pride Collection

For more than a decade, Target has offered an assortment of products aimed at celebrating Pride Month. Since introducing this year's collection, we've experienced threats impacting our team members' sense of safety and well-being while at work. Given these volatile circumstances, we are making adjustments to our plans, including removing items that have been at the center of the most significant confrontational behavior. Our focus now is on moving forward with our continuing commitment to the LGBTQIA+ community and standing with them as we celebrate Pride Month and throughout the year.
Target and Pride: A Brief History
In the statement, Target said that it had "offered an assortment of products aimed at celebrating Pride Month" for "more than a decade," and blamed "threats" to Target employees for its 2023 decision. A search for "Target" and "Pride" returned a sobering series of chronological links, demonstrating Target's Pride marketing in previous years: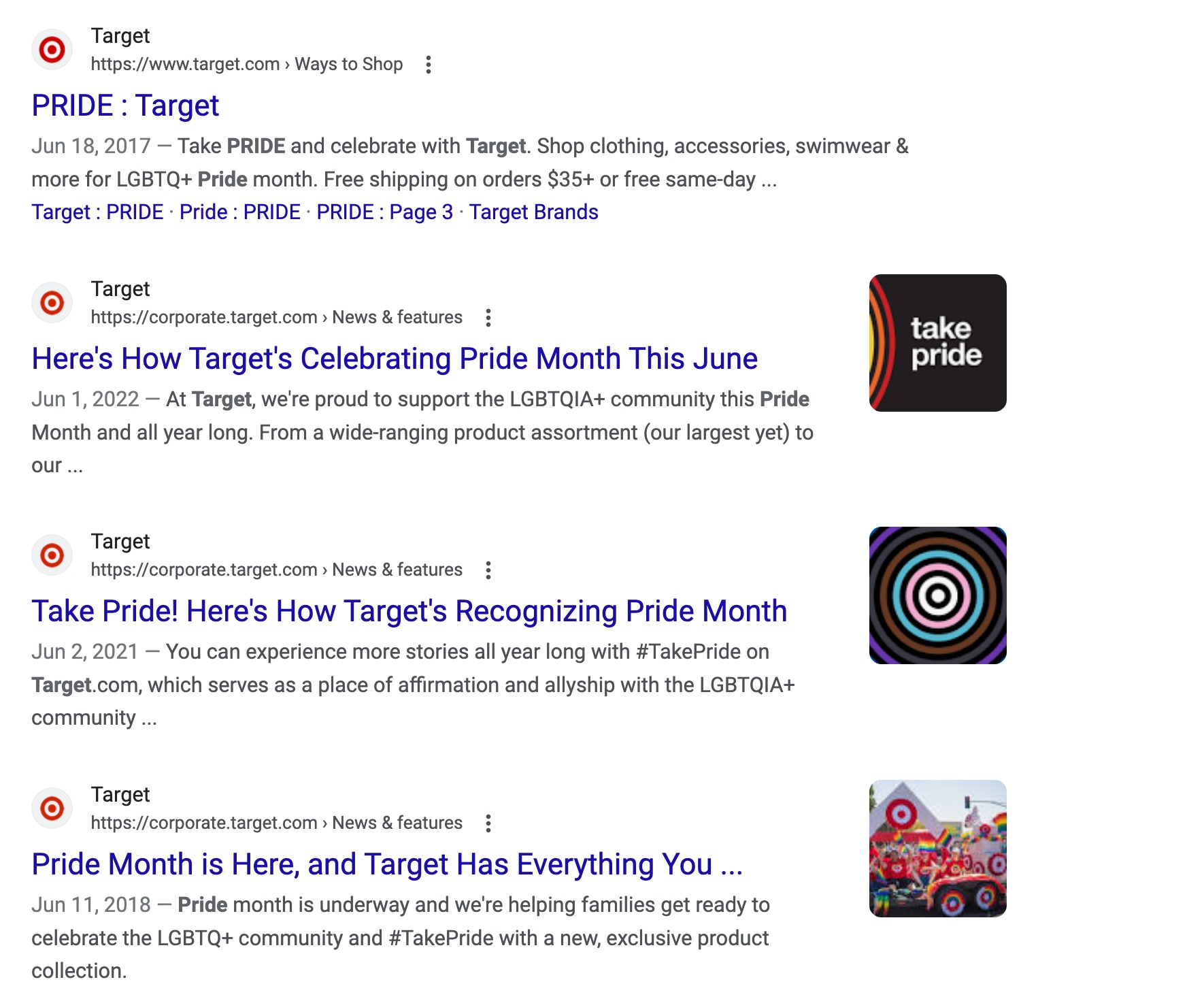 In June 2022, Target's Pride Month statement was titled "Here's How Target's Celebrating Pride Month This June — and All Year." It was far more detailed and positively framed than the 2023 statement, and began:
At Target, we're proud to support the LGBTQIA+ community this Pride Month and all year long. From a wide-ranging product assortment (our largest yet) to our Take Pride marketing campaign, community sponsorships and events for Target team members, here's what to expect in the weeks and months ahead …
A June 2021 statement, "Take Pride! Here's How Target's Recognizing Pride Month," started with similar sentiments:
It's Pride Month: a time of affirmation and solidarity with the LGBTQIA+ community and a chance to reflect on the moment while seeking out joy together. And while that may still look different from years past, Target is committed to helping our guests, team members and communities observe Pride wherever and however they choose. From partnerships supporting LGBTQIA+ efforts to sharing stories of self-discovery — plus our broadest product collection to date — here's how Target is recognizing Pride Month for our team, guests and communities.
In June 2020 — in the midst and context of a then-novel pandemic — Target still issued a Pride Month statement. Titled "Here's How Target's Helping Guests and Team Members Honor Pride Month," it unflinchingly supported LGBTQ+ employees and customers:
June is underway, and Pride Month is here—a time to come together with heart and solidarity, standing up for inclusion everywhere. While Pride Month will look different this year for a lot of reasons, we know our guests and team members are still looking for ways to honor the month. And Target is committed to helping them #TakePride together, a reflection of our longstanding support of the LGBTQ+ community.

One point of pride for Target: our amazing team. Target's Pride+ Business Council, our HQ-based team member resource group, has planned an internal program that helps team members come together virtually to honor the month. That includes online panels, team member testimonials, videos and more—all designed to create safe, welcoming environments for all.

Our merchandising teams develop an inclusive Pride collection for guests each year in partnership with the Pride+ Business Council. This year, that collection features more than 90 products online and in nearly 500 stores across the country, with apparel in extended sizes, accessories, swimwear and more. And as Pride celebrations around the country extend later into the year, we're keeping a portion of the collection available online for guests through the fall.

For decades, Target has supported local, regional and national LGBTQ+ organizations financially and through volunteerism. This year, in honor of Pride Month, we're proud to donate $100,000 to GLSEN to help their mission of creating inclusion and safety for all. Target's support of the LGBTQ+ community is just one example of our commitment to inclusion. Find more about Target's mission to help create a more inclusive society here.
A June 2019 statement ("In Honor of Pride Month, Here Are the Ways Target's Helping Guests Celebrate") boasted of year-round support for Pride:
Target partners with organizations that support the LGBTQ+ community, including financial contributions and team member volunteerism, throughout the year. And in celebration of Pride month, Target will contribute $100,000 to support GLSEN.

Target team members carry a banner reading "#takepride, Washington, D.C."Our team participates in Pride volunteer activities, parades, festivals and more throughout the month, all part of our year-round tradition of volunteering in the communities where we live and work. This year, team members will be on tap to volunteer at more than 30 Pride events across the country, including this year's World Pride in New York City.
Target's June 2018 statement, "Pride Month is Here, and Target Has Everything You and Your Family Need to Celebrate," described the chain's Pride "festivities" in several cities:
Pride month is underway and we're helping families get ready to celebrate the LGBTQ+ community and #TakePride with a new, exclusive product collection. It's just one way we show our longstanding commitment to the community. For more than 20 years, we've supported local, regional and national LGBTQ+ organizations financially and through volunteerism. And this year, along with our product collection and partnerships, we'll we also have thousands of team member volunteers bringing community events to life across the nation. Read on to learn more about what's happening.

[…]

Like we've done for more than 20 years, Target teams across the country are getting ready to participate in their communities' Pride celebrations, from parades to festivals to volunteer activities and more. We sat down with two of our team leaders to hear more about what their teams have planned.

[…]

New York City
Over on the east coast, Target teams in the Big Apple are prepping their stores for the city's main weekend of festivities June 23-24 [2018]. At our new Herald Square store, which sits near the end of the city's Pride March parade route, the team put their product displays front-and-center, ready for guests who stop in.

"We just set out our Pride products in the Tourist Shop and our guests love them." said Thomas Cordara, store team leader at Herald Square. "The adult tank tops in particular have been really popular this year. We're also stocking up on water, sunscreen, hats and other outdoor essentials as we're anticipating a very busy weekend."
Target's May 24 2023 statement stood in bleak contrast with its previous Pride Month statements. Previous mentions of "more than 20 years" of Pride were whittled down to "more than a decade" in 2023's short, joyless statement.
Directly under the series of Target statements seen in the screenshot, a May 2017 Upworthy.com item appeared, published in May 2017. Its headline alone was unsettling by comparison:
Amid backlash, Target still launched its annual LGBTQ pride line. Hell yeah.
Upworthy largely relied on embedded tweets. However, its preface was once again a depressing contrast to the May 2023 statement:
For the fifth year in a row [in 2017], many Target shoppers will find their local store covered in rainbows. It's all part of the retail giant's annual #TakePride campaign celebrating the lesbian, gay, bisexual, and transgender community … The products will be found in over 150 of Target's U.S. stores and online, according to a company spokesperson.

Target has repeatedly been threatened with boycotts from anti-gay and anti-transgender groups over its support for the LGBTQ community in recent years.
In 2014, the retailer publicly endorsed marriage equality. The following year, it announced it was ending gender-based signs in certain areas of its stores — like the toy aisles and entertainment sections — that needlessly assigned genders to products.

Last spring [2016] (after taking some heat for dropping the ball), Target launched a new kids home line with more gender-neutral items — a move, the company said, that helps parents shop for their kids while also helping squash gender norms. And Target explicitly stood on the side of transgender rights when it came to bathroom access in its stores, which ruffled enough feathers to spark a national boycott.

This year's #TakePride campaign is especially notable in the face of that backlash.
Target seemed to be committed to supporting Pride for years — until 2023. So what happened?
Social Media Discourse About Target and Pride in 2023
Target's reversal on its long-standing Pride marketing appeared to be highly unpopular, at least based on numerous posts on social media platforms.
On May 24 2023 posts appeared across Reddit, objecting to the chain's updated position. A post to r/news largely hewed to a news headline about Target and Pride, but its top four comments were telling:
"Precisely why they shouldn't remove anything. Threats are the last reason to do something. Catering to threats only breeds bigger and more frequent threats onto others because it works."

"It really just means that these people will be emboldened to commit more terrorism."

"There must be a way to keep workers safe while also not bowing to terrorists. Something in the middle."

"I mean the way to do that is to come out together, as a society, and absolutely ostracize and stand against these types of people until they no longer feel comfortable enough to do this sort of shit. The real test for Target at this point is going to be to see how aggressively they try to have the people who made these threats prosecuted[.]"
Similar sentiments were shared to r/WhitePeopleTwitter (twice):
Threats to Target workers forced Target to remove its Pride merchandise from stores
by u/districtcourt in WhitePeopleTwitter
Additional posts were shared to r/conservativeterrorism, r/ToiletPaperUSA, r/lgbt, r/Fuckthealtright, r/MarchAgainstNazis, and r/askgaybros. One of the posts featured a real tweet by right-wing blogger and disinformation purveyor Matt Walsh, encouraging others to "make 'pride' toxic for brands":
This is a level of delusion psychologists previously thought was impossible
by u/Snoo5218 in ToiletPaperUSA
On r/askgaybros, the original poster quoted Target's statement, adding:
This is interesting for a few reasons. One is that usually companies change their behavior/tactics to match with social attitudes, which is not the case here. Target is pulling these items because their workers are being threatened by psychotic conservatives who feel increasingly emboldened by the success of anti-LGBT rhetoric espoused by right wing pundits and government officials.

Target is effectively rewarding this behavior by caving into it. Expect more right wing backlash in the coming weeks as we approach Pride.
The post to r/conservativeterrorism was locked to further comments, but its top comment read:
Allowing terrorist threats from the increasingly unhinged and fascist American right-wing to succeed. Thus encouraging more of it.

This is why we've called out "corporate pride"/"rainbow capitalism" and the accompanying cries to sanitize Pride events to be more "family friendly"* aka "marketable" in the past.

These corporations are not here for us when we need them, only when they want to sell us something.

*Pride is not a "family event", it's not meant to be a day out for the family or a chance for corporations to get their logos in a parade.

It started as a riot in protest of the LGBT+ community being brutalized by cops. And then as a protest of government inaction and a defiant celebration of LGBT+ life as Reagan and others in the US government laughed while we died in the tens of thousands during the AIDS crises.
A post to r/MarchAgainstNazis (linked above) featured a tweet by journalist Erin Reed. Reed also tweeted footage of vandalism in a Target store:
The way that Bud Light and Target are reacting to the far right angry at including LGBTQ+ people is EXACTLY why many of us have railed against corporate pride.

If your advocacy consists merely of rainbows that disappear at the first gust of fascist wind, it amounts to net harm.

— Erin Reed (@ErinInTheMorn) May 24, 2023
You're dumber than I thought if you think people will see things like this and take from this conversation, "Yeah, these are good and regular people."pic.twitter.com/QCK9DY7TjI

— Erin Reed (@ErinInTheMorn) May 24, 2023
Walsh was among a very few users pushing the hashtag #BoycottTarget on Twitter. On May 16 2023, Walsh tweeted a video claiming that Target's Pride collection was "targeting children":
What @Target is doing is far worse than anything Bud Light did. They are selling chest binders & "tuck-friendly" bathing suits for children.

Target is calling our bluff. But just like any other company, they need our business. We did it with Bud Light. Now it's Target's turn. pic.twitter.com/C2O2mkgDxw

— The Matt Walsh Show (@MattWalshShow) May 16, 2023
In the text of that tweet, Walsh introduced a lie about Target's "tuck friendly bathing suits for children," in the service of ginning up misled outrage. On May 17 2023, both Associated Press and PolitiFact debunked the falsehood:
Misleading posts about Target's Pride swimwear have also circulated on Twitter. Conservative accounts, such as Libs of TikTok and Gays Against Groomers, claimed the retailer was selling "tuck-friendly" bathing suits for children.

But Target's "tuck-friendly" swimwear is available only in adult sizes, a Target spokesperson told PolitiFact.

The swimsuit shown in the video is listed on Target's website as a "Pride Adult One Piece Colorblock Swimsuit." The adult sizes for the swimsuit range from extra-small to 4X.
NBC News' Ben Collins tweeted a screenshot of a tweet by Walsh outlining plans to "gang up on" a "victim," and chastised journalists who failed to identify the role of coordinated inauthentic behavior in the campaign:
Anyone falling for the extreme far-right's Target backlash — and framing it as a both-sides debate — are not doing their journalistic duty.

They're repeating a harassment campaign that was telegraphed in public months ago. That is not your job as reporters. pic.twitter.com/4Mkg0x6PCN

— Ben Collins (@oneunderscore__) May 24, 2023
On May 23 2023, Target designer Erik Carnell (of Abprallen) did an interview with the Daily Dot. Carnell cited a May 2023 Instagram reel by an unnamed far-right "influencer" as the root of the purported backlash and disclosed receiving death threats because of it.
LGBTQ+ media advocacy organization GLAAD issued a statement about Target's Pride press release on May 24 2023:
Statement from Sarah Kate Ellis, President & CEO of GLAAD:

"Anti-LGBTQ violence and hate should not be winning in America, but it will continue to until corporate leaders step up as heroes for their LGBTQ employees and consumers and do not cave to fringe activists calling for censorship. The fact that a small group of extremists are threatening disgusting and harsh violence in response to Target continuing its long-standing tradition of offering products for everyone should be a wake-up call for consumers and is a reminder that LGBTQ people, venues, and events are being attacked with threats and violence like never before. An avalanche of research shows that Americans are comfortable seeing LGBTQ people in ads and marketing and that consumers, especially younger ones, prefer companies that include LGBTQ people internally and externally."
GLAAD chief executive Sarah Kate Ellis said that "an avalanche of research" indicated that a majority of Americans are comfortable with Pride-related marketing.
Target, Pride, and Public Sentiment
Ellis referenced widespread majority support for the LGTBQ+ community, but did not identify any specific figures or sources.
A June 2022 Pew Research Center Report provided polling data about American sentiment on LGBTQ+ issues. As is often the case, the figures provided were slightly out of line with the framing around them:
The public is divided over the extent to which our society has accepted people who are transgender: 38% say society has gone too far in accepting them, while a roughly equal share (36%) say society hasn't gone far enough. About one-in-four say things have been about right. Underscoring the public's ambivalence around these issues, even among those who see at least some discrimination against trans people, a majority (54%) say society has either gone too far or been about right in terms of acceptance.

[…]

While a majority of Americans see at least a fair amount of discrimination against transgender people and relatively few see widespread acceptance, 38% say our society has gone too far in accepting them. Some 36% say society has not gone far enough in accepting people who are trans, and 23% say the level of acceptance has been about right.

[…]

Many Americans are not comfortable with the pace of change that's occurring around issues involving gender identity. Some 43% say views on issues related to people who are transgender and nonbinary are changing too quickly. About one-in-four (26%) say things are not changing quickly enough, and 28% say they are changing at about the right speed.
In the first excerpted paragraph, Pew described "ambivalence" in concert with a chart indicating that 64 percent of those polled "strongly favor or favor" laws or policies protecting transgender Americans from discrimination. In the second excerpt, Pew said that 38 percent of Americans "say our society has gone too far" in terms of acceptance — but the 36 percent choosing "society has not gone far enough in accepting people who are trans" and the 23 percent for "the level of acceptance has been about right" added up to 59 percent of Americans polled.
That was repeated in the third excerpt, where 43 percent said the "pace of change" was too fast. By contrast, the 28 percent and 26 percent of those polled chose "not changing quickly enough" or "about the right speed" totaled a majority of 54 percent.
On March 29 2023, PBS reported on similar polling conducted by PBS NewsHour/NPR/Marist, in a piece titled "Majority of Americans reject anti-trans bills, but support for this restriction is rising." It began:
A majority of Americans oppose restrictions on LGBTQ+ people, yet the latest PBS NewsHour/NPR/Marist poll shows support for such laws is growing as many Republican state and local lawmakers pursue hundreds of bills targeting LGBTQ+ rights around the country.

Forty-three percent of Americans now say they support laws that criminalize the act of providing gender-transition-related medical care to minors, according to the latest poll, marking a 15-percentage point increase since April 2021. About half of Americans — 54 percent — say they oppose such laws.

"It's promising to see a majority of Americans oppose these dangerous, misguided bills targeting the LGBTQ community, particularly transgender young people, at a time when we're witnessing nonstop anti-trans political attacks and irresponsible news coverage across both mainstream and right-wing outlets," said Jonah DeChants, senior research scientist at The Trevor Project, in a written statement to the PBS NewsHour.
PBS noted that 43 percent of Americans "now say they support laws that criminalize the act of providing gender-transition-related medical care to minors." In May 2023, FactCheck.org published a fact check explaining that minors are not typically eligible for such treatments, in response to disinformation about gender affirming care "for toddlers":
East Carolina University, May 5 [2023]: ECU Health does not offer gender affirming surgery to minors nor does the health system offer gender affirming transition care to toddlers.

[East Carolina University] Health elaborated that it does not offer puberty blockers and only offers hormone therapy after puberty "in limited cases," as recommended in national guidelines and with parental or guardian consent. It also said that it offers interdisciplinary gender-affirming primary care for LGBTQ+ patients, including access to services such as mental health care, nutrition and social work.

"These primary care services are available to any LGBTQ+ patient who needs care. ECU Health does not provide gender-related care to patients 2 to 4 years old or any toddler period," ECU said.

[…]

The Endocrine Society similarly offers criteria for when someone might be ready for genital surgery, but specifies that surgeries involving removing the testicles, ovaries or uterus should not happen before age 18.

"Typically any sort of genital-affirming surgeries still are happening at 18 or later," [clinical psychologist Christy Olezeski, director of the Yale Pediatric Gender Program] said.

There are no comprehensive statistics on the number of gender-affirming surgeries performed in the U.S., but according to an insurance claims analysis from Reuters and Komodo Health Inc., 776 minors with a diagnosis of gender dysphoria had breast removal surgeries and 56 had genital surgeries from 2019 to 2021.
In other words, "support" for bills restricting gender affirming healthcare for Americans under the age of 18 were deliberately misleading nd in conflict with standards of care across the United States. On April 5 2023, progressive news organization The American Independent reported on results of a poll by Data for Progress:
Most of the likely voters in one recent poll believe Republican lawmakers are going too far with legislation targeting civil rights for trans people and other members of the LGBTQ community.

A poll conducted by the progressive polling group Data for Progress and released March 31 [2023] indicates that some 64% of likely voters that responded — 72% of Democrats, 65% of independents and 55% of Republicans — agree that 429 bills targeting the rights of trans and gay people is "too much legislation" and with the statement "Politicians are playing political theater and using these bills as a wedge issue."

At least 11 states — Alabama, Arkansas, Arizona, Georgia, Iowa, Kentucky, Mississippi, Tennessee, Utah, South Dakota and West Virginia — have passed restrictions or bans on gender-affirming care for minors, according to the Associated Press. According to information on the data collection website Trans Legislation Tracker, anti-trans legislation has been introduced in 47 states in 2023. [In late March 2023], the trans community and allies called attention to these bills during rallies held to mark Transgender Day of Visibility." Our polling reveals that Republican politicians advocating for anti-LGBTQ+ legislation are out of step with the American electorate," the authors of the Data for Progress' report stated. "Likely voters oppose this legislation and are willing to support Democratic politicians who directly fight it."
An April 2023 Pink News article about the same poll included context from a 2022 Data for Progress poll:
A previous Data for Progress poll from 2022 found that an overwhelming majority of US voters (88 per cent of Democrats and 86 per cent of Republicans) thought that the U.S. government should not "have a say in personal matters like a person's sexual preference or gender identity".
On April 30 2023, NBC News covered similar poll results, reporting:
… Overall, 70% of those polled said they believed the country "needs to do more to increase social justice." That number is surprising. In 2023, getting 70% of Americans to agree on anything is something of a rarity, but that's especially true for an issue many saw as polarizing.

[…]

That attitude is evident in other areas of the poll, as well. For instance, Americans seem supportive of increased acceptance of the LGBTQ community.

On the whole, 61% of American adults in the poll say they want the country to "become more tolerant and accepting of the LGBTQ community." That's obviously lower than the social justice number but still impressive.
Routinely, news organizations tempered the consistent majority of support for LGBTQ+ rights with caveats about "rising" anti-LGBTQ+ sentiments (presumably in an effort to play to "both sides"). An NBC News article touched upon the abrupt change in sentiment about to marriage equality:
Less than 20 years ago [as of May 2023], those surveyed in the NBC News/Wall Street Journal poll opposed same-sex marriage by more than 30 points — only 30% favored allowing it, while 62% opposed it. Those numbers are more negative than the current attitudes toward transgender Americans.

The climb to acceptance of gay marriage happened steadily and quickly, however. By [2022], the numbers had more than reversed, with 65% saying they favored allowing it and only 20% opposing. It's a reminder that American cultural attitudes aren't set in stone, particularly in the evolving areas of gender and sexuality.
Target Workers' 'Safety and Well-Being'
Target's May 24 2023 statement claimed that their decision regarding Pride was to ensure its employees felt safe at work.
On the same day the statement was issued, Insider.com reported that Target's previous decision to place Pride items "at the back of the store" had the opposite effect on Target workers:
Target has abruptly taken down front-of-store displays of Pride celebration merchandise at dozens of stores in Southern states, leaving some LGBTQ employees feeling alienated and frustrated.

The decision was handed down from the company's corporate offices late on Friday [May 19 2023], according to three employees in Florida. Two of the workers who spoke with Insider said they are LGBTQ and were feeling frustrated and alienated following Friday [May 19 2023]'s action. The employees spoke anonymously for fear of professional consequences as they are not authorized to speak to the media, but Insider verified their identities and employment.

Their remarks reflect dozens of comments bubbling up on social media sites like Reddit, where users identifying as Target employees said the company was letting down the LGBTQ community. (Insider did not confirm the Reddit users' employment).

In a podcast interview published just days [before May 19 2023], CEO Brian Cornell touted the company's commitment to representing "all the families" who shop at Target, and defended his diversity, equity, and inclusion initiatives as "just the right things for our business today."
Insider added that employees didn't believe "safety" was at issue:
But an LGBTQ employee said there was no mention of safety in the display-removal instructions they received via an internal messaging system.

"The communication provided to us explicitly said the decision to move these items was to replace them with swimwear to better meet our sales goals. Not once was safety mentioned," the worker said.
A subreddit for Target employees was mentioned in the article; that subreddit is r/Target. On May 24 2023, several r/Target users posted about the statement:
Story in 2 pictures. Stop the hate.
by u/GlitteringAd1736 in Target
This is getting ridiculous now
by u/Qu33N_Of_NoObz_ in Target
Sad this is the world we live in…
by u/Anxious-Society-2753 in Target
One poster proposed that workers engage in malicious compliance for those who were "mad at Target for choosing bigots over its employees." Another commenter indicated that at least one shopper wished to complain about the chain's handling of Pride in 2023:
Customer wanted to call corporate about the pride display…
by u/Comfortable_Pen_7635 in Target
Summary
On May 24 2023, Target reversed course and issued a statement downplaying its annual Pride Month display, citing purported "threats" and a risk to employees. In the statement, Target changed its verbiage from previous years' "more than twenty years" of Pride to "more than a decade." In part, the issue was exacerbated by intentional falsehoods about "tuck friendly swimwear" for children; the garments were only available in adult sizes. Target's attempt to foist the decision onto its employees didn't align with sentiment on a subreddit for Target employees. Nor did the reversal reflect a change in popular opinion, as recent polls consistently demonstrate a majority of Americans oppose efforts to curb rights for the LGBTQ+ community.