Target issued an easter egg toy recall in the lead up to Easter 2017 — and the warning was falsely re-circulated and re-reported in the in the weeks before Easter 2018 and beyond.
The U.S. Consumer Product Safety Commission announced that the Target department store chain was recalling "hatch and grow" water absorbing Easter egg toys on April 13, 2017. About 560,000 units were recalled over "serious ingestion hazards" for children.
The product recall covered Hatch & Grow Easter Eggs, Easter Grow Toys, and Hatch Your Own Dino. Those products have since been removed from Target stores — but warnings about Target issuing a "massive easter egg recall" continued to circulate in 2018 and were further republished in 2021 by suspicious blogs as well as Pinterest: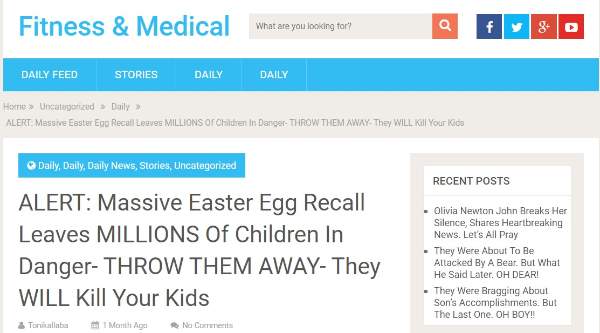 Outdated reports of the massive Easter egg recall can be traced back to news24fresh.info, a website that publishes fabricated and sensationalized news reports. The story appeared under the headline, "Alert: Massive Easter Egg Recall Leaves Millions of Children in Danger – Throw Them Away – They Will Kill Your Kids." And, given the serious nature of the warning, it was widely circulated in the weeks leading up to Easter 2018. But again, the Easter egg toys have been removed from store shelves — making the warning outdated.
Digging back a little further, Target stores in Australia recalled chocolate Easter bunnies in 2015. That recall was issued because the products contained tree nuts without an allergen label, according to the NSW Food Authority. So, while it's important to be on the lookout for recalls and consumer safety alerts, it's also important to check when those warnings were first published.
Update 12/10/2019, 3:17 p.m.: This article has been revamped and updated. You can review the original here.