Ted Cruz Had Affairs with 5 Women-Unproven!
Ted Cruz Had Affairs with 5 Women-Unproven!
Summary of eRumor:
Texas Senator Ted Cruz had affairs with five different women, including campaign staffers, before he ran for president in 2016.
The Truth:
There's no credible proof to back up rumors about a Ted Cruz sex scandal.
Rumors about Ted Cruz's alleged mistresses started with the National Enquirer in late March as Cruz was locked in a bitter fight with Donald Trump for the GOP presidential nomination.
The story, which appeared under the headline "Shocking Claims: Pervy Ted Cruz Caught Cheating — With 5 Secret Mistresses" reported:
Presidential candidate Ted Cruz is trying to survive an explosive "dirt file" on the finger-wagging conservative senator!
And the new issue of The National ENQUIRER — on newsstands now — reveals how the reports say the staunch Republican is hiding FIVE different mistresses!
"Private detectives are digging into at least five affairs Ted Cruz supposedly had," claimed a Washington insider.
"The leaked details are an attempt to destroy what's left of his White House campaign!"
The story didn't name any actual sources, or point to any evidence to support claims that Ted Cruz had extramarital affairs with 5 different women.
For his part, Ted Cruz called the report "garbage" and accused Donald Trump's campaign with planting the story in a Facebook post: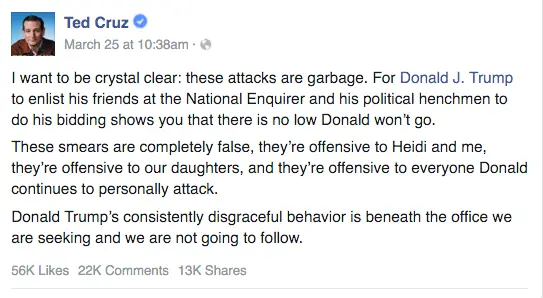 And even though the National Enquirer has become infamous for fictional reports about aliens and mutated humans, Donald Trump noted that the supermarket tabloid has broken a number of factual political stories, including John Edwards' affair with a videographer for his presidential campaign while his wife underwent cancer treatments.
That might be true, but the National Enquirer has also been behind countless fictional news stories over the years. And with the John Edwards story, the National Enquirer quickly followed up its initial report with photographic evidence of Edwards visiting his pregnant mistress that blew the story wide open — that's not the case with the Cruz report.
That's why we're calling this report about Ted Cruz having affairs with five different women "unproven."