Did Ted Cruz Blame 'Cancel Culture' For his Mexico Trip?
Claim
Ted Cruz released a fundraising letter accusing "liberal cancel culture" for the cancellation of his trip to Mexico in February 2021.
Like this fact check?

Reporting
As the anger toward right-wing Texas Sen. Ted Cruz led to widespread criticism and ridicule for deserting his Texas constituents amid historically harsh winter conditions in February 2021 and attempting to blame his daughters for his decision, parodies began to appear online, including a photo made up to resemble a fundraising letter for the senator.
The text of the "letter" reads:
As you may have heard, liberal cancel culture has forced me to cut my scheduled trip to Mexico short.

It's going to take patriots like you to stand up for our rights and show the mainstream media that we will not be silenced or give in to socialist travel restrictions of our public officials who work tirelessly for your benefit.

Please help spread the word by making a donation today. With your help we can save America!*
The asterisk leads to a smaller line at the bottom of the graphic, stating, "This is fake," which appears to have been cropped out of later variations: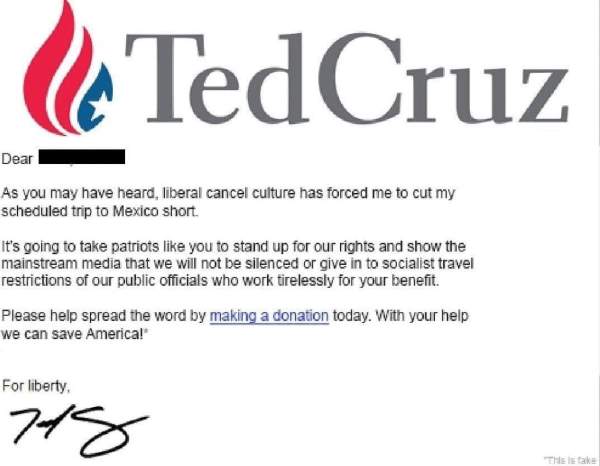 As hundreds of thousands of Texas residents dealt with a lack of power and heat forcing them to evacuate in the wake of a massive winter storm, Cruz was caught by online users leaving the state — with the help of a police escort — as he prepared to board a flight for Cancún, Mexico.
Cruz subsequently claimed that his daughters had asked for the vacation because their house lost electricity, contradicting an earlier statement that his house still had power and had become a gathering spot for his neighbors' children.
According to the New York Times, Cruz's wife Heidi asked friends via group chat messages if they wanted to join the family in Mexico:
Text messages sent from Ms. Cruz to friends and Houston neighbors on Wednesday revealed a hastily planned trip. Their house was "FREEZING," as Ms. Cruz put it — and she proposed a getaway until Sunday. Ms. Cruz invited others to join them at the Ritz-Carlton in Cancún, where they had stayed "many times," noting the room price this week ($309 per night) and its good security.
Besides the fake "statement," a made-up tweet circulated saying Cruz would "believe in climate change when Texas freezes over."
Cruz's flight — and hasty return flight — of fancy quickly became fodder for comics as well as online satirists; Comedy Central's Daily Show posted footage of the lawmaker accusing Democratic Party lawmakers as well as former President Barack Obama of taking too many breaks from work:
.@tedcruz welcome back to the US, found these while you were gone pic.twitter.com/kb1TKs1JhP

— The Daily Show (@TheDailyShow) February 18, 2021
And comedian Blaire Erskine released a parody "statement" from a ficticious spokesperson for Cruz, chiding voters for being too mean to him:
Statement from Director of Communications for Sen. Ted Cruz pic.twitter.com/5cXIkTTZiW

— blaire erskine (@blaireerskine) February 18, 2021
As Cruz embarked on a media justification tour with right-wing broadcasters, Democratic Party politician Beto O'Rourke — who Cruz defeated in a 2018 Senate election — organized a phone bank effort that he said reached more than 784,000 senior citizens across the state. Additionally, Democratic lawmaker Alexandria Ocasio-Cortez (who represents a congressional district in New York, not Texas) raised more than $1 million in funds to be distributed among five groups in Texas helping residents in need.