'Texas Gave Up Land For Slavery'
Claim
Texas gave up land to keep slavery, resulting in Oklahoma's unusual map borders.
Like this fact check?

Reporting
On December 5 2021, a Facebook user shared the following screenshot, which shows a conversation about Texas giving up some of its land to Oklahoma in order to preserve slavery: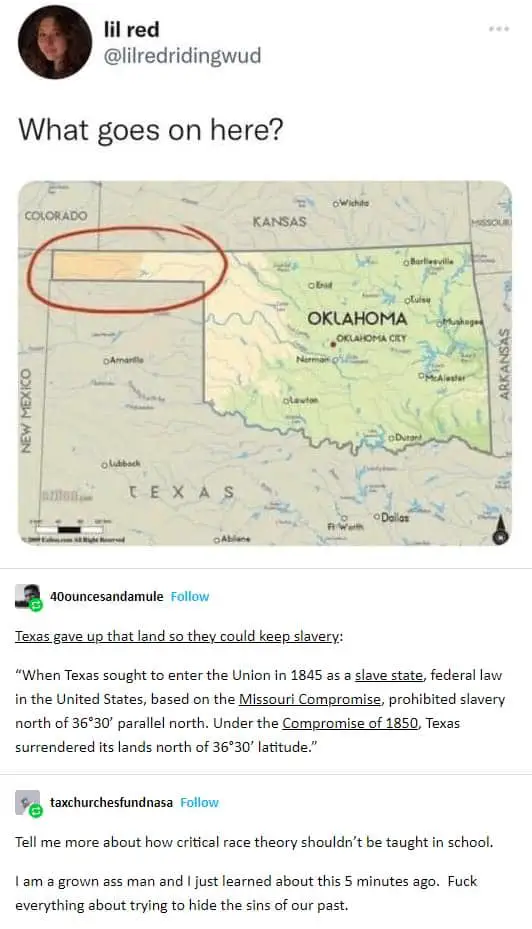 Depicted was a Tumblr post based on this September 8 2021 tweet (in which a comment pondered "what goes on" in a section of Oklahoma on its western side):
What goes on here? pic.twitter.com/c0VI0WJAVX

— lil red (@lilredridingwud) September 8, 2021
On September 24 2021, Tumblr user memewhore shared a screenshot of the tweet, and on October 26 2021, u/fortyouncesandamule responded with the first visible reply in the tweet. Another account shared a version post with two replies:
In the first response, u/fortyouncesandamule said:
"When Texas sought to enter the Union in 1845 as a slave state, federal law in the United States, based on the Missouri Compromise, prohibited slavery north of 36°30' parallel north. Under the Compromise of 1850, Texas surrendered its lands north of 36°30' latitude."
Additionally, u/fortyouncesandamule linked to three citations, all of which were on Wikipedia: one about free states and slave states, one about the Missouri Compromise, and one about the Compromise on 1850.
For further context, Oklahoma became officially became a state on November 16 1907. We located an article on JSTOR.org, a digital archive of academic resources.
Titled "Why Oklahoma Has a Panhandle," it explained:
[As of 2016] fewer than 1% of Oklahomans live in the 168 x 34 mile-wide strip. It was Spanish territory until 1821, when it became part of independent Mexico. The Republic of Texas claimed it when declaring independence. But then, upon entering the Union as a slave state in 1845, Texas surrendered its claim to the region because slavery was prohibited north of 36°30′ latitude by the Missouri Compromise of 1820. 36°30′ became the Panhandle's southern boundary. Its northern border at 37° was set in 1854 by the Kansas-Nebraska Act, which repealed the Missouri Compromise and allowed Kansas and Nebraska to decide for themselves if they would be slave or free.
That source indicated that the land was not immediately ceded to any state (and Oklahoma's statehood didn't happen until 1907); in fact, it was deemed "public domain" by the Secretary of the Interior in 1886, a condition which persisted for more than 20 years:
Finally, in 1890, this orphan rectangle of land was incorporated into Oklahoma Territory, and in 1907 it became part of the state of Oklahoma, which also included the former Indian Territory. Indian Territory had been the end of the Cherokee Trail of Tears, and then the progressively reduced promised homeland for many tribes.
An entry on the website of the Oklahoma Historical Society ("No Man's Land") described the origin of the Oklahoma Panhandle:
This 34.5-by-167-mile rectangle (36˚30´ N to 37˚ N and between 100˚ W and 103˚ W) was unattached to any state or territorial government from 1850 to 1890. It was identified on most government maps as "Public Land" or "Public Land Strip." Today, it is the Oklahoma Panhandle, but during the late 1880s it was popularly known as "No Man's Land." The Public Land Strip, seasonal home to nomadic American Indians of the High Plains, was controlled by Comanche bands and allied groups from 1850 to 1875. Still, the Strip's west end experienced much traffic along the Santa Fe Trail's Cimarron Cutoff and some military excursions. Originally within the Spanish colonial Province of New Mexico, it also saw at its western end some 1860s rancheria settlement by New Mexican sheep herders, and it hosted ciboleros (New Mexican buffalo hunters) into the 1880s. Some Panhandle geographical features still carry their old Spanish colonial names or anglicized variants.

[…]

… By statehood in 1907, when the old territorial Beaver County was divided into three new counties (Cimarron, Texas, and Beaver), the Oklahoma Panhandle held the highest population ever recorded in any census. Those old settlers who had squatted and stayed on uncertain land some twenty years before finally enjoyed vindication of their faith in themselves and the land. There were dust clouds on the horizon, but the first two decades of the twentieth century were generally good years for the people of No Man's Land.
An August 2015 travel magazine piece, "The Secret History of the Oklahoma Panhandle," addressed the interval between Texas surrendering the land and Oklahoma's 1907 statehood:
For 40 years, it was a landlocked island without a government.

As a result [of Texas abandoning it], the panhandle spent the next four decades as a question mark on the map, not part of any state or territorial jurisdiction as late as 1890. It was officially given the catchy name "Public Land Strip," and the thousands of settlers who streamed in illegally to squat on the land began to call it the "Cimarron Territory." But mostly, the panhandle was referred to as "No Man's Land."

The panhandle was a sinner's paradise.

As you might imagine, a narrow "No Man's Land" of lawlessness between Kansas and Texas didn't really attract the frontier's best elements. Outlaws ran rampant, and violence and mob justice were the citizenry's only recourse. Once Carry Nation's temperance crusaders began smashing saloons in Kansas, the panhandle became a haven for moonshiners and brothels. One boom town, the straightforwardly named Beer City, was called "the Sodom and Gomorrah of the Plains."
A viral Facebook post featured a tweet about "what goes on" in Oklahoma's Panhandle, with an ensuing conversation about how Texas "gave up land" to preserve slavery in accordance with laws prohibiting enslavement "north of 36°30′ latitude by the Missouri Compromise of 1820." Oklahoma did not become a state until 1907 (taking with it the "No Man's Land" described here), but overall, the post accurately explained that the strip of land was surrendered by Texas in 1845, when it entered the United States as a slave state.