Texas Vote Switching Fuels Speculation About Rigged Election-Unproven!
Summary of eRumor:
Reports out of Texas that voting machines are automatically switching votes for Donald Trump to votes for Hillary Clinton have fueled speculation that the election is rigged.
The Truth:
Local officials say that scattered reports of vote switching in Texas are a result of voter error, and we couldn't find any evidence of widespread election fraud going on.
Rumors that voting machines in Texas were automatically switching votes for Donald Trump to votes for Hillary Clinton started when early voting opened in Texas on October 24th. A handful of posts popped up on social media about vote switching or vote flipping in the Arlington and Dallas areas. Typically, these posts stated that the voter cast a straight Republican ballot only to find that the Clinton/Kaine box had also been highlighted: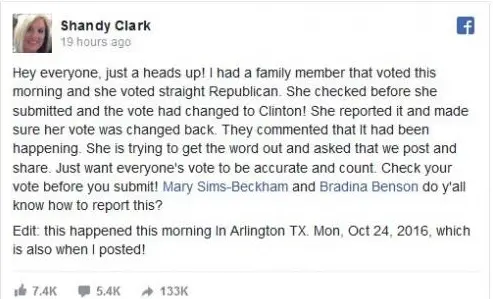 Officials at the Randall County Elections Office told local radio station KISS FM 969 that they were aware of the reports but had chalked them up to user error, "They said that there are several voters each year who report that their ballots are mis-marked, but they are usually caused by the voter accidentally selecting a different party."
And Potter County Judge Nancy Tanner issued a statement on October 25th saying that, "There is not wrong with any of the machines we use for voting. They do not flip your vote. They do not flip parties. Humans do that."
Tanner went on to describe "one incident in Randall County" where a voter voted straight ticket and when they hit the vote button, it flipped parties:
They reported it to the election official and they cancelled that ballot and allowed the voter to vote again on another machine.
The machine was then checked and nothing was wrong with the machine.
I urge the voters to take the opportunity to review their ballots before they hit the vote button. As everyone knows, our fingers don't always do what their brain tells them.
Texas Secretary of State Carlos Cascos, a Republican, also pushed back against claims of widespread voter fraud in the state, the San Antonio Express-News reports:
Reacting to GOP presidential candidate Donald Trump's persistent claims that the election is "rigged," Cascos, a Republican, said that's "highly unlikely, very improbable" in this state because each of Texas' 254 counties has its own voting system, many of them with analog equipment.
"I am not concerned about a nationwide vote-rigging epidemic. I certainly don't believe that it's going to happen in Texas," Cascos said.
"There's just too many protocols … at local offices where votes get counted. You'd have to be somebody ingenious, a massive conspiracy with a whole bunch of people involved to try to penetrate every single election office," Cascos said.
On the subject of voter fraud, which Trump also asserts is rampant, Cascos said it happens, but he's uncertain how often and how significant it is.
"I don't think that anybody has a good handle on it," he said.
In conclusion, there were a few reports of vote flipping in Texas,  but local officials chalked them up to voter error, not rigged voting machines. Aside from a handful of social media posts, there doesn't appear to be any proof that a vote flipping or vote switching is going on in Texas. That's why we're calling this one "unproven."