In August 2021, an October 2018 post about the "Thatcher effect" and "thatcherized images" spread on Facebook, from a post originally  shared by a New Hampshire-based optometrist's office.
It read:
The Thatcher Effect.

This illusion highlights a flaw in how our brains work – we can't process an upside-down face because we are programmed to recognise faces the right way up.

We create a mental map by recognising the face in pieces – eyes, mouth, and nose.

So when we're presented with an upside-down, Thatcherised image, it's not processed properly.

We know it's upside down, but because we so rarely encounter upside-down faces, we haven't evolved to interpret the expressions on them.

The facial features look fine, so our brains assume the rest of the face is as well.

That's why we don't see anything out of the ordinary until we turn the face the 'right way' up.
Text of that post seemed to be copied from an earlier iteration, with vestigial elements hinting at a source outside the United States. Google Trends data for the 30 day and seven day periods ending August 23 2021 indicated a spike in interest for the latter period.
On August 22 2021, the image and text were shared to Reddit's r/interestingasfuck — but the 2018 source post was already in widespread, contemporaneous circulation on Facebook:
Neither the Facebook post nor Reddit thread involved a common feature of older variations on the rumor in which the meme directed users to turn their device "upside down." Nevertheless, Reddit commenters began discussing the unease caused by inverting the image:
The OP didn't explain what the Thatcher Illusion actually is.

From the first line of the Wikipedia article:

The Thatcher effect or Thatcher illusion is a phenomenon where it becomes more difficult to detect local feature changes in an upside-down face, despite identical changes being obvious in an upright face.

So this photograph is illustrating exactly what it's meant to, which is that it's hard for most people to recognize that the mouth and eyes are reversed while the face as a whole is presented upside-down.
Inverted, the image in question (of singer Adele) looked like this: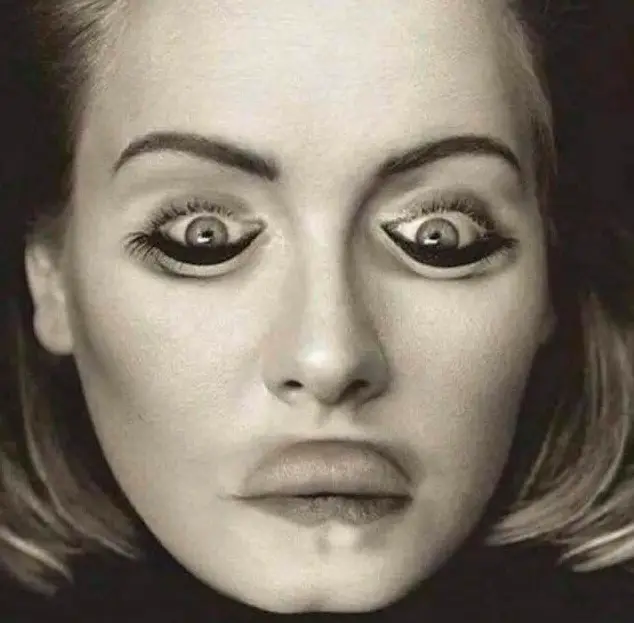 Reverse image search indicated the "thatcherized" or "thatcherised" photograph of Adele was first crawled in late February 2016, more than five years prior to the August 2021 spike of interest. On February 29 2016, social media news outlet Mashable reported a then-viral iteration shared by the Instagram page @theshaderoom.
Mashable explained that "every aspect of the image is flipped with the exception of Adele's eyes and lips," adding that the "tweaked Adele photo looks like something straight out of a horror movie." However, the outlet did not use the words "Thatcher effect," "thatcherized," or "thatcherised" anywhere in the brief item.
By March 3 2016, Business Insider linked "upside down Adele" and "the Thatcher effect," explaining the effect:
While the singer's face has been turned upside down, her eyes and mouth have actually been left the right way up. The result is something that looks borderline nightmarish — and people have been going nuts over it … The illusion is what's known as the Thatcher effect, so called after the former British prime minister whose image was first used for the trick, Margaret Thatcher.

The Thatcher effect highlights a flaw in how our brains work — we can't process an upside-down face.
That outlet cited a June 2011 post by The Naked Scientists, "The Thatcher Illusion." Adele was not mentioned in it, but the site included images of Thatcher (and other recognizable images):
The Thatcher illusion has caused quite a stir amongst both scientists and the public. We're still not exactly sure how the illusion works.

We know that our brains have developed a high sensitivity for recognising faces – so that we can tell the difference between individual's faces, like telling your mother, sister and a stranger apart.

But how does it do this? Researcher think your brain relies on how the face is configured, using information about features – like the distance between nose and mouth, or the distance between our eyes. But when a face is upside down, the brain is unable to process facial features as well – this is because we do not normally look at upside-down faces!

We haven't evolved to interpret the expression on upside down faces so we don't notice the changes in the eyes and mouth when they are the wrong way round.
A portion of the 2011 explanation pinpointed a region of the brain possibly "responsible" for the phenomenon, and another addressed how the Thatcher effect was discovered:
Which part of the brain is responsible?

The medial prefrontal cortex and the posterior cingulate are involved in processing information from the eyes and mouth (the eyes and mouth give social and emotional cues).

The fusiform area and the lateral occipital cortex may also be involved in processing topsy turvy faces.

[…]

Why do scientists study this?

The Thatcher effect was discovered in 1980 by a perception scientist called Peter Thompson. He first created the illusion using the famous face of Margaret Thatcher, the Prime Minister at the time, who is remembered as a lady who was "not for turning" in her political and economical reforms!

Fun facts: The Thatcher effect is not just limited to humans – it was recently discovered that chimpanzees also fall for the Thatcher illusion. They only became very excited when looking at the grotesque upside down eyes and lips on a face that is right way up!
On March 7 2016, Psychology in Action (a blog written by doctoral students in the University of California, Los Angeles' psychology department) addressed what was then a major topic of discourse on social media. That assessment observed that humans were surprised when presented with examples of the "Thatcher effect" or "thatcherized images," and explained how familiarity with a human face contributed to the effect:
Our brains are masters at human face perception. In fact, we have an entire brain network comprised over 25 individual brain regions that help us to process human faces. Researchers believe that part of this processing lies within a somewhat continuous search of patterns and ratios that make up the human face (two symmetrical circles for eyes a little bit apart, a dark brow-looking line right above those circles, etc.). This pattern recognition is so persistent that it can even lead to things like Pareidolia, where humans recognize faces in everyday objects like tacos or grill-cheese sandwiches … when that face is turned upside down, this process changes.

Humans (and even monkeys) are inherently worse at reading upside-down faces compared to faces that are right-side up. This is likely because the change in directionality disrupts the patterns and ratios that make up any human face— a pattern we rely on to interpret faces. Further, our ability to process the face as a whole when we look at an upside-down face suffers, so we start to process individual features of the face more.

In the case of upside-down Adele, our brains switch from holistic to more individualistic processing. She looks fine this way because the ratio of her face is generally still the same, and her eyes are right-side up– the way we are used to seeing them! Same goes for the mouth, it is the same direction we are used to and our brain doesn't think to tell us that a right-side up pair of eyes is wrong on an upside-down face. However when the image is flipped right-side up, our brains are now processing that face holistically again and we instantly recognize that everything is wrong and slightly terrifying.

Our brain has been tricked by this illusion, but it illustrates a pretty unique feature of the way we process human faces.
The Thatcher effect also appeared in several journal articles, including a generalized article in the journal Perception in 2001 [PDF]. A 2007 article in the same journal addressed the phenomenon in relation to prosopagnosia (also known as "face blindness"), as did a 2012 article in the journal Neuropsychologia.
An abstract for the 2007 article ("Discriminating Thatcherised from typical faces in a case of prosopagnosia") explained how researchers used the processing quirk to further understand prosopagnosia:
Congenital prosopagnosia (cPA) is a severe disorder in recognising familiar faces, a human characteristic that is presumably innate, without any macro-spatial brain anomalies. Following the idea that cPA is based on deficits of configural face processing, we used a speeded grotesqueness decision task with thatcherised faces, since the Thatcher illusion can serve as a test of configural disruption. The time needed to report the grotesqueness of a face in relation to orientation showed dissociate patterns between a group of fourteen people with cPA and a group of matched controls: whereas the RTs of controls followed a strong sigmoid function depending on rotation from the upright orientation, the RTs of people with cPA showed a much weaker sigmoid trend approaching a linear function. The latter result is interpreted as a diagnostic sign of impaired configural processing, being the primary cause of the absence of 'face expertise' in prosopagnosia.
The "Thatcher effect" (or "Thatcher illusion") became a viral sensation when applied to an inverted, already widely recognized photograph of Adele in February 2016. The Thatcher effect (and "thatcherized" or "thatcherised" images) was discovered in 1980 by psychology professor Peter Thompson, who initially applied it to an image of former British Prime Minister Margaret Thatcher. Researchers acknowledged the phenomenon, and later used it to study conditions like prosopagnosia ("face blindness") in subsequent studies. The above-quoted viral Facebook post (originally shared in 2018) accurately described and named the phenomenon, and its claims are true.