The Betty White Challenge
Claim
In January 2022, social media accounts proposed marking the death of Betty White via a "Betty White Challenge," encouraging fellow fans to donate $5 in her name to animal shelters.
Like this fact check?

Reporting
The late December 2021 death of cultural icon Betty White prompted an outpouring of tributes — and suggestions about how to best honor her life. On January 1 2022, posts about a "Betty White Challenge" began circulating across platforms.
Examples of the Betty White Challenge
One iteration shared to Facebook on January 2 2022 racked up a six-figure share count in under 24 hours: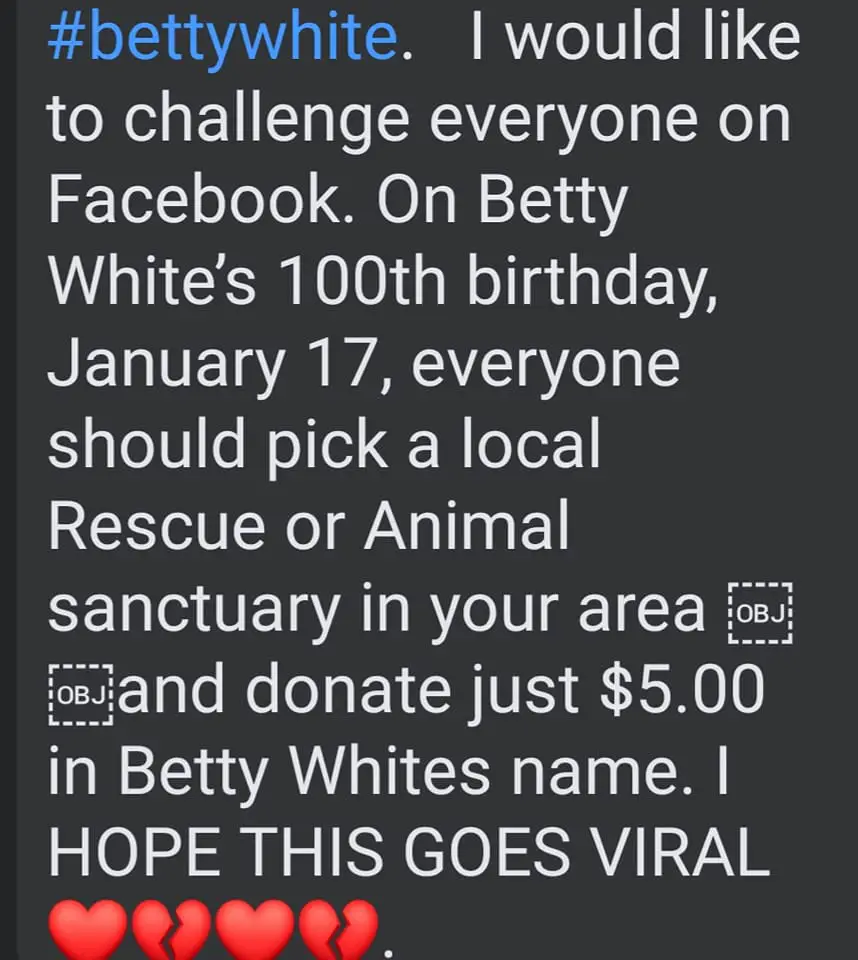 It read:
#bettywhite. I would like to challenge everyone on Facebook. On Betty White's 100th birthday, January 17 [2022], everyone should pick a local Rescue or Animal sanctuary in your area … and donate just $5.00 in Betty Whites name. I HOPE THIS GOES VIRAL ❤️💔❤️💔.
Another graphic was shared at least twice: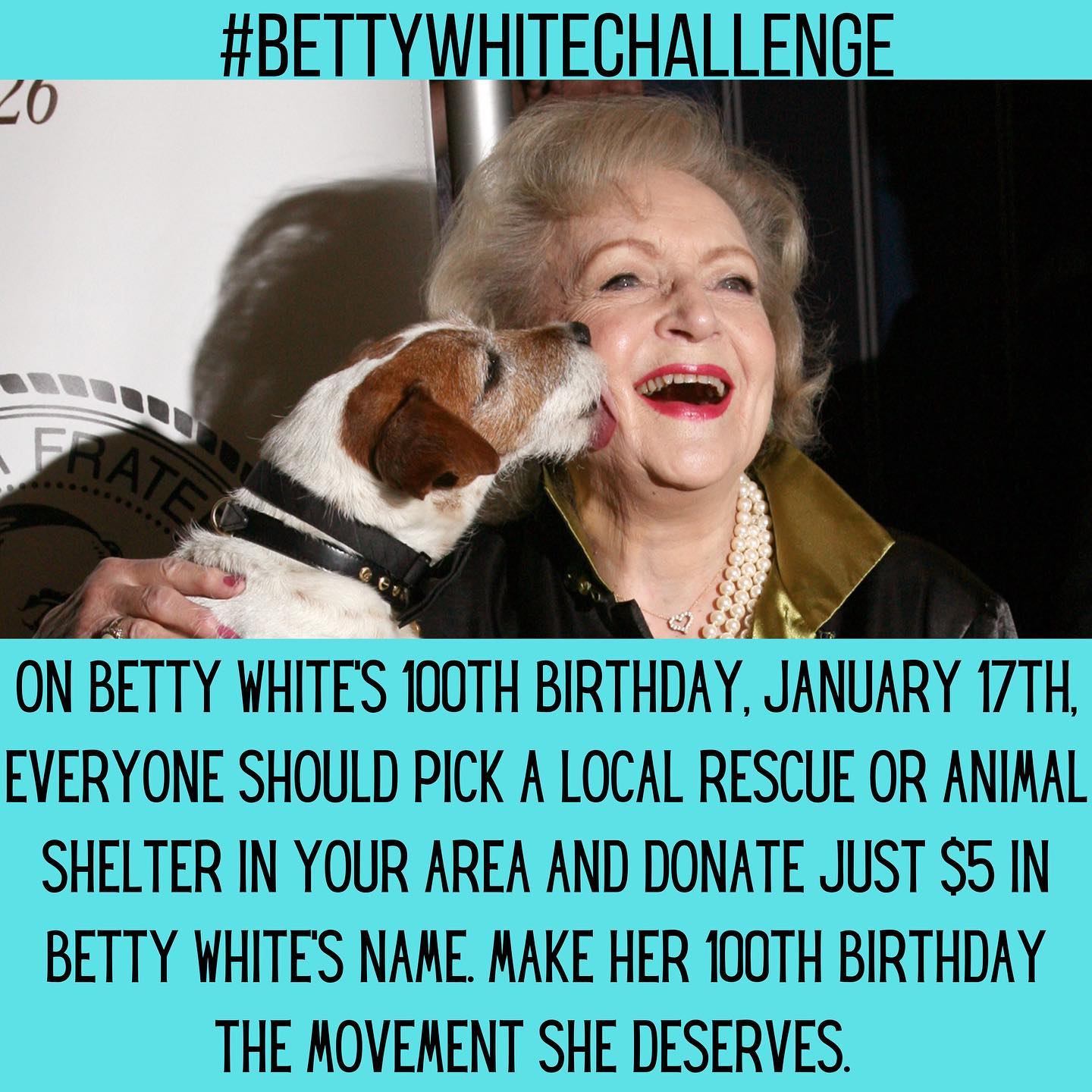 Under a photograph of Betty White laughing while a dog licked her face (and titled #BettyWhiteChallenge), text read:
On Betty White's 100th birthday, January 17th [2022], everyone should pick a local rescue or animal shelter in your area and donate just $5 in Betty White's name. Make her 100th birthday the movement she deserves.
A version shared on December 31 2021 featured a vintage photograph of White. Notably, that version was neither framed as a challenge nor coordinated to her 100th birthday: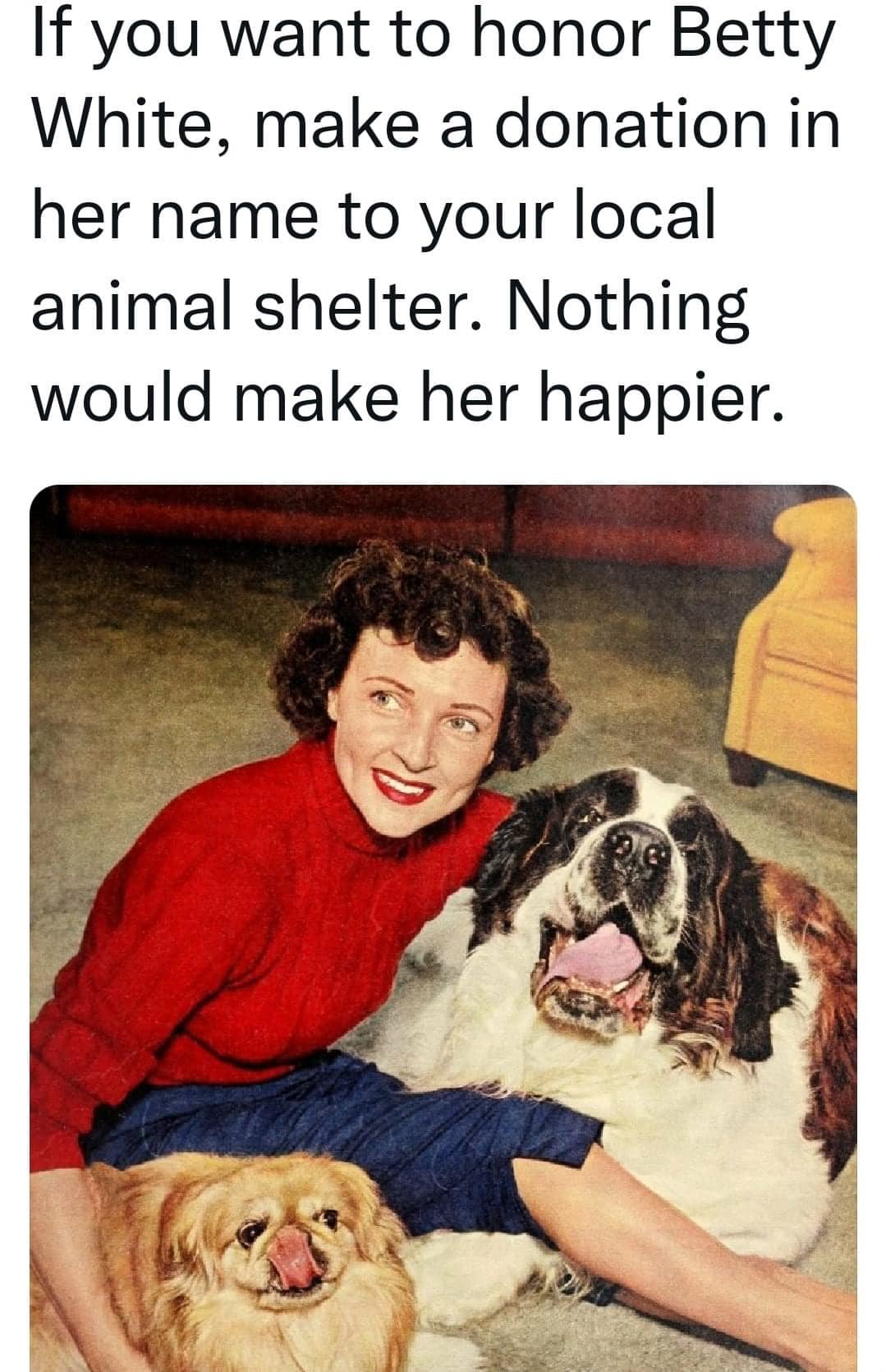 Text on the image read:
If you want to honor Betty White, make a donation in her name to your local animal shelter. Nothing would make her happier.
Versions of the call to action also circulated on Twitter:
On Betty White's 100th birthday (Jan 17) everyone should pick a local Rescue or Animal sanctuary in your area and donate just $5.00 in Betty White's name. I HOPE THIS GOES VIRAL ❤️💔❤️💔.

— Melissa G Holland (@dannysgirl1975) January 2, 2022
Betty White and Animal Rights
The basis of the "Betty White Challenge" (apart from marking her 100th birthday) was her lifelong support of animal rights causes.
White's activism generated some obituaries which reported through that specific lens, such as one titled "Betty White remembered by animals rights groups as tireless activist":
While most people knew her as America's Sweetheart, zoos and foundations across the country knew White for the generous donations she made in the name of animal welfare.

"We lost a conservationist, animal advocate, and friend," the Audubon Nature Institute said. "When the penguins & sea otters were evacuated … for Hurricane Katrina, Betty White paid for the plane to relocate them. She did not ask for fanfare; she just wanted to help."

[…]

"Her work with the Greater Los Angeles Zoo Association spans more than five decades, and we are grateful for her enduring friendship, lifelong advocacy for animals, and tireless dedication to supporting our mission," association president Tom Jacobsen said in a statement.
Another profile began:
"My preoccupation with animals is an open secret," wrote Betty White in her 2011 book "Betty & Friends: My Life at the Zoo." The legendary star, who died [in late December 2021] at age 99, was known for more than just her TV and film work. She was a self proclaimed "zoo nut" who spent her life advocating for animal welfare.

White's parents were animal lovers and she grew up going to zoos regularly. As her profile as an actor and TV personality grew, it became natural for her to use her platform to spotlight that passion.

In 1971, White created and hosted "The Pet Set," a syndicated series that featured White interviewing celebrity guests including Mary Tyler Moore, Carol Burnett and Doris Day, and their pets and animal trainer Ralph Helfer. She produced the series herself along with her husband, longtime "Password" host Allen Ludden. "The Pet Set" ran for 39 half-hour episodes, and was made available on digital and DVD in 2021. "If I haven't told you already, I will now. 'The Pet Set' is one of my favorite shows," White said at the time of the re-release. "I'm thrilled it's going to be seen again after all these years."
On January 2 2022, CNN's "How to support animal lover Betty White's favorite cause" listed several of White's known "animal health, welfare, and conservation groups."
Betty White's Birthday and Interest in the Betty White Challenge
As indicated in posts encouraging the Betty White Challenge, White was born on January 17 1922.
Google Trends data demonstrated a spike in searches for "Betty White Challenge" on December 31 2021 at 2 PM. One hour later, searches for "Betty White animal shelter" began registering, as did "Breakout" interest for the search term "animal shelter near me."
Summary
Posts about the "Betty White Challenge" encouraged fans of the cultural icon to donate to animal shelters in her name. An initial post on December 31 2021 simply urged fans of White to donate to shelters and rescues in her name. By January 1 2022, a Betty White Challenge formed with stricter parameters — donations to be made in the sum of $5, coordinated to honor White on her January 17 2022 birthday. As was the case with most social media "challenges," the posts were in no way official or centrally directed. However, if share counts are any reliable metric, donations made to animal shelters and rescues in White's honor appeared likely to take place on January 17 2022.