Various memes detailing a secret relationship between two British men during World War II described in various posts circulated through social media in August 2019.
One post about Gilbert Bradley and Gordon Bowsher, and the correspondence they kept through the war, has been shared more than 10,000 times since being published on Facebook on August 31, 2019. The post features a photograph of Bradley on top of the caption:
Hundreds of love letters between two gay WWII soldiers were discovered and sold to a museum. One of them said, "Wouldn't it be wonderful if all our letters could be published in the future in a more enlightened time. Then all the world could see how in love we are." They are now being made into a book.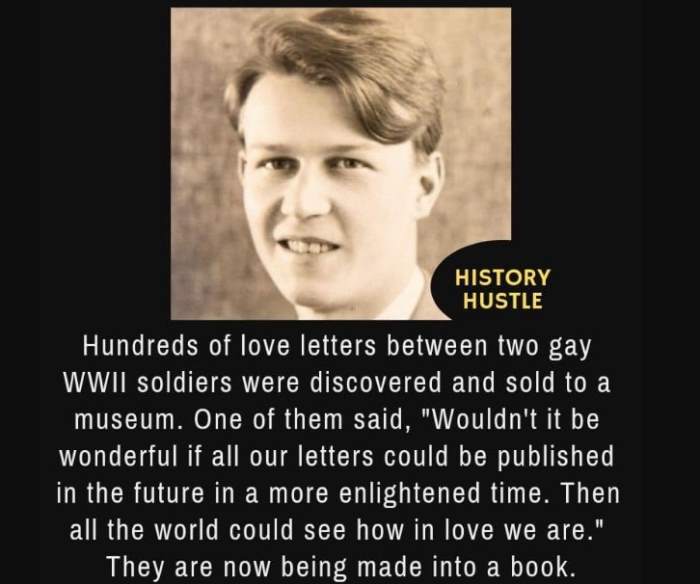 The relationship was real; the statement quoted in the graphic was taken from an actual letter between the two men. The 600 letters they exchanged were unearthed after Bradley's death in 2008, but first garnered news coverage in 2017. The two men met in 1938, when Bowsher met Bradley on a houseboat.
The following year, Bradley was stationed in the town of Oswestry as an anti-aircraft gunner and began his correspondence with Bowsher. Not only were same-sex relationships illegal at the time, but they were grounds for a court martial.
"Do one thing for me in deadly seriousness," Bowsher wrote in one letter. "I want all my letters destroyed. Please darling do this for me. Til then and forever I worship you."
Same-sex relationships between British residents aged 21 and over were not decriminalized until the passage of the Sexual Offences Act 1967 by Parliament. However, the British military did not allow for gay and lesbian servicemembers to be open about their sexuality until 2000.
The relationship between Bowsher and Bradley — and their shared correspondence — reportedly ended in 1945. After Bradley's death, his letters were purchased by Mark Hignett, the founder and curator of the Oswestry Town Museum.
"Such letters are extremely rare because they were incriminating – gay men faced years in prison with or without hard labour," Hignett told the BBC in 2017. "There was even the possibility that gay soldiers could have been shot."
In March 2019, Hignett shared some of the letters and discussed the two men's relationship at an event hosted by the Royal British Legion in Birmingham. On September 5, 2019, he told us via email that he has done several similar events around his country.
"We are currently writing a book from the letters with a potential publication date of 2020, there are a number of other exciting proposals in the pipeline including an opera, mini musical, stage play etc," he added.
Some of the reports on Bradley and Bowsher's affair have made reference to their story possibly being adapted either as a book or a feature film; in April 2018 a local outlet, the Shopshire Star, reported that Hignett met with director Andrew Vallentine regarding a movie adaptation.
"I want to find the best possible people to make this move and of course, I have to find funding," Vallentine said at the time. "The first thing I have to now do is read all of the 600 letters and find out more about Gordon and Gilbert. I am really excited."
Vallentine confirmed to us on September 5 that he had finished a treatment for the planned movie. He said that he was interested in the story of Bradley and Bowsher both because he is gay himself and because when he was a child, his grandfather opened up to him about his own experiences serving in the war.
The story of the two lovers, he said, was not about coming out but about them living their lives and not being able to be together because of the war.
"I want to tell a story that shows that LGBTQ people have been here all along," Vallentine said. "This isn't just a fad or fashion not going away because we've been here for hundreds of years."