'There is No Evidence People Ever Saved Bacon Grease' Facebook 'Fact Check'
Claim
Facebook fact-checkers decreed there was "no evidence people ever saved bacon grease" or tinfoil, which is a clear indicator that fact-checking is unreliable.
Like this fact check?

Reporting
An October 21 2021 post generated a recursive rumor of its own, when it claimed that Facebook fact-checkers had determined there was "no evidence people ever saved aluminum foil or bacon grease" in the course of fact-checking a meme.
This secondary claim spread virally, with most commenters accepting it at face value and generating its own set of rumors.
The original poster said:
How do you know Facebook has gone completely mental?

This. This got fact-checked.

"There's no evidence that people ever saved aluminum foil or bacon grease"

Evidently, the fact-checkers have been hiding behind computer screens their whole lives and have not studied history or talked to their grandparents.

We're screwed.
A meme was attached to the post, seemingly annotated by Facebook: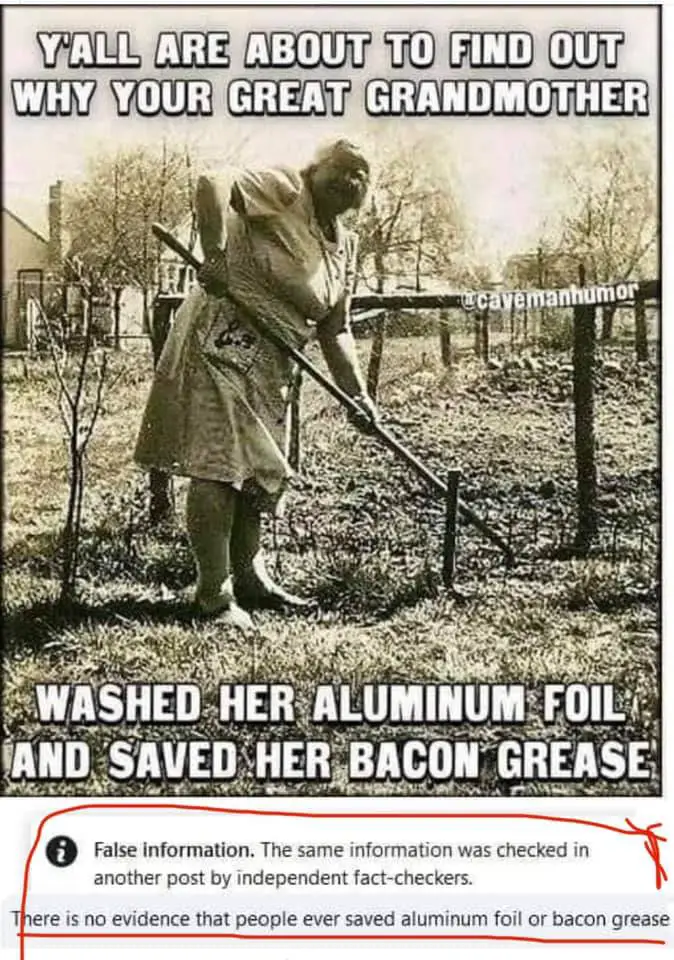 The meme itself read:
Y'ALL ARE ABOUT TO FIND OUT WHY YOUR GREAT GRANDMOTHER WASHED HER ALUMINUM FOIL AND SAVED HER BACON GREASE
Circled underneath the image was a Facebook information box, stating:
False information. The same information was checked in another post by independent fact-checkers.

There is no evidence that people ever saved aluminum foil or bacon grease […]
Commenters shared their notions of the bubble in which these faceless, out-of-touch fact-checkers must live:
"Grandparents saved things and reused! Think about it, they lived through the great depression. These fact checkers haven't ever sat down with the older generation to learn about how they live"

"Now we know for sure! Those so-called 'fact checkers' do not really exist! We didn't use aluminum foil to save, we used wax paper! We saved bacon grease and used it for seasoning in veggies, to make gravy, and any other use! I still save bacon grease, I reuse 'clean' foil. I was taught 'waste not, want not'! Ok, fact-checkers, how about that!! 😢😂😥"

"These so called fact checkers don't know the facts."

"Well, their fact checkers are obviously NOT from the South! I still save bacon grease. Thats why Southern food has flavor."
None of the discourse observed that unlike typical reposts of information checked by Facebook fact-checkers, the meme had no "false information" box of its own. That particular function (which often itself became recursive) was the subject of endless numbesr of repost memes with an endless string of "information boxes" in screenshots.
To find context for the claim, we Google searched "there is no evidence people saved aluminum foil," which returned five results — only one of which wasn't a scraper site:

It lead to toolbox.google.com's Fact Check Tools, and a single entry under the search string "bacon grease aluminum foil":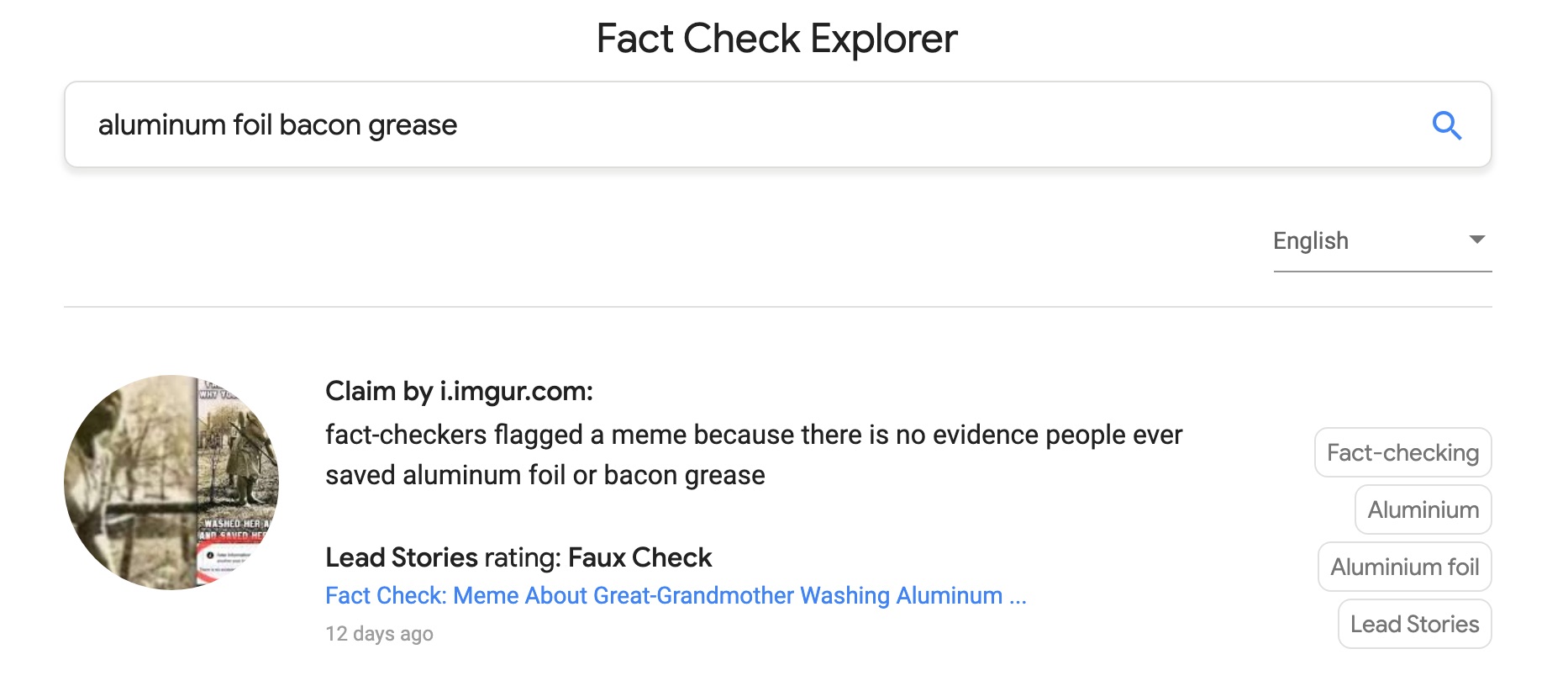 That entry, in turn, led to an October 22 2021 fact-check from LeadStories.com, "Fact Check: Meme About Great-Grandmother Washing Aluminum Foil And Saving Bacon Grease Was NOT Fact Checked." Interestingly, LeadStories' fact-check was not added to the original claim — despite LeadStories' participation as a Facebook fact-checker.
LeadStories explained that the meme's "punchline" came with  clear intent to undermine fact-checking as inept and unreliable across the board:
A meme-maker used a counterfeit fact check label to make a satirical joke about fact checking, but some people think the meme is a screenshot of a real fact check.

The original meme about thrift was never fact checked by any of the 10 U.S. agencies that are part of the Third-Party Fact-Checking Program at Facebook. The subject of this fact check is the false fact check label, not the original meme about the great-grandmother. The information offered under the fake fact check label is not true: There is abundant evidence, past and present, of people saving aluminum foil and bacon grease.

[…]

The dynamic of this satirical meme is called a straw man fallacy. A false fact check was presented that made an easy-to-disprove claim in order to criticize fact checking.
As we've noted previously, Facebook's partnership with fact-checkers is not immune to legitimate criticism, nor should it be. In May 2020, we addressed Facebook's dangerously misleading handling of a mask-related fact-check.
In that instance, fast-changing guidelines were up against extensive nuance:
Facebook Fact-Checking Platform Dangerously Labels Mask Meme 'False,' Discourages Use of Masks Against Expert Guidelines
Prior to the events of 2020, we encountered numerous instances where we intercepted and fact-checked disinformation. Other fact-checking sites later addressed the same information, reaching the same conclusions. In response, Facebook added "False information" boxes to be added to our content on the social media site; consequently, we received warnings and automated messages advising us our debunking articles were being "shown less" in news feeds.
A post claiming that incompetent Facebook fact-checkers had decreed that there was no evidence "people ever saved aluminum foil or bacon grease" remained virally popular despite having been fact-checked in October 2021 — and even explained by one of Facebook's own fact-checking partners. In spite of an absent fact-check of the description or evidence that the secondary meme was accurate, readers who perhaps had pre-existing biases against fact-checkers fell for it hook, line, and sinker. Facebook's fraught foray into fact-checking and partnerships is well documented, but claims that fact-checkers determined that no one ever saved aluminum foil or bacon grease was a "joke" that was clearly intended to be used as a cudgel to attack debunking and counterdisinformation efforts.