'This Is a Reverse Financed Internship So You Will Pay $15/hr to Work Here'
Claim
The company Eisele & Stern posted an ad on Indeed.com seeking applicants for a "reverse financed internship" where people are asked to pay $15 per hour to work for them.
Like this fact check?

Reporting
An apparent prank job listing first spotted in January 2020 has continued recirculating through Facebook, with some readers taking it as a sign of late-stage capitalism's descent into pure self-parody.
The ad was posted on the job listing website Indeed.com and was initially attributed to an unknown company based out of New York, advertising a data analyst position with a "$15 an hour" rate before revealing who would actually be paying that wage. It reads:
You will compete various applied research projects for data analysis. Strong critical thinking skills and some programming experience is a plus. Knowledge of machine learning techniques is a bonus! Note, this is a reverse financed internship so you will pay $15/hr to work here. Job type: Full-time.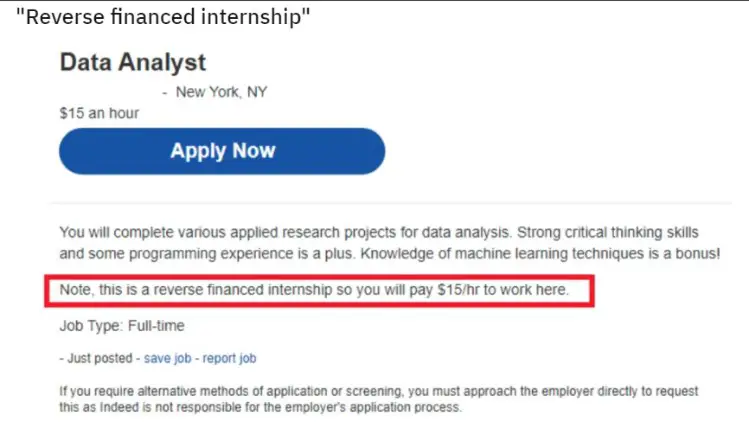 Photographs of the listing subsequently spread online, including several Reddit boards, and at least one tweet mocking the ad has gone on to be shared nearly 10,000 times.
IT FINALLY HAPPENED RECRUITMENT TWITTER!!!

A.MAZING pic.twitter.com/7hFiwIhBUx

— Matt Buckland (@ElSatanico) January 8, 2020
Another iteration of the post listed the company responsible as "Eisele & Stern":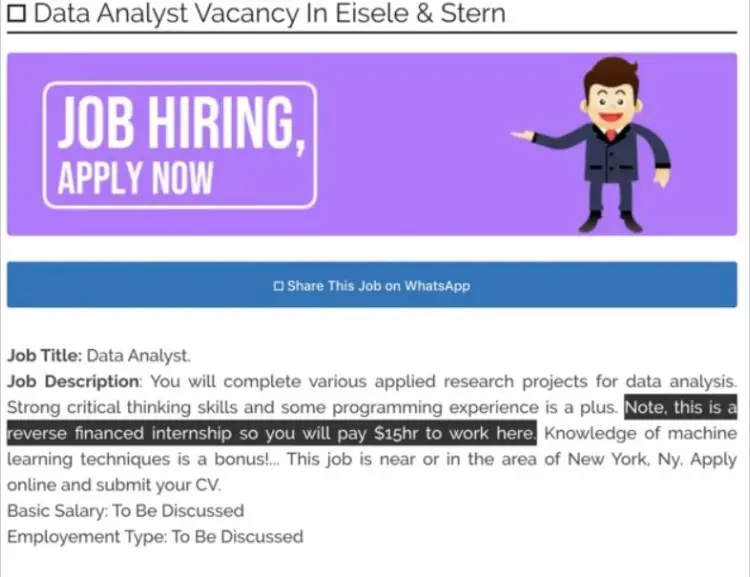 But as Storypick reported at the time — and as we can confirm — no company by that name appears in web searches. Despite being debunked, the meme has continued to find life on Facebook, where a search under "reverse financed internship" produces several results with varying reach: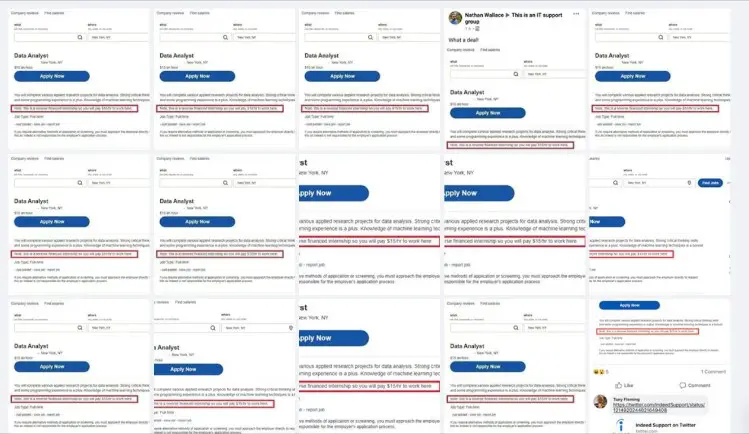 As the ad first spread on Twitter, Indeed said that it had been removed and that the website was "investigating further." We contacted Indeed seeking more information on their findings but have yet to hear back.