Trump Accuser Jessica Leads Tied to Clinton Foundation-Fiction!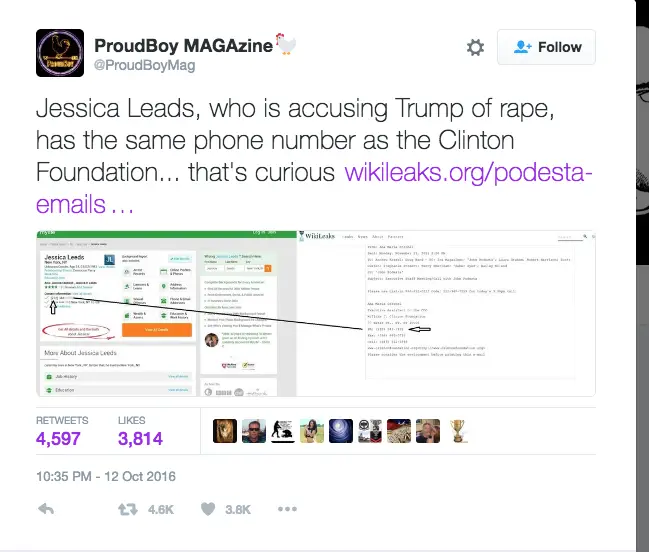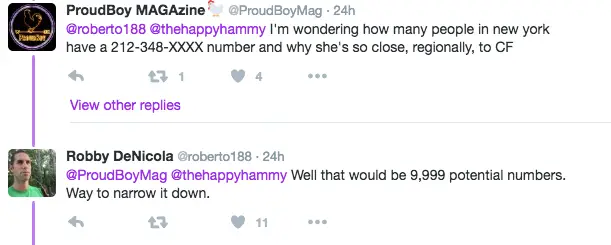 Summary of eRumor:
Jessica Leeds, a woman who has accused Donald Trump of sexually assaulting her while on a first class flight in the early 1980s, has the same phone number as a Clinton Foundation staffer.
The Truth:
Jessica Leeds doesn't have the same phone number and address as the Clinton Foundation, and we couldn't find any credible reports that she's connected to Clinton campaign.
Rumors that Leeds was connected to the Clinton Foundation were started by the Twitter handle @ProudBoyMag on October 12th. The post showed a screen grab of Leeds' public phone listing on WhitePages.com next to a screen grab of a Clinton campaign email released by WikiLeaks. Although the last four digits of the phone number were burred out, the post said the numbers were the same:

However, the last four digits of Leeds' White Pages listing (which we won't publish here to protect her privacy) don't match the last four digits of the phone number in the WikiLeaks email. After a Twitter user pointed that out, the @ProudBoyMag account acknowledged the numbers weren't the same:

The rumor that Leeds and the Clinton Foundation had the same phone number gained credibly after Fox Business news host Lou Dobbs retweeted the @ProudBoyMag post on October 13th. Dobbs later deleted the retweet and tweeted an apology to Leeds for publicly disclosing her phone number and address — but then he apparently deleted the apology as well.