On November 20 2019, United States President Donald Trump followed up a visit to an Apple computer-making facility in Texas with a claim that was outright false.
"Today I opened a major Apple Manufacturing plant in Texas that will bring high paying jobs back to America," Trump wrote on Twitter. "Today Nancy Pelosi closed Congress because she doesn't care about American Workers!"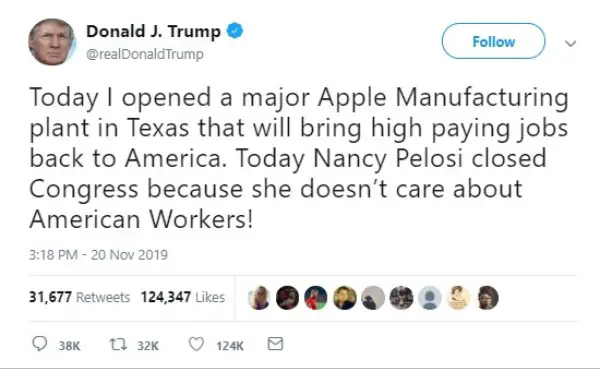 The claim was immediately debunked by New York Times reporter Jack Nicas.
"President Trump just toured a Texas plant that has been making Apple computers since 2013 and took credit for it, suggesting the plant opened today," Nicas wrote. "'Today is a very special day.' Tim Cook spoke immediately after him and did not correct the record."
While Cook did not address the lie, his own Twitter account confirms that the plant — which specializes in making his company's Macbook Pro model — opened in 2013: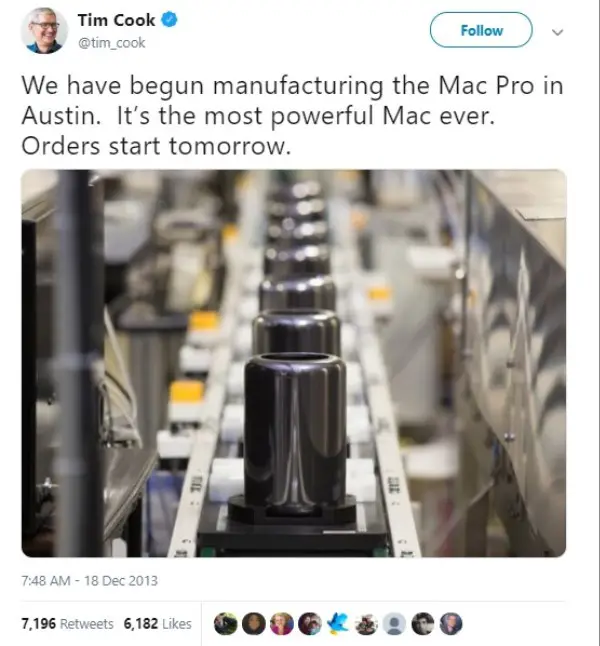 As CNBC and other organizations have reported, the plant itself is not even owned by Apple; it is owned by a separate contractor named Flex. It also noted:
Apple has been playing a calculated game with the Trump administration for years, with Cook personally wooing the president on several occasions. That charm offensive culminated with Cook touring Flex's Austin factory. It was a rare political moment for Apple as it willingly played a part in a PR stunt for an administration that runs counter to many of its values, from the environment to immigration policy.

But that's a cost Apple seems willing to pay in order to get what it really wants: a tariff exemption on its most important and profitable product, the iPhone. If that happens, Apple won't have to worry about eating the cost of the tariffs or passing it along to its customers by raising prices.
We contacted Apple seeking comment, but did not hear back prior to publication.