'Timeline of Trump's COVID-19 Statements' Meme
Claim
United States President Donald Trump made several statements downplaying the nature of the COVID-19 pandemic.
Like this fact check?

Reporting
As criticism spread against United States President Donald Trump's administration for its response to the COVID-19 pandemic in mid-March 2020, one graphic disseminated on social media listed his multiple attempts to downplay the disease: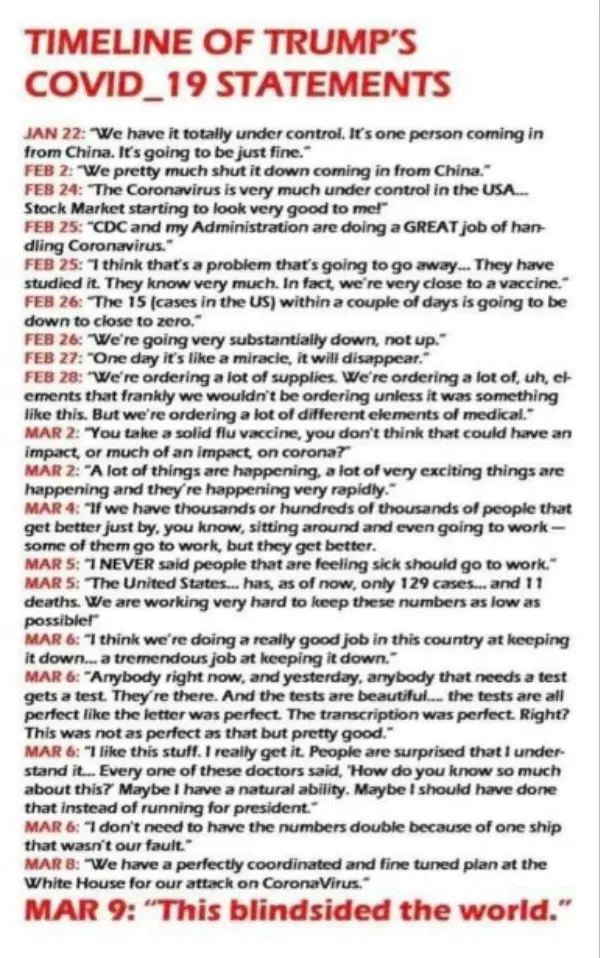 In this case, the graphic is completely accurate. The various statements are correctly attributed to Trump, and each has been verified in independent timelines compiled by news outlets.
"We're ordering a lot of supplies. We're ordering a lot of, uh, elements that frankly we wouldn't be ordering unless it was something like this. But we're ordering a lot of different elements of medical." — Trump on the coronavirus pic.twitter.com/id6YLzbmRE

— Aaron Rupar (@atrupar) February 28, 2020
A video with similar content, posted by writer Lindsay Holst and featuring audio of several of Trump's remarks alongside a graph showing the spread of the disease, has been shared thousands of times on Twitter:
57 days later. pic.twitter.com/umsfZHyBuo

— Lindsay Holst (@LindsayLHolst) March 17, 2020
On March 17 2020, journalists asked Trump why his tone had shifted so quickly and dramatically regarding the epidemic. He told reporters, "I've always known this is a real — this is a pandemic. I felt it was a pandemic long before it was called a pandemic. I've always viewed it as very serious."