Trump Executive Order Leads to Capture of ISIS Leader at JFK Airport-

Fiction! 
Summary of eRumor:
President Donald Trump's executive order on immigration resulted in the capture of ISIS leader Rasheed Muhammad at JFK International Airport in New York.
The Truth:
There's no truth to reports that President Trump's executive order on immigration led to the capture of an ISIS leader at JFK International Airport in New York.
That rumor began circulating days after Trump signed an executive order temporarily suspending immigration from seven majority-Muslim countries due to national security concerns. The executive order sparked passionate debate, and protests at airports across the country where hundreds of international travelers had reportedly been stopped and/or detained.
Naturally, supporters and opponents circulated facts, figures and reports arguing in favor of and in opposition to the travel ban. One of those reports came from the site Times.com/mx. The site published a story claiming that former acting Attorney General Sally Yates had apologized for refusing to defend the executive order in court after it led to the capture of an ISIS leader at JFK airport, a man identified as Rasheed Muhammad. The story, which appeared under the headline, "Executive Order Leads to Capture of ISIS Leader, Rasheed Muhammad," begins:
Terror suspect, Rasheed Muhammad, was arrested on Tuesday, January 31, at approximately 1:32AM EST at John F. Kennedy International Airport. This marksthe first successful story following President Trump's executive order to protect the nation from foreign terrorist entry into the United States. Muhammad, 32, was questioned due to the heightened security measures that resulted from the presidential executive order. The suspect attempted to enter the country with a tourist visa and claimed to be visiting family in order to attend this year's Super Bowl LI.
Former Attorney General, Sally Yates, who was ousted by President Trump after failing to support the executive order, released a public apology via popular social media app, Snapchat.
"I would like to express a sincere and utter apology to President Donald J. Trump. Due to unforeseen circumstances, there is no way I could have predicted the outcome of the situation. If afforded the opportunity to continue my position as Attorney General, I would be more than ecstatic to comply."  
Officials are waiting to release an official press statement. FBI Director, James Comey, commented "We are unsure if accomplices are still at large. Until matters are addressed, we will keep additional details from the public eye. The security of our nation is the number one priority."
The report also included a photo of a man in handcuffs incorrectly identified as Rasheed Muhammad — which is the first sign that the story was intentionally geared to mislead readers. The photo was actually taken in 2009 by Associated Press photographer Chris Schneider in 2009. The handcuffed man in the photo is actually 24-year-old Najibullah Zazi. Zazi was accused of conspiring with two other suspects to carry out a terrorist attack in New York City: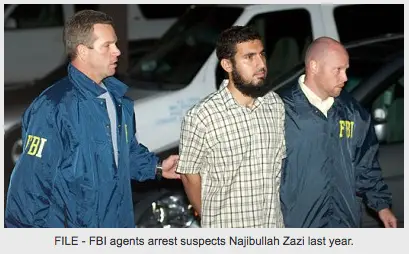 The reports claims about Sally Yates and FBI Director James Comey also appear to be false. The FBI has not indicated that any terror suspects have been detained, and it would be highly unlikely for a former acting Attorney General to apologize on SnapChat.
Times.com/mx is filled with dubious reports and appears to be an entirely fictional news site. One of those false reports claims that California students were protesting in California for the release of "terror suspect Rasheed Muhammad." A photo that accompanies the story actually shows a protest co-organized by actor ShiaLaBeouf, who announced a four-year Livestream protest of Trump. 
In the end, claims that President Trump's executive order led to the arrest of an ISIS leader at JFK Airport, or that college students in California are protesting the arrest of that supposed terror suspect, are fictional.