Trump Gave $25,000 to Veteran Freed from Mexican Jail-Truth!
Summary of eRumor:
Donald Trump wrote a check for $25,000 to a former Marine named Andrew Tahmooressi who spent seven months in a Mexican jail after illegally crossing the border with weapons and ammunition.
The Truth:
It's true that Donald Trump gave $25,000 to retired Marine Sgt. Andrew Tahmooressi to help him "get back on his feet" after his release from a Mexican jail.
Tahmooressi was arrested by Mexican officials in 2014 after they found three loaded weapons and ammunition in his pickup truck on the Mexican side of the border. Tahmooressi's mother said her son had post-traumatic stress disorder from two tours in Afghanistan and President Obama drew criticism for not proactively seeking Tahmooressi's release. In November 2014, a Mexican judge granted Tahmooressi's release because of his mental state, CBS News reports.
Donald Trump announced via Twitter that he had written a check for $25,000 to Tahmooressi: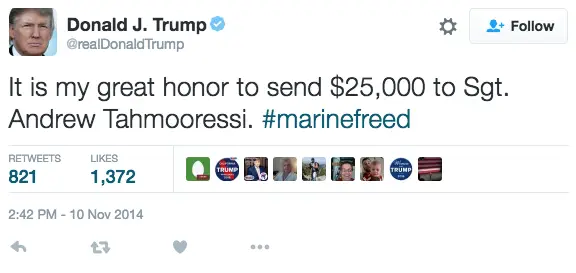 Trump told FOX News at the time that he wrote the check because he felt bad after watching an interview with him.