Were People Left Stranded After a Trump Rally in Omaha?
Claim
Hundreds of attendees had to wait for bus transportation following an October 2020 rally for U.S. President Donald Trump in Omaha, Nebraska.
Like this fact check?

Reporting
The aftermath of United States President Donald Trump's campaign rally in Omaha, Nebraska drew as much attention for potentially affecting his supporters' health than the event itself.
Social media posts following the October 27 2020 event began gaining traction as reports appeared that attendees who were taken to the rally at Eppley Airfield via chartered buses were stuck there after it ended, separated from their own vehicles in dangerously cold weather.
At least one tweet, claiming that local police had "located an elderly party who is frozen cold unable to move with an altered mental status," was shared thousands of times on the platform:
One officer advising 8 to 9 elderly people who are struggling. Seperate officer advising they have located an elderly party who is frozen cold unable to move with an altered mental status.

— Omaha Scanner (@omaha_scanner) October 28, 2020
As word spread online, so did memes mocking Trump's supporters: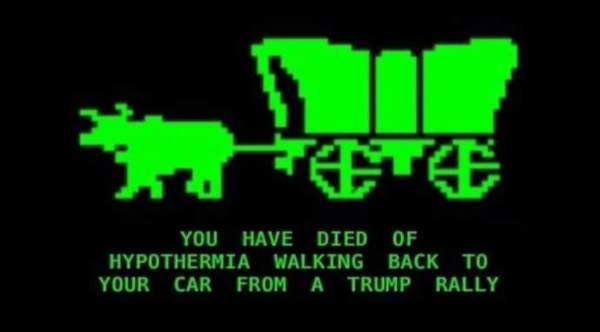 Both local and national media reported that hundreds of attendees did indeed have to wait for transportation after the event ended around 9 p.m. local time.
"According to a preliminary report there were 30 people contacted for medical reasons and a total of 7 people transported to area hospitals with a variety of medical conditions," Omaha police told us in a statement. "Those needing medical attention were contacted by medics over the duration of the event, not just at the end."
The statement also read:
Many people elected to walk back to the parking areas instead of waiting for a bus. The shortest walk to the nearest parking lot was approximately 2.5 miles. The foot traffic on Lindberg Drive slowed bus traffic and delayed bus trips considerably. There was an abundance of uniformed officers in marked cars and on foot attempting to direct traffic to clear the congestion.

Officers assisted in giving rides to elderly and infirm people who elected to walk. Many people underestimated the distance from the event back to the parking lot on foot. The last person was loaded into a bus from the rally site at about 11:50 p.m.
Authorities also confirmed a report from KMTV-TV saying that local public transportation buses were also tapped to help pick up attendees.
According to Alex Busskohl, regional director for the charter bus service Arrow Stage Lines, traffic in other areas made it slower for his company's buses to retrieve rallygoers from the airfield.  "Unfortunately, our buses can't just float back to where they need to be," he told the Omaha World-Herald newspaper.
The World-Herald also reported that while attendees were reportedly given masks to help mitigate the potential spread of COVID-19, "many people went without."
An estimated 25,000 people attended the event. We contacted the Omaha Airport Authority seeking more information.
A separate rumor began spreading online following another Twitter post claiming that Busskohl's company acted in protest:
Bus Company Supervisor: The campaign said they would pay us when we arrived. Nobody paid us. They said passengers would wear masks. Nobody had masks & they all kept singing "YMCA". So we left because we heard from other companies they didn't get paid last time.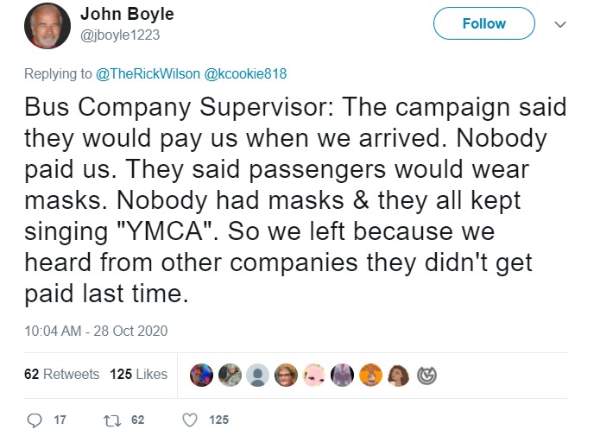 WOWT-TV reported that the company has refuted that claim. Arrow's vice president of human resources, Chelle Cooper, told us in a statement:
It is true that we were hired to provide shuttle service to and from President Trump's rally in Omaha, earlier this week. We provided the service as requested, from the off-site parking lots, to the rally location, and back to the parking lots. We continued providing the shuttle service after the rally and until the very last car left the off-site parking lots. We were also paid for our services.
Lost in the coverage of the weather's and traffic's effects on rallygoers, however, was local KPTM-TV reporting that the Trump campaign had urged supporters to drop their ballots off at the event itself, inside ballot boxes it initially claimed were official before issuing a "correction."
"The boxes being used to collect ballots at the Trump Rally are NOT official Sarpy or Douglas ballot boxes. Candidates and political parties do participate in ballot collection," election officials for both Douglas County and nearby Sarpy County said in a statement. "Voters must make the decision as to who and how their ballots are returned."
Update October 29, 2020 12:44 p.m. PST: Updated with note on additional claim posted online about Arrow Stage Lines.
Update October 29, 2020 2:16 p.m. PST: Updated with a response from Arrow Stage Lines.