Claim
A photograph shows a huge crowd at a Donald Trump 2020 campaign rally, but the media refuses to report it.
Like this fact check?

Reporting
In May 2019, a suspicious looking meme began to make the usual rounds on social media. It shows a huge crowd of people packing a venue raptly gazing at a stage bearing "Trump 2020" signs on either side, with a third Trump banner over the audience: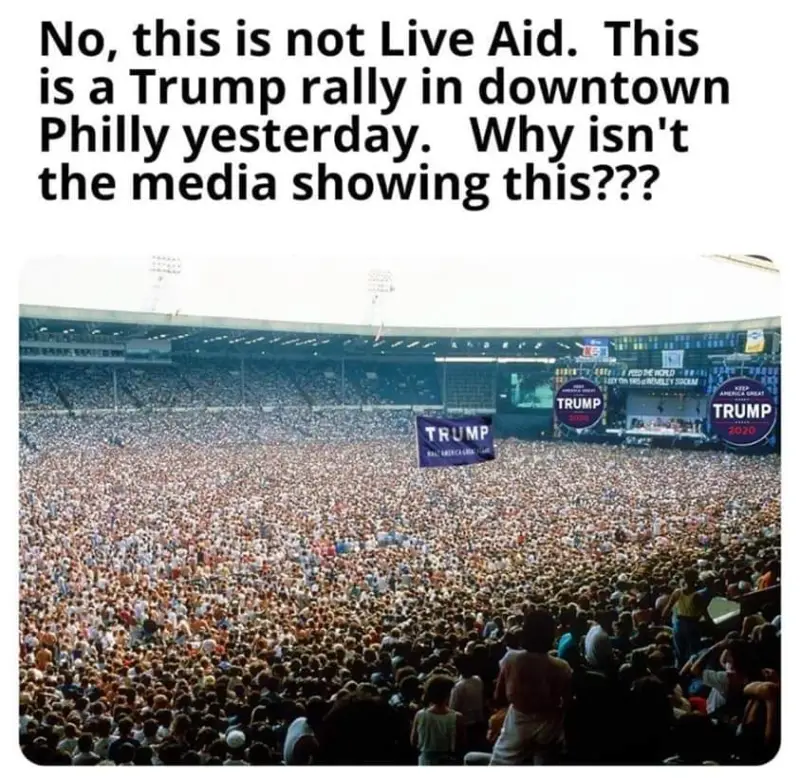 The text over the photograph said:
No, this is not Live Aid. This is a Trump rally in downtown Philly yesterday. Why isn't the media showing this???
The first clue that something was off about this meme was the lack of a date ("yesterday") or any identifying information beyond "downtown Philly." Readers were not made aware of when or exactly where this might have taken place.
A closer look at the "Trump 2020" signs offer more of a clue, however. Not only are they clearly edited in, the person or people responsible for the editing did not do an exceptionally careful job with it: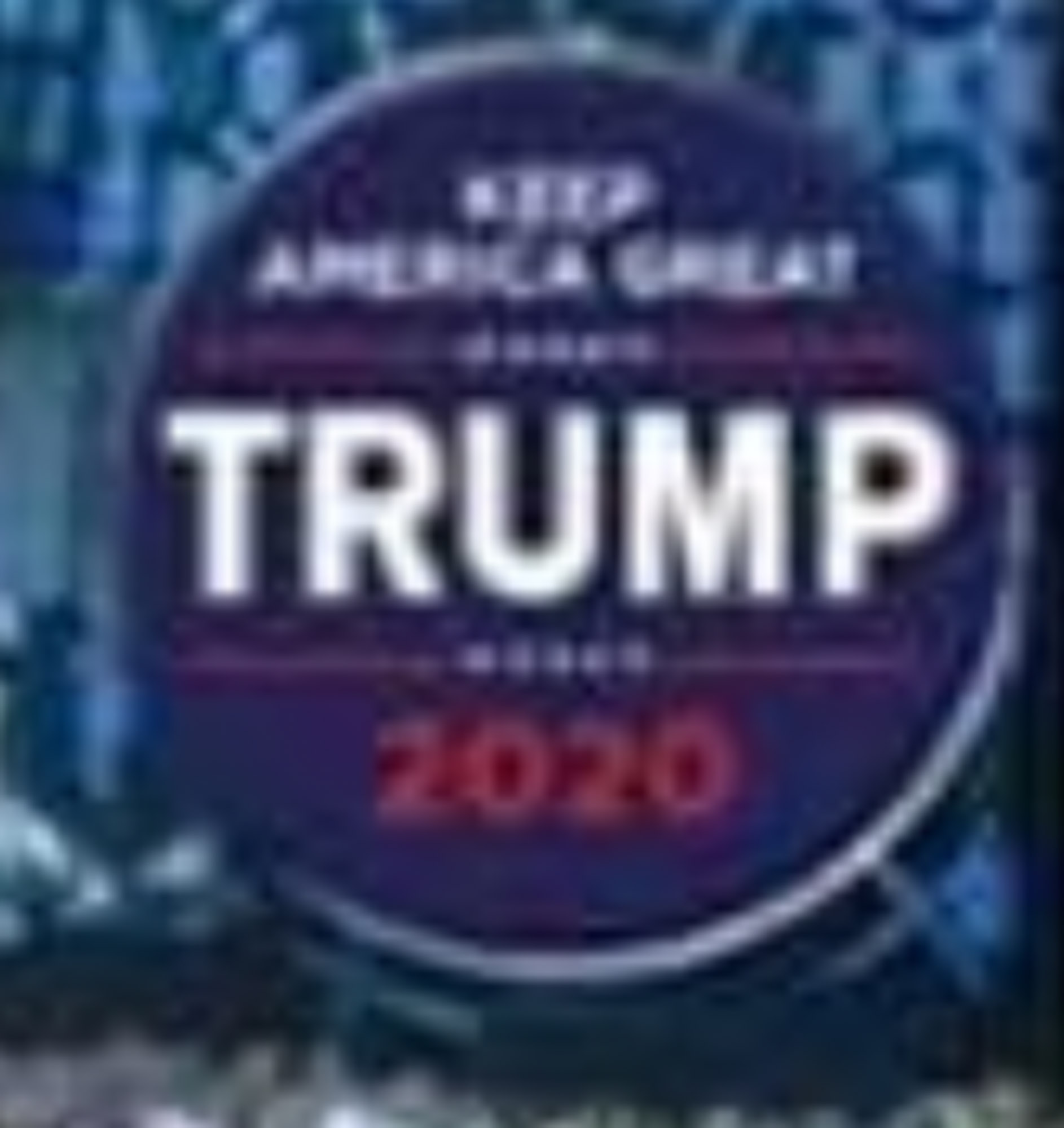 As it turns out, despite the caption's denial, this really is a photo of Live Aid in 1986, specifically during Queen's performance, as can be seen in this 2013 collection of photographs on Imgur. The same original image also appears on a Queen fan page: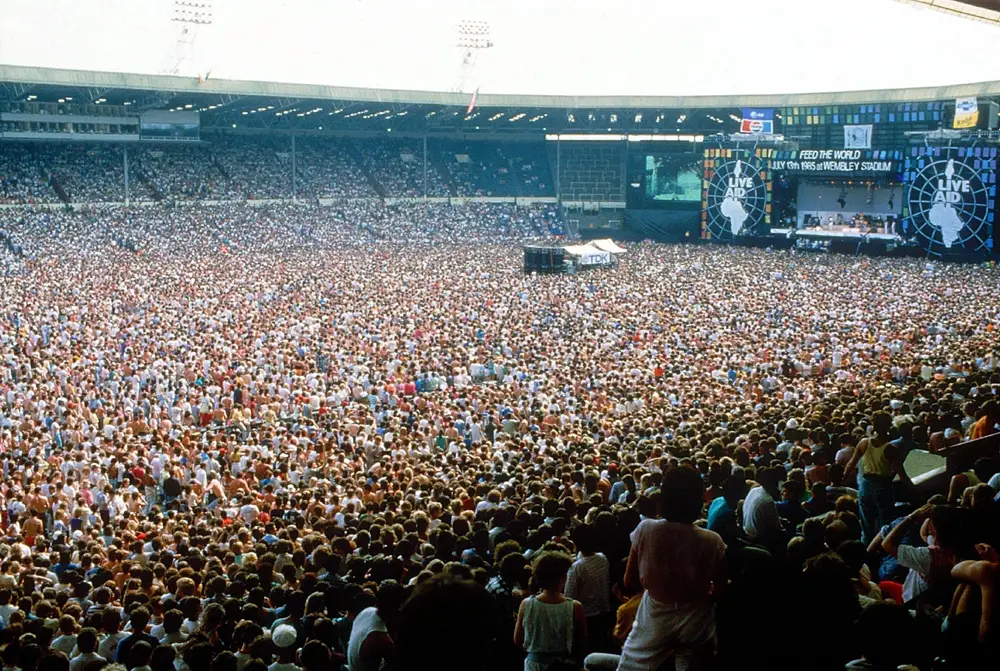 If you look closely at the "Trump rally" meme, you can still make out "Feed the World" and "July 13th 1985 at Wembley Stadium" over the stage.
The Live Aid concert was organized in 1985 to raise funds to aid starving people in Ethiopia and neighboring Sudan, which at that time were in the grip of widespread famines. It ushered in an age of pop stars and other celebrities becoming involved in world affairs:
Organized in just 10 weeks, Live Aid was staged on Saturday, July 13, 1985. More than 75 acts performed, including Elton John, Queen, Madonna, Santana, Run DMC, Sade, Sting, Bryan Adams, the Beach Boys, Mick Jagger, David Bowie, Queen, Duran Duran, U2, the Who, Tom Petty, Neil Young, and Eric Clapton. The majority of these artists performed at either Wembley Stadium in London, where a crowd of 70,000 turned out, or at Philadelphia's JFK Stadium, where 100,000 watched. Thirteen satellites beamed a live television broadcast of the event to more than one billion viewers in 110 countries. More than 40 of these nations held telethons for African famine relief during the broadcast.

A memorable performance of the concert was by Queen, particularly frontman Freddie Mercury, who unexpectedly stole the show with a fierce performance. With the group losing steam as they went into the early 1980s after a career of multiple hits, they offered the crowd an unforgettable 20-minute performance. Going from "Bohemian Rhapsody" to "We Will Rock You" and finishing with "We Are the Champions," Queen captivated the audience with a journey through their hits, with Mercury at the helm.
Despite the plaudits, the original benefit concerts had unforeseen ripple effects that were not so well covered as the fundraisers, as Spin magazine detailed in 1986:
Band Aid Trust devised a system of chartering ships so that goods could be transported into Ethiopia at a moment's notice. By the end of last year, 19 voyages had brought in more than 100,000 tons of food. It was then that Live Aid again ran into the single greatest obstacle to feeding the famine victims in Ethiopia — the Ethiopian government. Tons of food transported by Live Aid have been confiscated by the government to pay its army in grain or to trade for arms from the Russians. (An echo of September 1984, when the government of Lt. Col. Mengistu Haile Mariam cut off all aid to famine victims so he could throw a lavish, $200 million celebration of Haile Selaisse's overthrow and inauguration of the new Communist Workers Party, with free-flowing liquor and nonstop festivities. During these days of plenty in the capital the western press got its first glimpse of the starving masses in Ethiopia who wandered near death into the capital from the distant countryside, where they had been left forgotten by the government.)

These facts alone should have given Bob Geldof pause in his future dealings with the Mengistu government. Mengistu was following a very different agenda than Live Aid, which was made starkly clear when he refused to allow aid to be delivered across the lines of his war with the rebels in Tigre, Eritrea, and the northern portions of Wollo, where 60 percent of the country's famine victims live. When an illegal cross-border operation was started from northern Sudan, Mengistu made "concessions." In return for a scaling down of the cross-border operation, he agreed to allow food to be distributed behind the march of his troops as they made their advances into rebel-held territories.
What remains unclear is whether the digitally edited image was originally created for disinformation purposes or circulated as a joke. However, the end result is the same; this is not a Trump campaign rally in Philadelphia during any year, but London's Wembley Stadium in July 1985 during a huge fundraiser for starving people on the African continent.