The U.S. Pacific Fleet — which calls itself the largest naval force of its type in the world — tweeted, then deleted a tweet marking the July 4th Independence Day holiday after a researcher pointed out that it used a photo depicting Russian military craft.
As Stars & Stripes reported:
Fact Check
Claim: U.S. Navy Posted a Picture of a Russian Ship for Independence Day
Description: The U.S. Pacific Fleet had reportedly posted a tweet with a picture that contained a Russian military craft while celebrating the July 4th Independence Day holiday.
Tuesday's message consisted of a graphic image of a service member rendering a salute, the words "Happy 4th Of July," and silhouettes of the ship and five fighters in a V-formation above a sea lit by the sun at the horizon.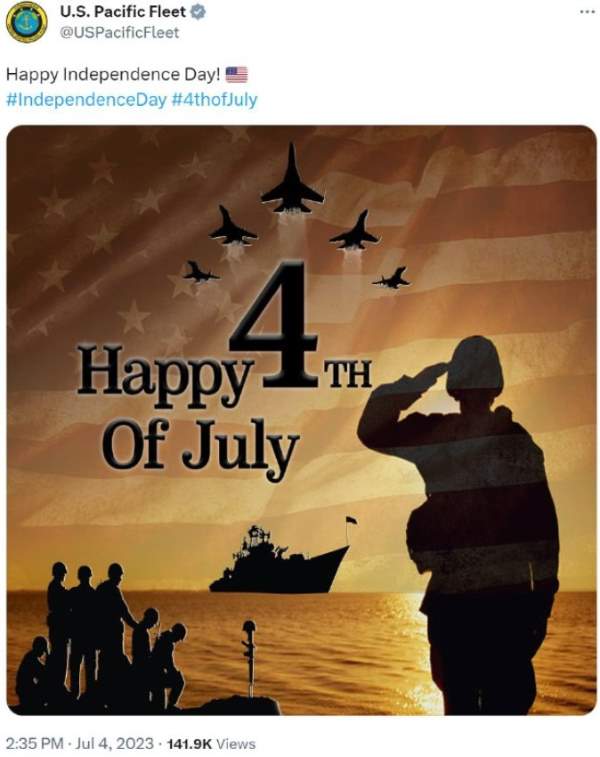 The error was spotted by Blake Herzinger, a research fellow in the Foreign Policy and Defence Program at the United States Studies Centre at the University of Sydney in Australia, who wrote, "US Pacific Fleet Don't Post Russian Ships and Aircraft on Independence Day Challenge 2023: Failed" above the photo.
Herzinger identified the ship seen in the graphic as a Russian Kashin-class Destroyer. He also credited Reuters editor Gerry Doyle for spotting Sukhoi-made Russian fighter jets in the graphic.
The fleet deleted the graphic and posted a separate photograph depicting U.S. Navy craft:
The presidential campaign for anti-vaccine conspiracist Robert F. Kennedy, Jr. committed a similar gaffe a week earlier, deleting a stock photo promoting Kennedy after Twitter users noted that Kennedy's logo had apparently been photoshopped onto a woman photographed walking down a street in Russia: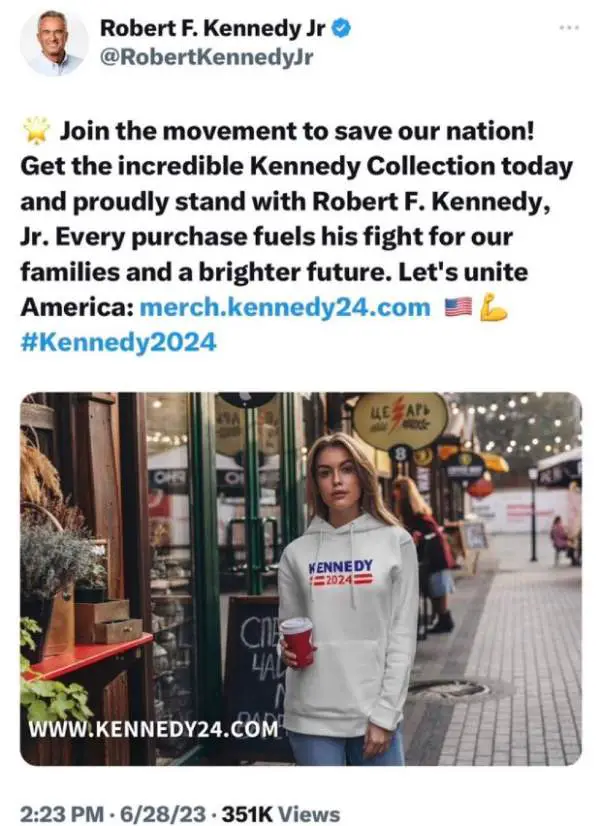 The Kennedy campaign's tweet preceded another week of events spotlighting his years-long embrace of conspiracy theories; a November 2021 interview between Kennedy and Oregon-based anti-vaccine podcaster Bret Weinstein was released in late June 2023, and despite running for the Democratic Party's presidential nomination, Kennedy told interviewers from libertarian publication Reason that he has "always been aligned with libertarians on most issues."
As the UK-based Independent reported, Kennedy still complained that the magazine's editor-at-large Nick Gillespie was being "unfair" toward him when Gillespie confronted him with his own public remarks:
Mr. Gillespie [listed] the numerous conspiracies that RFK Jr has peddled, including his anti-vaccine stance and claims that 5G and Wi-Fi are "controlling our mind", that AIDs is not caused by HIV, that boys are becoming transgender due to chemicals in the drinking water, and that his cousin Michael Skakel was not guilty of a murder he had been convicted of.

"It kind of goes on and on," Mr. Gillespie says.
"You made a series of characterizations of my beliefs that you read in the newspapers," Kennedy said. "Many of which are just wrong."
When confronted with the fact that his 2005 article blaming vaccines for autism had been retracted, Kennedy insisted he had not been shown any mistakes.