'Victoria's Secret Meltdown' Video
"Get away from me" trended on Twitter on July 13 2021, after a woman named Ijeoma Ukenta filmed a bizarre encounter with a woman named Abigail Elphick in a New Jersey Victoria's Secret store.
Ukenta first shared a multi-part video of the incident to her TikTok account, @iamlovekills. Although viral iterations of the videos featured her TikTok handle, that account was unavailable on July 13 2021.
TikTok's apparent decision to remove not just the videos but Ukenta's account in total made determining a date and time for the filmed altercation difficult. Ukenta re-uploaded videos in a nine-part series to her YouTube channel on July 10 2021.
Chronologically, the first video was titled "Karen Goes Crazy Part 1," and a slightly shorter version spread on Twitter:
Somebody come look at this … pic.twitter.com/0grrlebhGq

— Or Maybe We Can Just Be Silent… (@killafran) July 12, 2021
Ukenta's footage began while Elphick stood several feet away; Elphick charged toward her in just the first two seconds. The phone tilts, and Elphick is seen backing away with a dismayed expression.
Four seconds into the video, Elphick starts covering her face with her hands. At five seconds in, Elphick starts to cry and look to bystanders for a reaction.
As Elphick shifts from charging Ukenta to sobbing in a span of five seconds, Ukenta can be heard saying "oh my God" and "do you see it?" In Ukenta's longer "part one" video shared to YouTube, Elphick continues sobbing about being recorded.
Just before two minutes and thirty seconds in, Elphick closes her eyes and pretends to faint (seemingly using her purse as a pillow). Elphick remained prone on the store floor for nearly a minute.
Ukenta's seven-minute long second video, "Karen Goes Crazy Part 2," begins with Elphick screaming and shaking on the floor in front of the register. At 25 seconds into the video, Elphick screams "get her phone away" repeatedly as she screams and points at Ukenta.
After trying and failing to convince Victoria's Secret Short Hills employees to confiscate Ukenta's phone, Elphick begins frantically pursuing Ukenta across the store 36 seconds in to the second video, with Elphick screaming "get away from me" at the woman she is chasing.
At 2:55, a third customer attempts to calm Elphick down and asks Ukenta to stop filming. Elphick can be seen on the phone, apparently calling police; when the third shopper is out of frame, she ceases crying immediately: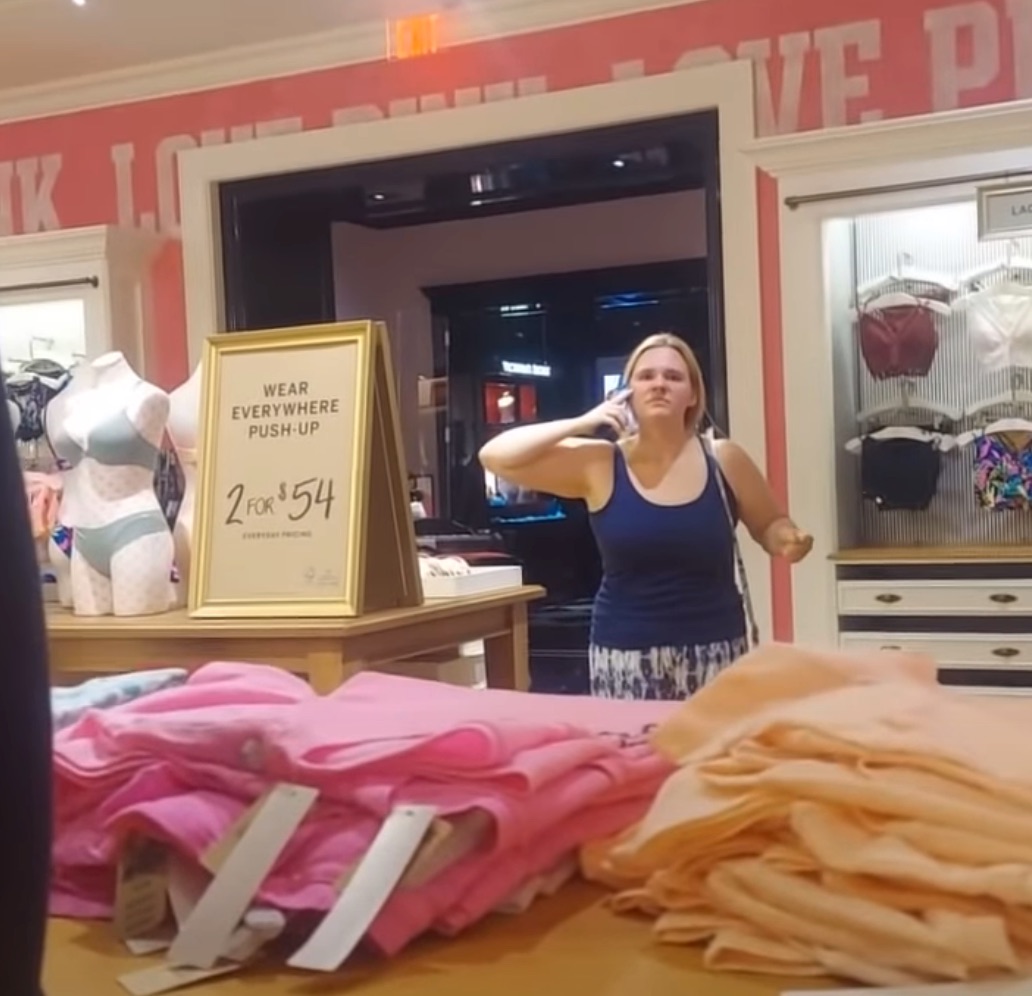 Ukenta concludes the second video by saying "I guess she's gone now," but began filming for a brief video she titled "Karen Goes Crazy Part 3 (Security acts oblivious.)" In that clip, Ukenta speaks with a security guard who professes not to know to whom she is referring as he asks about the incident.
In "Karen Goes Crazy Part 4," a four-minute long video, Ukenta reiterates to a police officer that Elphick attacked her, and she requests that Elphick be asked to leave the Short Hills Mall. The police officer claims he does not have the ability to ask Elphick to leave.
At the end of the video, Ukenta asks a different police officer for a case number to which to refer. Ukenta uploaded a fifth video, "Karen Goes Crazy Part 5," on July 12 2021, in which she visits the police station to obtain a copy of the police report. (She describes it as "somewhat true, and Elphick's name is spelled as 'Abigal Elphick.'")
Portions of the police report were visible, but edges for the typed paragraphs were cut off. In one of the frames, Elphick attributed her behavior to fear she would lose her job or apartment if the video spread virally.
That visible portion of the July 10 2021 police report also stated that Victoria's Secret employees corroborated Ukenta's version of events: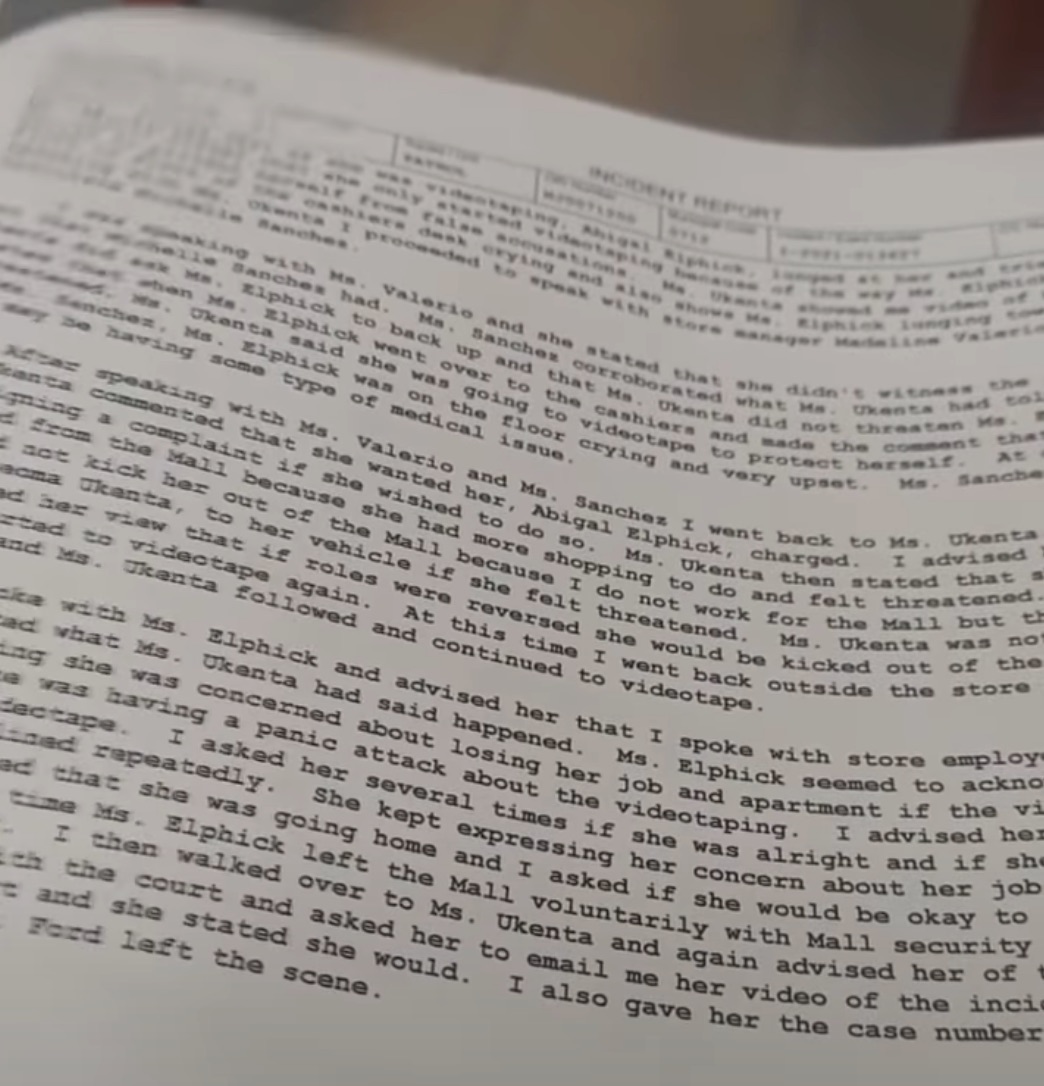 In "Karen Goes Crazy Part 6," Ukenta addresses an officer off-screen and asks to file a complaint against the two officers in the July 10 2021 videos. The officer mumbles something about "internal affairs" and leaves the area; Ukenta addresses viewers and asks about finding a "good lawyer."
Ukenta followed up with "Karen Goes Crazy Part 7," with a GoFundMe link appended to the title. A GoFundMe campaign initiated by Ukenta on July 12 2021 stood at nearly $50,000 of a $20,000 goal in under 24 hours.
The campaign, "Help Me Defend Myself Against Karen," featured the following description:
I am a Black Muslimah Nigerian AM and I was treated like it was 1920 in Short Hills Mall. I was assaulted and harassed by a white woman and and nothing was done by security nor the police. I'm looking to hire me an excellent attorney who can help me bring light to this wrong. All videos and updates on the situation are on my YouTube channel: Mama Africa Muslimah. I was kicked off a tiktok for posting what happened to me and they let someone else post and get millions and millions of views however they deleted 2 of my accounts of my accounts. One that I have for my Garden which was my original account and another 1 that I created after they deleted my main account. I have been wronged Abigail Elphick (Karen in my videos,) Short Hills Mall security, Millburn Police Department, and most of all humanity. Please help me!
That GoFundMe campaign's popularity evidenced widespread public interest in the incident. "Get away from me" remained a popular trending topic with myriad popular tweets addressing the incident and videos:
#AbigailElphick is crying and screaming "Get her away from me!" while CHASING #IjeomaUkenta. If the good sis had NOT been recoding this foolishness, what Abigail was doing could've gotten Ijeoma arrested or killed.

Shades of #AmyCooper "I feel threatened" while threatening. https://t.co/mZxVaGmR4s

— yvette nicole brown (@YNB) July 13, 2021
Here's a paragraph explaining the #Karen situation with #AbigailElphick. #GetHerAwayFromMe #Karensgonewild pic.twitter.com/NNYRpwuSOS

— 🍵 (@oopsispilledtea) July 13, 2021
In a since made private tweet (archived), one account claimed that Elphick's mother worked for a neighboring police department, citing a LinkedIn profile as seeming proof:
UPDATE: ABIGAIL ELPHICK'S MOTHER, KIMBERLY ELPHICK, IS A POLICE OFFICER (LIEUTENANT) FOR THE SECAUCUS POLICE DEPARTMENT IN HUDSON, NEW JERSEY.

THIS EXPLAINS WHY SHE [ABIGAIL ELPHICK] WAS NOT REPRIMANDED BY POLICE, WHITE PRIVILEGE A N D A FAMILY MEMBER WHO IS A POLICE OFFICER.
It wasn't clear why that Twitter account went private after publishing the claim, but on first glance it resembled information in a February 2021 obituary:
[The decedent] is survived by the love of his life, his wife Kimberley (nee Chaddon) Elphick, of Cedar Grove; his three loved children: Andrew D. Elphick of Mahwah, Abigail Elphick of Florham Park and Tara Elphick of Louisiana; five dear siblings: Mark Elphick, Arthur Elphick, William Elphick, Susan Spitler and Shirley Schilare; and four loved grandchildren.
However, viral news site Heavy.com reported that a person claiming to be Kimberly Elphick created a Twitter account to indicate she was the individual on LinkedIn and that she had absolutely no connection to the woman in the video:
"Incorrect. This is me and I do not have children. I also have no idea who Abigail is," she wrote in response to one such claim on Twitter. "This is false information and it is slanderous. Shame on you [for] this misinformation."

The woman, named Kim, added, "Also, this incident occurred in the Short Hills Mall which is covered by Millburn Police Department. Secaucus has no relevance to this case whatsoever besides a last name."

She added, "Because I'm the officer that everyone is saying that is my daughter. I don't have children and have no idea who Abigail is. Coincidentally just have the same name."

She concluded, "I got personal messages about what was being posted. I created this account to address it. It spread too quickly for me to get ahead of it to address. Feel free to call the agency tomorrow and I'll be more than happy to verify my identity."
Heavy.com also published a statement from a school district denying that Elphick worked there:
Online records show she has ties to Cedar Grove and Newark, New Jersey. The Cedar Grove School District has denied she is an employee there, writing in a note on the top of its home page, "The individual involved at the Mall at Short Hills that took place on July 11, 2021 is not and has never been employed by the Cedar Grove Board of Education."
We found no additional information in the way of statements by involved entities such as the police department or Short Hills Mall regarding the viral controversy.
Ukenta's "Karen Goes Crazy" series of videos were first shared to her @iamlovekills TikTok account on July 10 2021 (the day of the incident), and TikTok suspended her account. Captures of the TikTok videos were shared widely across Facebook and Twitter, leading to discourse about Elphick's behavior in the clips. Ukenta started a GoFundMe campaign on July 12 2021, rapidly raising nearly $50,000 in an attempt to obtain a lawyer and further address the matter.