Skin injury from thongs purchased at Wal-Mart-Truth!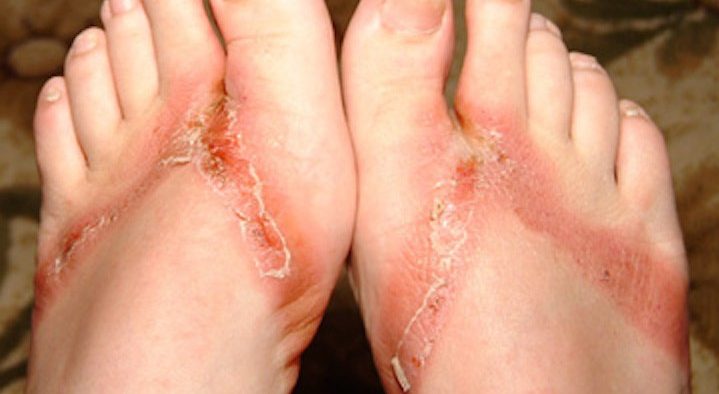 Skin Injuries from Flip Flops Purchased at Wal-Mart-Truth!
Summary of eRumor:
The eRumor is a combination of story, journal entries, and pictures from a woman who says she got chemical burns from wearing a pair of inexpensive flip-flop shoes or thongs purchased from Wal-Mart.
The Truth:
This is one of the more elaborate forwarded emails we've seen.  It includes more than 30 pictures documenting a woman's painful ordeal that she says was the result of a chemical burn from a pair of leisure flip-flops or thongs purchased from Wal-Mart in late August, 2007. When millions of products like these "Sand-N-Sun" thongs are released on the market, it's not hard to imagine that someone somewhere might experience a reaction to one of them.  People are allergic to a wide variety of substances that might not affect others in the population. It turns out, however, that this woman's experience is not an isolated one. A Fox News article dated September 12 said that at least 10 people were affected in similar ways and that Wal-Mart has stopped selling them.  Wal-Mart spokesperson John Simley told Fox News that there have been about 7-million of the thongs sold through Wal-Mart but the company is testing them and other Sand-N-Sun products.  It has not yet been determined what exactly caused the skin reactions. Some versions of the story refer to the shoes as sandals and say they are from a Chinese manufacturer. Updated 9/15/07
---
A real example of the eRumor as it has appeared on the Internet:
PLEASE READ! I WOULDN'T WANT THIS HAPPEN TO ANY OF YOU! CHERYL
Hi all! For those of you who don't know, I used to work at Walmart for a short time, but quit
Before I quit though I did buy a pair of cheepie flip flops to wear over a weekend trip to the beach, Long Boat Key April 20th to be exact.
I actually got the stupid shoes with a picture in mind then I wore them a few times

these are the actual flip flops

This is the picture I had in mind (I bought 2 pair that day)
Well, after wearing them my feet would be red and sort of tingly, but I figured that it was just because it was first flip flops of the year so my feet need to get used to them. Blabity blabity… Well I have now had this chemical burn for 11 days, (As of July 3rd) I really thought it would just go away on it's own. It is absolutely going away very well at all…this started on June 22nd 2007 and has just gotten worse basically. I have only worn those shoes 15 minutes here, half an hour there, hour there…and so on, NOT enough time to burn my feet like this!
I apologize for you having to look at my feet, really….. sorry!


this is the first picture I really thought to take, what you can't really tell is how swollen the red part is…UUUGGGH! this was Jun 28, 2007 9:00 PM 6 days into it
—
[Truthorfiction.com note: there are numerous pictures of a more graphic nature, click here to view the rest of the article.]
—
I have worked very hard to remove the scabs…I know that is so gross, but it's a fact, anyhow, this is what my feet look like today (Friday) as of 8pm. They still hurt, and I can still only
put on my old beat up tennis shoes, not my tennis shoes that I like, I tried & it about made me cry! But the good news is that this is finally getting so much better! It looks great huh?!
(sad part is, I am actually serious)
I will be updating this page as I need to but I really will keep it updated.
I am wondering just how much this is going to scar? I will be glad when this is over.
7-6-07 Under advisement of my attorney I have boxed up the actual offending flip flops and tucked them away in a safe place.
THE STORY
Like I said I got these stupid shoes for a picture, then ended up wearing the yellow ones and got all these burns on my feet from them.
7/2/07 I tried to alert Walmart to a possible problem so that no little kids might end up with this (it hurts after all!)
The only reason I didn't buy MY OWN son a pair of these is because I thought he would not be able to walk well in them, he is only 3 after all.
I called the home office and nicely explained that I used to be an employee, and I bought the shoes, and I just want to make sure that no kids were hurt…bla bla. The home office was pretty decent about the entire thing. Then the store in Summerfield called, July 2nd 1:44 pm and left a voicemail, They told me I had to come in. The GM (Richard) told me who to talk with the training manager (Mike Sidel) and
when he would be in. He (Richard) seems to be a nice guy. I went in 15 minutes to a half an hour after getting the voicemail. I thought it was important to go in there.
I couldn't believe how rude and mean, and obnoxious Mike was to me, he acted like I was making it all up, I tried to show him my injuries so he would take it a bit more seriously
& he turned his head away so that he could say he never saw it. Infact, everyone in the office was acting as if I were the "bad guy" I told him the details and he filled out a report. He asked me,
"well, what do you want me to do about this?" I told him that "if there was infact a problem with the shoes that I wanted to make sure someone knows so this doesn't happen to anyone else" .
He told me "well, nothing will come of this because you bought them in April and you are just now reporting this?"
When I tried to explain the timeline to him he didn't want to listen and turned his back on me so I just quit talking.
I never used to think so but now I really feel like Walmart is a horrible company. You would have to been there but it was almost as if since I was a former employee, he was going out of his way to try
and be mean to me. I have heard this is a common Walmart practice, but I didn't really believe it til now.
After he filled out the incident report I had to ask for a copy as he didn't seem to want to give me one. I then took on the stance that I wasn't leaving until I got a copy so he made me a copy.
I limped out of the store and went home, a bit shocked and a lot disgusted.
All I wanted to do was let them know that there might be a problem with some Chinese made shoes since I am not allergic to latex or rubber. I have always worn rubber flip flops like this and never
had any type of problem. I am not a sue happy type person but automatically he was defensive and basically acted like a complete jerk to me. So now I have decided to let every single person who will listen know exactly what happened to my feet and how a representative of Walmart acted toward me.
We'll see what happens next.
I spent hours on the phone trying to get a doctor's appointment and finally
7/3/07 I went to the doctor today, it was actually a community clinic where the poor people go, I am fairly poor so this I thought would be fine. After answering several very personal
and inappropriate questions and a five hour wait
she said it was "defiantly from the flip flops"
(but then you'd be hard pressed to think otherwise huh?)
She also said it may scar and gave me some cream that doesn't seem to be doing alot for it.
Anyhow, while I was at the doctors The insurance company for Walmart called and left a voicemail for me (You can play it on the top of the Page)

this is my dog, he has nothing to do with this, but he's cute huh?
Update July 9 2007
I just got an email from a girl saying that she had the same problem
I took out her email addy to protect her, but otherwise I just copied & pasted her email
From:
To: [email protected]
Date: Sun, 8 Jul 2007 12:42:37 -0700 (PDT)
Subject: Flip Flop Burns
Dear BoxJockey,
My name is Holly and my feet have the same marks on them as yours. I have had this problem for 5 weeks now.
My feet itch like they have a yeast infection. It is awful!!! I saw your question on Yahoo Answers.
I paid $2.88 for my flip flops at Wal mart. They are rubber with a bright pink strap, and a yellow bottom with white flowers on the base.
I would like to contact the FDA also; how do I do that?
Sincerely,
Holly XXXX
Click here for my original post, notice the LACK on info that I put in the post about the flip flops? She emailed me and described perfectly the flip flops.
She has described the flip flops to a T, the ones that burnt my feet are yellow with pink straps. The very same as she is describing so I am going to try to help this girl to.
7-9-07 9pm I talked with Holly, it is like hearing me tell the story, her situation is nearly identical to mine, she even bought her flip flops right around the same time as me, mid to end of April.
(you have to wonder if it wasn't a bad batch huh?)
I couldn't believe it, her story is the SAME, I posted another question on yahoo answers hoping to find more people that this may have happened to, I know Holly & I aren't the only ones out there.
7/9/07 I spent some more hours on the phone today trying to get another doctor's appointment because my feet are getting worse, It isn't a rash so that stupid cream is not doing anything at all. I have been told no appointment til October, we don't even see people who are uninsured, we are not taking any new patients at this time…I have heard it all today.
But I finally found an urgent care place that is the low low price of $135.00 I felt like I hit the lotto!
So I jumped in the car and went there, and will have her final report later this week, she said that it is a reaction from the flip flops, and she has never seen anything like that. I was given 10 days worth of antibiotics, and a script for steroids which I will have filled tomorrow. My feet are killing me, I am walking on the sides of them because the skin rips open if I try to walk on them like normal. Holly pointed something interesting out to me, This is not a rash, it is a burn, but if this were a rash, it would have spread beyond the lines of the straps by now, so far, the only skin affected by this "reaction" is exactly where the straps were. A rash simply does not behave this way. Thank You Holly, I am for some reason having a hard time getting people's attention to the fact that it is not a rash, you worded it perfectly.
This is the letter I got from Walmart so far


So what, I am supposed to call China?? Because the product that Walmart sold me burnt my feet?!
I just found out that CMI is actually Sam's Club/Wal-mart's self-insurance company.
"Any reimbursement adversely affects Wal-mart's bottom line, and they have figured out that most people will not take the time to sue them " Go figure huh?
It looks as if Walmart has an agreement with the supplier that they are responsible for any stuff like this so I betchya both
Walmart and CMI have to be named on any legal action.
Ya know, Walmart has the responsibility to their consumers to sell stuff that, albeit cheep, is SAFE to their consumers, but it almost looks like passing the buck.
But ya know, one could argue, at what point is Walmart negligent? I think we have already crossed that line….

I absolutely can not believe it, they never even checked into it…..I thought I would go in since I can kind of walk now, but honestly,
I thought these shoes would not still be on the shelves. WHY are they still on the shelves when they can't be sure they are safe??
CONTACT ME!
If ANYONE has now or has had a problem with flip flops purchased in April 2007
and have the pictures & documentation to prove it contact me or The consumer protection agency , and get a lawyer.
# FTC Organization Directory
# Phone number: 202-326-2222
# Phone: Toll-free: * 1-877-FTC-HELP (382-4357)
# Mail: Federal Trade Commission
CRC-240
Washington, D.C. 20580
Consumer.gov A guide to federal consumer protection programs
Better Business Bureau
This is a link someone sent me for the Consumer Product Safety Commission
Holy cow everyone! I have gotten so many nice emails, I want to take a second to say thank you to all the people who have taken a second from their day to email me,
I didn't know this page had really gotten out there until I started getting so many emails.
That is really nice of everyone who has emailed me, and I will respond to each & every email. Be patient because I have quite a few!
Thanks again everyone, I appreciate all your advice, tips, hellos, and agencies that I might file a complaint with.
Thank you!
Update July 22 2007 Today is my best friend Stacey's birthday! I have known her for about 20 years!
How cool huh!? Too bad I am here in Flofida & she is still in Michigan…

——————————————————————————–
Get a sneak peek of the all-new AOL.com.