Are Companies With More Than 500 Workers Exempt From a Coronavirus Relief Bill?
Claim
H.R. 6201, which would require employers to provide up to 14 days of paid sick leave, does not apply to companies with more than 500 workers.
Like this fact check?

Reporting
Shortly after the U.S. House of Representatives passed the House Resolution 6201 that both Democrats and Republicans promised would help American workers dealing with the COVID-19 pandemic, both parties came under criticism for an exemption that would effectively exclude a majority of employees from actually reaping the benefit.
The bill, which passed in a 363-40 vote just after midnight on March 14, 2020, would require companies with less than 500 employees to offer up to 14 days of paid leave. It also allows companies employing less than fifty workers to petition for an exemption from the Labor Department "when the imposition of such requirements would jeopardize the viability of the business as a going concern."
Besides the original reporting on the passage of the measure itself, another round of coverage and online discussion on H.R. 6201 cited a New York Times editorial:
The White House and congressional Republicans, who insisted on the exemptions as the price of bipartisan support for the legislation, bear the primary responsibility for the indefensible decision to prioritize corporate profits in the midst of a public health emergency.

Instead of pressing executives to support a comprehensive sick leave law, President Trump held a Rose Garden pep rally for corporate America on Friday afternoon, showering praise on the chief executives of big employers including Walmart, Target and Walgreens.

But House Democrats also failed to act in the public interest. Paying sick workers to stay at home is both good policy and good politics. Why not pass a bill that required all employers to provide paid sick leave and then force Republicans to explain their objections to the public?
The bill's 500-employee threshold is mentioned in the section covering the definition of a "covered employer":
The term "covered employer" means any person engaged in commerce or in any industry or activity affecting commerce that in the case of a private entity or individual, employs fewer than 500 employees; and in the case of a public agency or any other entity that is not a private entity or individual, employs 1 or more employees.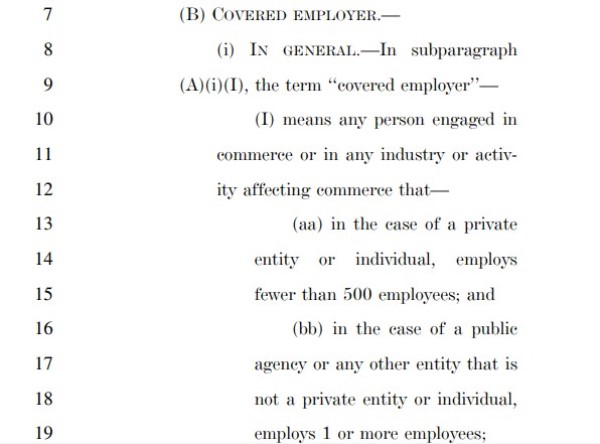 According to the New York Times, the exemption for large companies would exclude around 59 million Americans — 54 percent of the United States' workforce — from being covered under the bill (which has yet to be passed by the U.S. Senate as of March 14 2020.) The exemption for companies with fewer than fifty employees could mean that another 26 percent would fail to be covered.
"Paying sick workers to stay home is one of the most important things the government can do to slow the spread of the coronavirus. This bill is being sold as meeting that need," New York Times reporter Binyamin Appleton added on Twitter. "Democrats and Republicans are saying it. And they are not telling the truth."