Was Michael Cohen Hillary Clinton's 'Personal Lawyer'?
Claim
Michael Cohen was Hillary Clinton's personal lawyer and was a "member of the Clinton Foundation."
Like this fact check?

Reporting
On February 28 2019, the Facebook page "I am not a dictator" shared the following meme (archived here), alleging that President Trump's former lawyer Michael Cohen was once the personal lawyer of Hillary Clinton and/or the Clinton Foundation: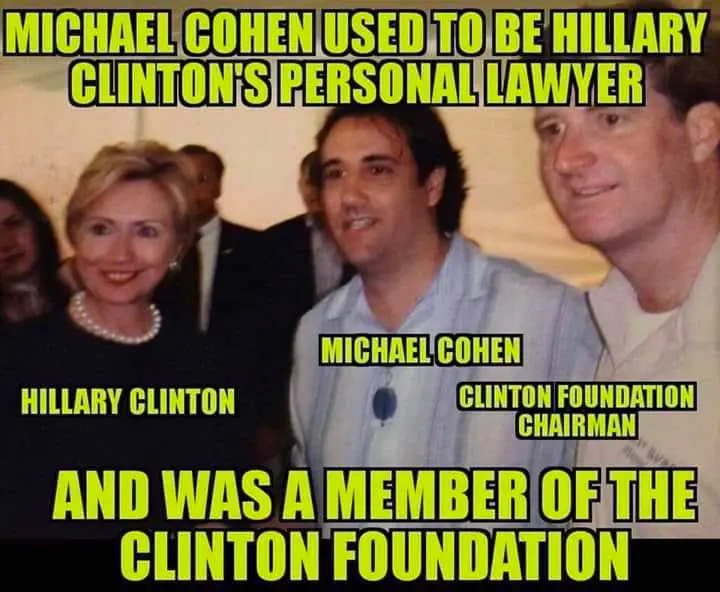 A photograph of Clinton (left), Cohen (center), and an unidentified individual was captioned:
MICHAEL COHEN USED TO BE HILLARY CLINTON'S PERSONAL LAWYER
AND WAS A MEMBER OF THE CLINTON FOUNDATION
Visual labels were also part of the meme: Hillary Clinton, Michael Cohen, and "Clinton Foundation Chairman." A reverse image search revealed a possible earliest iteration of the image without any caption. Of note is that the Clinton Foundation, a non-profit charity, does not have "members" per se, except for board members.
The photograph was shared by Cohen on Twitter on June 26 2014. Cohen identified the third individual as Patrick Kennedy (but did not elaborate on the circumstances of the photograph), and wrote:
#tbt being received by two great Americans…Hillary Clinton and Patrick Kennedy at the Kennedy Compound
We were unable to find any additional information about the background of the photograph, clearly taken at some point prior to 2014.
This particular Facebook meme was not the first claim that Cohen was "Hillary Clinton's lawyer." On April 16 2018, Cohen was widely reported as party to a criminal investigation in New York. But reports Cohen could "flip" on the President did not begin circulating until early July 2018, and until that point he was still considered loyal to Trump. On April 21 2018, a random Twitter user claimed that Cohen represented Hillary Clinton in a case relating to Jeffrey Epstein and that the lawyer was thereby in possession of purportedly incriminating information:
CONNECTING PEDO DOTS…. Michael COHEN was HRC attorney in Epstein Island case…….HE HAS ALL THE DOCS….. FRIEND OF TRUMP!!!!!!!!!!!!
Just days prior, a April 18 2018 post on Reddit's pro-Trump channel the_donald claimed:
Skippy Podesta is literally tweeting insanity about Cohen being in Prague, debunked prior to the election. Mainstream Media can only say 'Hannity, Hannity, Hannity' it seems… But Michael Cohen, unlike Hannity, had actual clients that paid him.

One of those paying clients was none other than Hillary Rodham Clinton. Was it a parking ticket Cohen handled for her? Perhaps a real estate investment? Some stock deal perhaps? No? No? And again, no.

Michael Cohen was the attorney for Hillary in the Epstein Island Case/Trial. Yes, EPSTEIN'S PEDOPHILE ISLAND, known today also as EPSTEIN'S SATANIC PEDOPHILE SYNDICATE ISLAND. That is the case Michael Cohen was hired to represent Hillary Clinton in. What was seized in his office again? Who signed off upon that raid?

Cant wait to see what else they find. Nowhere to hide.
Although that subreddit is prone to spreading misinformation and disinformation, even its posters were unanimously skeptical of the claim and demanded citations. The most upvoted comment said:
Bullshit. I've never heard that, and it seems like it would've been out by now. Sauce or fuck off
The original poster responded to a different request for additional information, claiming that providing it would lead to "Arkancide," presumably a reference to the "Clinton Body Count" legend:
Revealing the source of an HRC accusation leads to the source being arkancided.
Other iterations of the rumor mentioned a case involving billionaire Jeffrey Epstein and a May 2017 Politico article ("The one weird court case linking Trump, Clinton, and a billionaire pedophile") did mention Bill Clinton, Donald Trump, and Jeffrey Epstein — but not Cohen. Nor was Hillary Clinton referenced in the piece:
Virginia Giuffre's civil suit, scheduled to go to trial here later [in May 2017], threatens to expose new details of a long-running saga tying together President Donald Trump, former President Bill Clinton, Labor Secretary Alexander Acosta, and other prominent figures, including Harvard Law professor Alan Dershowitz.

Epstein, a well-connected Manhattan money manager and philanthropist, was once a regular at Mar-a-Lago and an active supporter of the Clinton Foundation—repeatedly lending his 727 jet to Clinton for trips overseas. Dershowitz defended Epstein amid an investigation into his involvement with underage girls more than a decade ago, and it was Acosta—then the U.S. attorney overseeing south Florida—who allowed Epstein's case to be resolved in state court in 2008 … Giuffre, formerly Roberts, claims she was 15 and working as a towel girl at Trump's posh Palm Beach club when she was recruited nearly two decades ago into sexual slavery by socialite Ghislaine Maxwell, then Epstein's girlfriend.

A lawyer for Trump says the president was unaware of any wrongdoing by Epstein.

[…]

[Bill] Clinton's ties to Epstein became an issue during the [2016] presidential race. Reince Priebus, then chairman of the Republican National Committee, was among Republicans who demanded a full accounting of the former president's dealings with Epstein. "When you hang out with a guy who has a reputation like Jeffrey Epstein, multiple times, on private jets, on weekends, on trips, on places at least where it's been reported not very good things happen, it would be good to know what our former president was doing, especially because it appears he's going to be part of a campaign ticket on the other side of the aisle," Priebus told Bloomberg in 2015.
A November 2018 Miami Herald infographic lists Trump and Clinton as friends of Epstein, noting that neither were suspected to have been involved illegal activity in connection with Epstein. Neither Hillary Clinton nor Michael Cohen were named, and the article came before Cohen's 2018 legal issues. Hillary Clinton only appeared in extensive reporting about Epstein in relation to her husband and in reference to Epstein's donations to the Clinton Foundation; Cohen was not described in any articles as purported legal counsel to Clinton.
The meme relied on Cohen's rise to national prominence during and after Donald Trump's presidential campaign and 2016 election. But brief accountings of Cohen's life and career were published after he became nationally known, and an April 2018 WNYC article examined Cohen's legal career in detail:
In the early 2000s, Trump and Cohen became connected, fittingly, through real estate. Cohen started to transfer the wealth he'd gained from taxi medallions and insurance lawsuits to apartments in Trump buildings. Along with his parents, his in-laws, and Simon Garber, Cohen acquired eight units in Trump Palace, Trump Park Avenue, and Trump World Plaza. The man who operated out of a Queens taxi garage now owned apartments alongside the likes of Sophia Loren and Harrison Ford.

Cohen also began to show political ambitions. In 2003, he ran for city council on Manhattan's Upper East Side as a Republican. Even people close to his campaign weren't sure why he ran … [In 2007,] Cohen became an executive vice president at the Trump Organization, with the same job title as Donald Jr., Ivanka, and Eric Trump.

[…]

[In late 2010 or early 2011] Michael Cohen had helped set up a website called shouldtrumprun.com with the Long Island law firm Schwartz, Gerstman, and Malito. (David Schwartz is a long time Cohen friend and attorney who made several television appearances on Cohen's behalf when the Stormy Daniels news broke.) Cohen also traveled to Iowa to explore the political terrain … when Trump made a run for the White House, Cohen continued to serve both as promoter and dealmaker. He frequently appeared on TV as a Trump surrogate, though he had no official campaign position. In one interview in the summer of 2016, Cohen refused to acknowledge that polls strongly favored Hillary Clinton. He badgered CNN anchor Brianna Keilar when she referred to Trump's then-dismal poll numbers. "Says who?" Cohen shot back. "What polls?" The anchor, seemingly mystified, answered "all of them?" The clip went viral.
WNYC covered Cohen's years before working for Trump in detail, with no mention made of any ties to Hillary Clinton or the Clinton Foundation. No information since has emerged to suggest any such tie existed, and the image used for the meme appeared to enter the social media meme-sphere after Cohen himself tweeted it in 2014.