Florida Plumber Finds Clog, Reticulated Python
A purported photograph showing a proud plumber and his quarry is of uncertain origin and authenticity.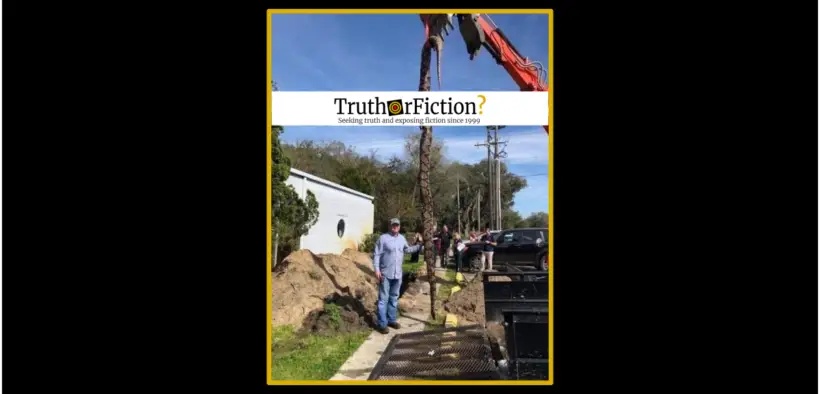 Claim
A photograph shows a reticulated python found by a plumber in Immokalee, Florida.
Reporting
A Facebook post featuring a photograph of a purported reticulated python found clogging a drain in Florida began circulating in February 2019: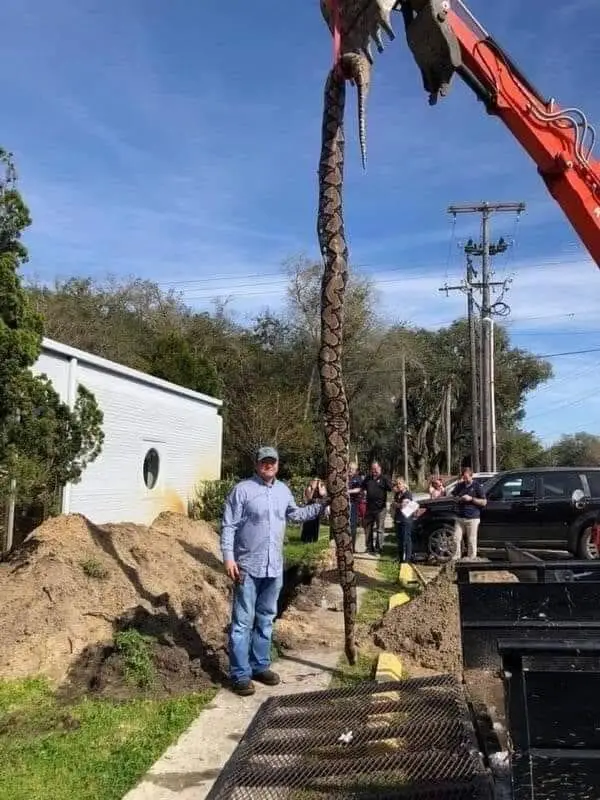 Individual and separate shares of the same image amassed tens of thousands of shares each, and users claimed that the photograph appeared on news stations in the Tampa area. Some users said the photograph was taken in Immokalee, and still others claimed it came from Ocala.
We were unable to locate any news segment from February 2019 about the location of a newsworthy snake anywhere in the state of Florida. Additional shares of the photograph placed it in Enterprise, Mississippi due to re-shares on Instagram mistaken for the original photograph. A transcription of what appears to have been the original, since-deleted post appeared on a message board on February 11 2019:
Jimmy Dupree holds up a 400lb reticulated python killed behind the water plant in Immokalee on 02/09/2019!! It was said that when they spotted the snake it was mating with one that was even larger but it Quickly Slither away leaving a large crater like Trail Into the Woods the older Mexican men who witnessed the snake retreating called it (Loci) which was apparently the name of a Roman genius who took the form of a snake!! When questioned about the event Dupree replied his only concern is that the larger one called (Loci) might return for Revenge but no one listening seem to think that statement was funny. ( please share) To make the small town aware of Loci!!!
Commenters shared a screenshot and comments on one share of the original, preserving the caption. However, users were in disagreement about the location of the purported image as well as whether or not the snake appeared on a local news segment: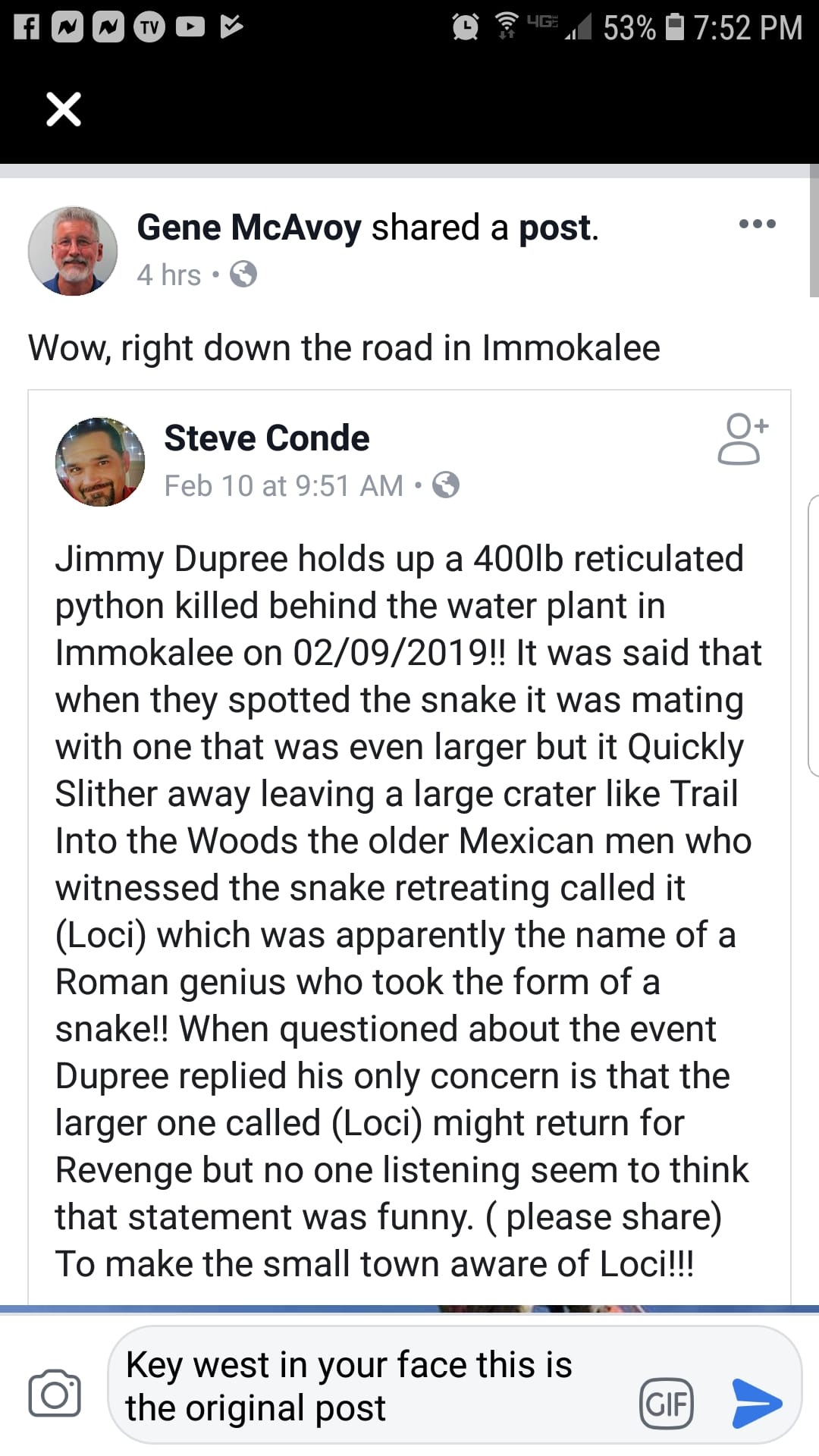 Users discussing the original (deleted) post observed that the backstory was inconsistent in various versions, adding two more purported Florida locations, Lake City and Plant City:
This picture is making the rounds and has been attributed to at least 4 different locations with at least one location well out of the range where the snake is known to exist.
In the comments on one widely-shared version of the photograph, a local journalist shared a response from the Florida Fish and Wildlife Commission, which we also received when we emailed them for comment:
The Florida Fish and Wildlife Conservation Commission (FWC) has no evidence that a reticulated python has recently been removed from the wild in Florida. There are some inconsistencies in the photograph which appears to be photoshopped. Also, some of the FWC law enforcement pictures being used with the Facebook post are from other events not related to a snake.

If members of the public do see a nonnative constrictor such as a python in the wild, we encourage them to report it to our Invasive Species Hotline at 888-Ive-Got1.
The origin and explanation of the image is unknown, although it appears to be doctored; it is highly unlikely that it actually represents a plumber in Florida (or anywhere else) finding an enormous snake in a clogged drain.