An early August 2019 Immigration and Customs Enforcement (ICE) raid at Mississippi chicken plant made national news due to its size and the number of children left without parents or guardians in its wake; in its aftermath, rumors claimed that the business in question, Koch Foods, had been previously ordered to pay a large sum of money in a workplace lawsuit settlement.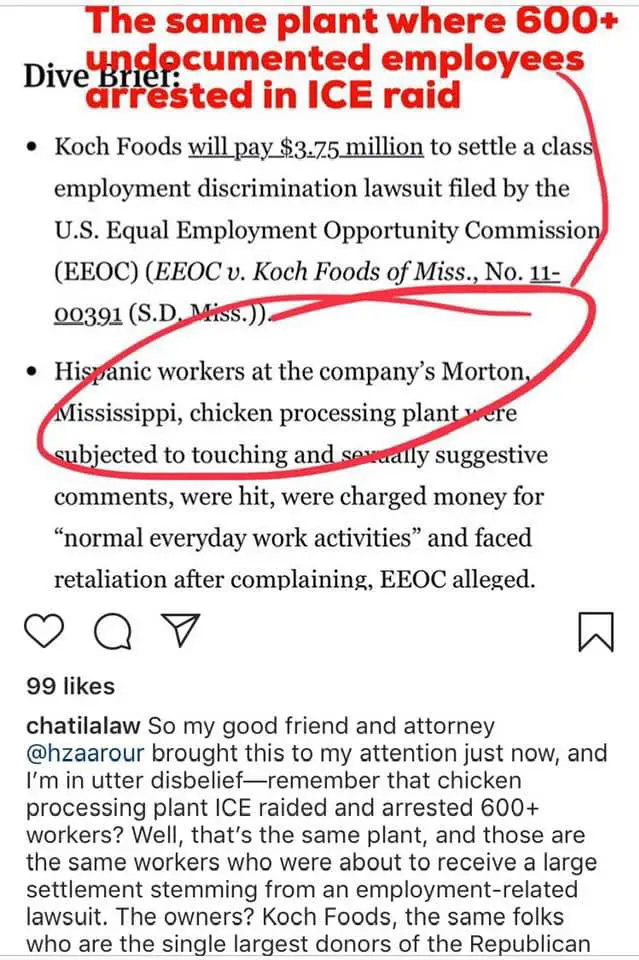 The screenshot above was shared to Facebook on August 8 2019, days after the raid. A status update read:
"Ahhhhh ok, so the 600 immigrants arrested at work in Mississippi are the same folks who were awarded a huge settlement due to being physically and sexually assaulted while at work. They're being locked up so that employers like Koch foods (owned by billionaire Republican Joe Glendys) can rely on the fear of raids to help them exploit migrant laborers already working in dangerous facilities without accountability for their other illicit labor conditions. Smh wowww".
The screenshot was originally shared to Instagram with the following commentary:
So my good friend and attorney @hzaarour brought this to my attention just now, and I'm in utter disbelief—remember that chicken processing plant ICE raided and arrested 600+ workers? Well, that's the same plant, and those are the same workers who were about to receive a large settlement stemming from an employment-related lawsuit.
The posts include two claims: that ICE raided a Mississippi chicken plant called Koch Foods (no affiliation with or relation to the Koch brothers or Koch Industries) in August 2019, and that Koch Foods was ordered to pay nearly $4 million to its employees after they brought a suit alleging workplace abuses.
On August 7 2019, ICE agents captured and detained 680 people in seven separate raids across six food processing plants in Mississippi:
US immigration authorities have detained some 680 undocumented immigrants in what a federal prosecutor described as a record-setting operation.

US Attorney for the Southern District of Mississippi Mike Hurst told reporters the arrests took place at seven sites in six different cities in Mississippi on [August 7 2019]. The raids, he said, are "believed to be the largest single-state immigration enforcement operation in our nation's history."

Officials declined to provide details about what sites had been targeted, citing what they said was an ongoing criminal investigation. CNN affiliates reported the raids at food-processing plants throughout the state.
Headlines indicated ICE detained "undocumented immigrants," but how the immigration status of the hundreds of detained individuals was divined so quickly was not made clear in any reporting. A local news organization, the Clarion Ledger, reported that "Latino workers were gathered into one room" by ICE agents. At least 300 of the 680 detained were released within a day.
According to another report, the seven raided plants were owned by a total of four companies:
In some instances, immigrants were released from detention and outfitted with ankle monitors while awaiting deportation proceedings. Authorities tracking their GPS coordinates were able to see they were coming and going from Mississippi food processing plants.

On [August 7 2019], hundreds of immigration officials descended on seven Mississippi plants owned by four companies — Peco Foods, Koch Foods, PH Food and Pearl River Foods. They are suspected of "willfully and unlawfully employing" undocumented workers, recently unsealed search warrants say.
An August 8 2019 Chicago Tribune article identified one of the four companies as Mississippi-based Koch Foods:
Mississippi ICE raids hit Koch Foods, a large suburban Chicago-based poultry processor that mostly flies under the radar

The Immigration and Customs Enforcement raids [August 7 2019] on agricultural plants in Mississippi hit close to home in Chicago, with about a quarter of the arrested workers employed by Koch Foods, a large Park Ridge-based poultry processor whose billionaire owner, Joseph Grendys, mostly flies under the radar.

As many as 200 of the 680 people allegedly living in the country illegally, who were detained by authorities, worked at the Koch plant in Morton, Miss., according to an initial estimate by ICE spokesman Bryan Cox.

The raids represent the largest workplace immigration sting operation of the Trump administration, with more than 600 agents from ICE and Homeland Security Investigations executing multiple federal criminal search warrants at seven Mississippi agricultural facilities.
That article went on to report on a 2018 settlement agreement involving Koch Foods, as well as another immigration raid — this one in 2007 — at one of the company's plants. Hundreds of those apprehended in August 2019 were employees of Koch Foods.
A second claim held that Koch Foods agreed to pay a $3.7 million settlement in 2018, which stemmed from a discrimination lawsuit. The article seen in the screenshot was published by human resources industry site HR Dive on August 13 2018. It reported:
Dive Brief:

Koch Foods will pay $3.75 million to settle a class employment discrimination lawsuit filed by the U.S. Equal Employment Opportunity Commission (EEOC) (EEOC v. Koch Foods of Miss., No. 11-00391 (S.D. Miss.)).
Hispanic workers at the company's Morton, Mississippi, chicken processing plant were subjected to touching and sexually suggestive comments, were hit, were charged money for "normal everyday work activities" and faced retaliation after complaining, EEOC alleged.
The three-year consent decree also required that Koch Foods implement new policies and practices aimed at preventing future discrimination, provide anti-discrimination training to employees, create a 24-hour hotline for reporting discrimination complaints in English and Spanish and post anti-discrimination notices in its workplace in English and Spanish.
HR Dive linked to an August 2018 Equal Employment Opportunity Commission (EEOC) brief about Koch Foods and the settlement, which stated in part that Koch Foods was found to have engaged in retaliatory behavior against employees who reported workplace harassment and bias:
Koch Foods Settles EEOC Harassment, National Origin And Race Bias Suit
Poultry Supplier Pays $3.75 Million to Class of Hispanic Workers

BIRMINGHAM, Ala. – Koch Foods, one of the largest poultry suppliers in the world, will pay $3,750,000 and furnish other relief to settle a class employment discrimination lawsuit filed by the U.S. Equal Employment Opportunity Commission (EEOC), the federal agency announced today. The EEOC charged the company with sexual harassment, national origin and race discrimination as well as retaliation against a class of Hispanic workers at Koch's Morton, Miss., chicken processing plant.

According to the EEOC's lawsuit, Koch subjected individual plaintiff/intervenors and classes of Hispanic employees and female employees to a hostile work environment and disparate treatment based on their race/national origin (Hispanic), sex (female), and further retaliated against those who engaged in protected activity.1 EEOC alleges that supervisors touched and/or made sexually suggestive comments to female Hispanic employees, hit Hispanic employees and charged many of them money for normal everyday work activities. Further, a class of Hispanic employees was subject to retaliation in the form of discharge and other adverse actions after complaining.

[…]

The three-year consent decree entered today by Judge Daniel P. Jordan III provides for $3,750,000 in monetary relief for the victims. In addition, Koch Foods will take specified actions designed to prevent future discrimination, including implementing new policies and practices designed to prevent discrimination based on race, sex or national origin; providing anti-discrimination training to employees; creating a 24-hour hotline for reporting discrimination complaints in English and Spanish; and posting policies and anti-discrimination notices in its workplace in English and Spanish.
Posts on social media claimed that many of the people ensnared in ICE raids in Mississippi were Koch Foods workers. Moreover, the rumors asserted that Hispanic employees of Koch Foods had been awarded $3.75 million in a 2018 settlement over workplace abuses. These claims are both true.
Although other companies' plants were raided by ICE that day, hundreds of the affected workers were employed by Koch Foods. It is also true that employees of Koch Foods sued the company over workplace abuses, and that the EEOC determined in their investigation at the time that some endured retaliation for their reporting of the abuses.