Was the Thousand Oaks Shooter Identified as a Man of Middle Eastern Descent?
Claim
The suspect in a mass shooting at the Borderline Bar in Thousand Oaks was identified by law enforcement as a man of Middle Eastern descent named Abu Al-Hom Kreuzi.
Like this fact check?

Reporting
Mere hours after a gunman entered a nightclub in Thousand Oaks, California, murdering at least twelve people before shooting himself, the social media disinformation machine and its usual array of bots and paid trolls began to peddle unverified information about the suspect's identity: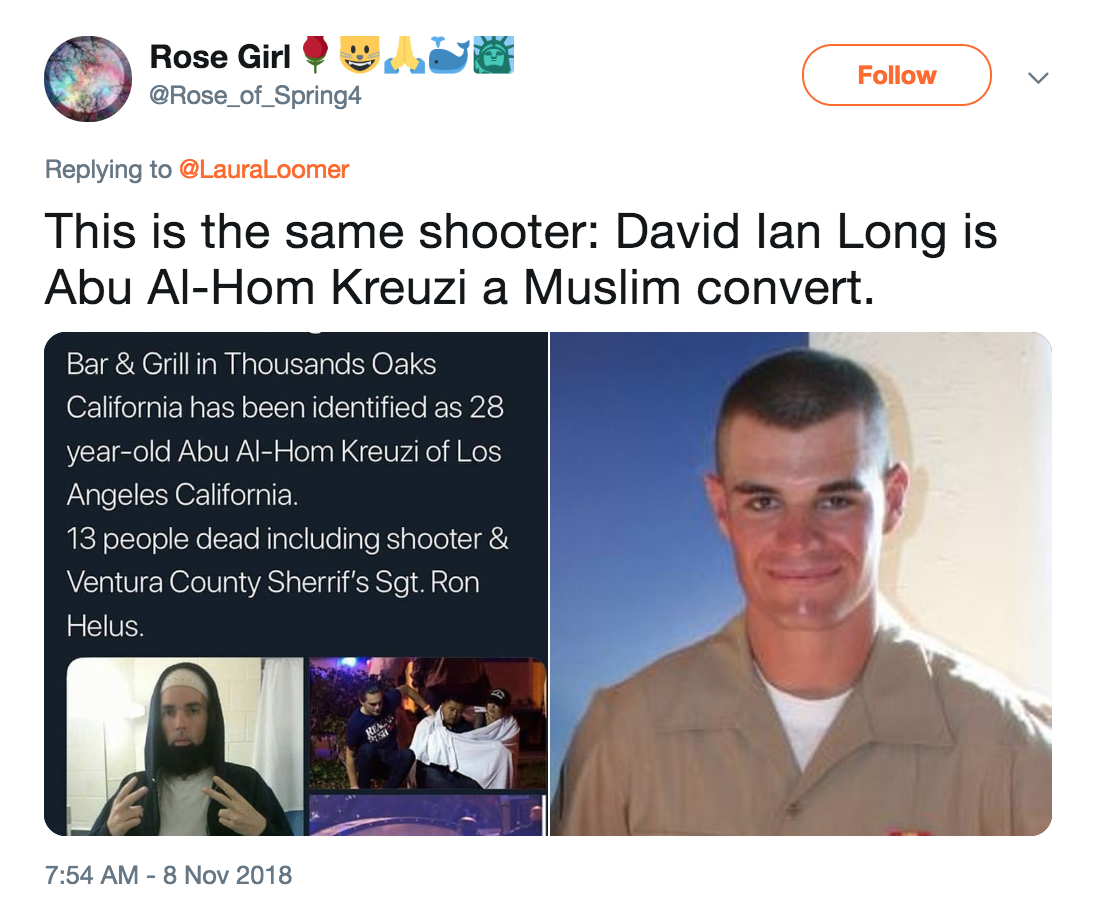 This was quickly picked up and disseminated by the usual disreputable sites and disinformation purveyors:
There is no validity to the claim, which by all appearances was simply made up based on eyewitness descriptions of the man wearing all black, having a hood over his head, and having a beard. The image that appears with this rumor also does not show the suspect, a 28-year-old former Marine machine gunner named Ian David Long who was already known to law enforcement:
Investigators knocked on doors of surrounding residents to find out what they may know about Long. One neighbor who knew Long said he was a veteran who suffered from PTSD. She said, "I don't know what he was doing with a gun."

Others said Long lived at the home with his mother. Richard Berge, a friend and neighbor Long's mother, said Long's mother was worried about her son.

"He wouldn't get help," Berge said.

Dean said Long was in the United States Marine Corps. The USMC released Long's service record, detailing that he served from 2008 to 2013, deploying to Afghanistan from Nov. 16, 2010 to June 14, 2011.
One of those killed was Ventura County Sheriff Sergeant Ron Helus, the first responder to the scene. Helus was a 29-year veteran of law enforcement who, colleagues said, had been looking forward to retiring in a year or two:
Helus was a "true cop's cop," said his colleague, sheriff's Sgt. Eric Buschow.

"I don't think there's anything more heroic than what he did," Buschow told CNN Thursday morning.

"He went in there to save lives. He took decisive action, and it's just a tragic loss for us," Buschow said.