A new fearmongering tale about fentanyl began circulating online in July 2023, this time involving officials from various jurisdictions as justification.
At least one iteration is presented as a warning from the New York State Department of Transportation (DOT), but shared by the bureau of public safety in upstate Rensselaer County about a purported incident across the country in Washington state:
Fact Check
Claim: The Water Was Laced With Fentanyl
Description: A claim is circulating that water was laced with Fentanyl, based on a warning from the New York State Department of Transportation (DOT), which was passed on by the Bureau of Public Safety in upstate Rensselaer County, relating to an incident in Spokane, WA.
The Bureau of Public Safety was advised of an incident from NYS DOT regarding a flagging company operating in Spokane, WA. An employee of the flagging company accepted some water from the traveling public as they were working on the roadway. The employee started to feel ill and went to the hospital and it was later discovered that the water was laced with Fentanyl [sic]. The BPS suggest that we should implement a policy in your agency that your crews do not accept food or drinks from unknown providers. Just another concern for our emergency services providers. Be safe out there.
The text warning is accompanied by an email allegedly sent by the county's public safety director, Jay Wilson: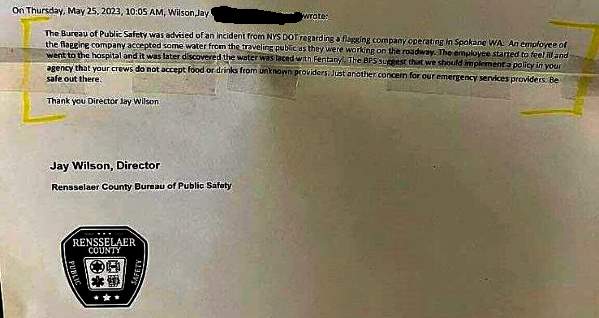 Police in Spokane told us that they had no knowledge of such an incident taking place. We also contacted Wilson's office and the New York DOT seeking comment.
As for whether "fentanyl-laced water" is even possible, Dr. Ryan Marino, who has become a public debunker of disinformation related to the drug, said that it is — though to do so difficult.
"While it is possible to poison someone with fentanyl this way, it's not easy to do and is not something that occurs with any sort of regularity," he said.
Marino, who founded a toxicology division at University Hospitals Cleveland Medical Center in Ohio, said that ingesting the water would make such poisoning harder to carry out; the fentanyl itself would have a "strongly bitter taste."
We did find one instance of fentanyl being used to poison water — A February 2022 story in the Connecticut newspaper The Day about a 2019 incident involving a 6-year-old boy.
According to the story:
His father, 32-year-old Joshua Jones, at first blamed his son's exposure to the drug on "a phantom prostitute" who had used heroin in his truck — but there was no prostitute, according to an arrest warrant affidavit. He later told police that he'd used the water bottle's cap to mix fentanyl in water and repeatedly used heroin in front of his son.
Jones pled no contest to two counts of risk of injury to a minor.
While fentanyl can be deadly, it is important to remember that it cannot trigger overdoses merely by being near it or touching it.