'White Influencer Identifies As Korean'
Claim
A "white influencer identifies as Korean" after undergoing plastic surgery.
Like this fact check?

Reporting
In late June 2021, a screenshot of a headline ("White Influencer Now 'Identifies As Korean' After Getting Surgery To Look Like Pop Star") circulated: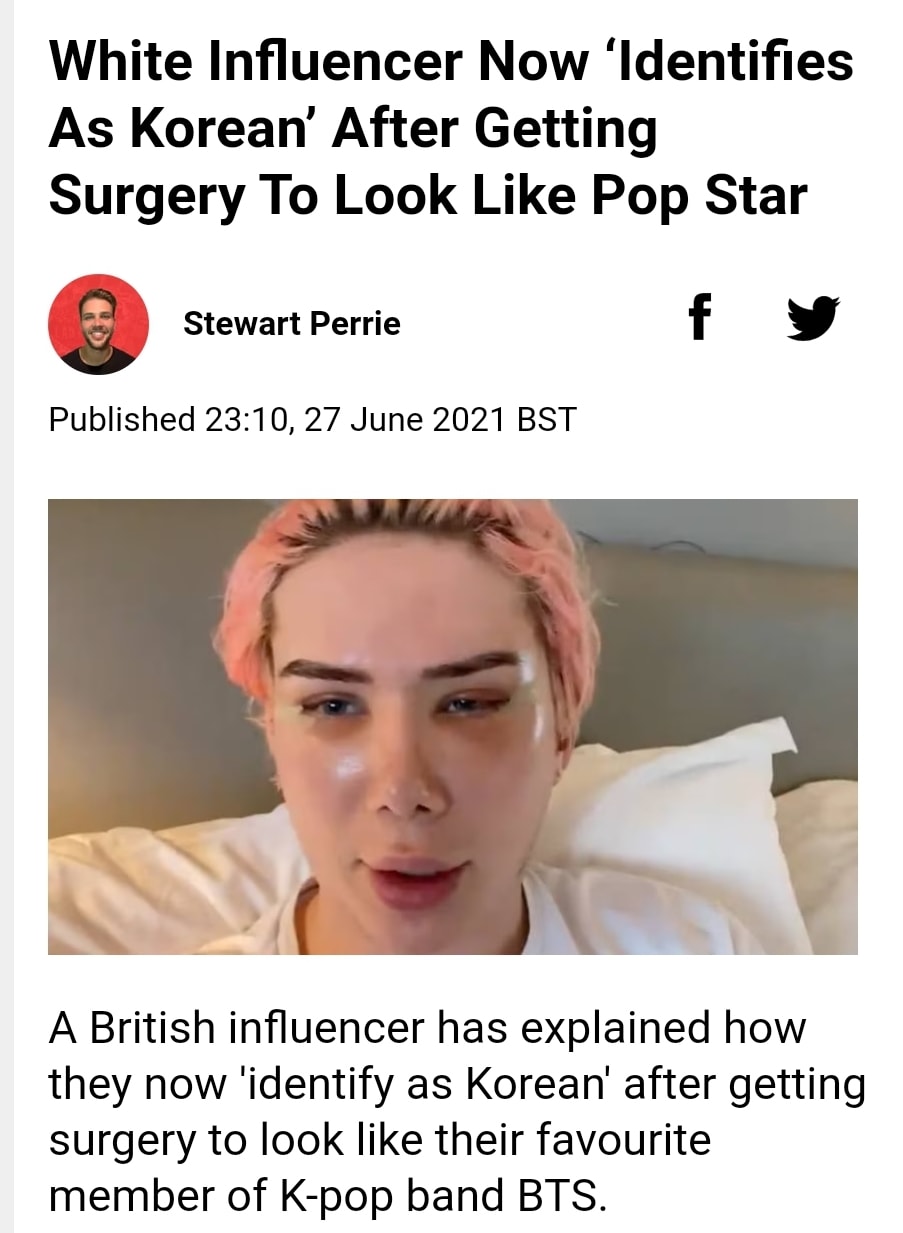 That screenshot originated with a June 27 2021 LadBible item:
A British influencer has explained how they now 'identify as Korean' after getting surgery to look like their favourite member of K-pop band BTS.

Oli London has reportedly gone under the knife 15 times in the past eight years to get their face as close to 'Korean' as possible. The cost of all these surgeries is estimated to have been more than $150,000.

The non-binary influencer believes they now have a striking resemblance to Jimin and asked their followers to use the pronouns 'they/them/Korean/Jimin.'

They added: "'I do identify as Korean… this is my choice, my decision. It's not hurting anyone."
That particular report involved language like "reportedly," alluding to the fact that London's claims were self-provided and not independently verified. Within a day, the viral story was leveraged by sources with anti-transgender leanings, repackaged to assert London's purported surgeries altered their "race and gender":
A white, British social media influencer began identifying as "transracial" after undergoing 18 surgeries to transition his race and gender, according to a series of videos.
A spate of similar articles repeated London's claims verbatim in late June 2021, without providing background on whether the assertions were reliable. We searched "Oli London," purportedly an "influencer," restricting search results to anything crawled on or before June 8 2021.
If London had a strong web presence prior to June 2021, Google maintained little record of it. In total, 109 mentions of the name "Oli London" occurred on or before June 8 2021.
One such result appeared on Reddit's r/kpoprants in May 2021, arguing that London was "a troll and a very obvious one at that":
Oli London is a troll and a very obvious one at that. from kpoprants
Another  result was London's IMDb page, featuring a biography section populated almost entirely with sensational reality television appearances. Although London's credited appearances were primarily on surgery-centric shows, the biography also mentioned a stunt involving marrying a cardboard cutout:
In 2020 he famously appeared on America's most watched daytime talk show Dr. Phil where he spoke about his love of K-Pop star Jimin and his passion for transforming his image. He also appeared in a Daily Mail TV show where he infamously married a cardboard cutout of his K-Pop idol in a Las Vegas ceremony. This ceremony was also covered by E! News as well as hundreds of media outlets around the world and was aired on MBC News Korea. He appeared in an exclusive interview on Korean channel SBS 'Showbiz Tonight' to give exclusive details after the wedding and discuss his Daily Mail TV appearance. He has also appeared on 3 episodes of American reality series Botched on E!

[…]

In August 2020 he appeared on Channel 5 and 5Star 'Plastic Surgery Knifemares' where he discussed in detail his experiences with surgery and music career. In October [2020], he also appeared in 2 episodes of BBC 3 Series 'Being British East Asian' where the episodes focused on filming behind the scenes of his music video 'Mirror Mirror'.

In 2019 he appeared in a documentary on German TV channel Prosieben titled 'The Beauty Madness of Oli London'. Throughout 2019, he also appeared in several shows in South Korea including Arirang TV 'When in Korea' about his love of K-Pop star Jimin, Arirang Radio 'K-Poppin' and has also appeared in a short documentary with The Korea Times. He also appeared in an interview on The Today Show Australia in November and appeared as a topic of discussion on E! News, NBC News and Today Show USA.

Throughout 2018, London guest starred in Rich Kids Go Skint on Channel 5 and appeared in Celebs Go Dating on E4 and The X Factor Series 15 on ITV.
A very notable element of London's professional résumé consisted almost entirely of what could fairly be described as efforts to gain publicity by engaging in attention-grabbing behavior or courting outrage. That particular portion of their brief social media infamy was not highlighted on articles describing London as "transracial" or "now identify[ing] as Korean."
London's Twitter feed painted a far clearer picture of the nature of their media blitz. Two high view count videos by London emphasized the "trans" in "transition," and introduced the word "transracial" in the latter video shared on June 28 2021:
My TRANSition story & how I became KOREAN🇰🇷 https://t.co/8QSPTDOVgY 💙💜💛💚🖤🧡 #olilondon pic.twitter.com/KwBrUO2GcS

— Oli London (@OliLondonTV) June 26, 2021
TRANSRACIAL…🏳️‍⚧️⚧🏳️‍🌈🇰🇷 #olilondon pic.twitter.com/p0gcoV535D

— Oli London (@OliLondonTV) June 28, 2021
London's own tweets were clearly intended to bait outrage merchants, and co-opted language and phrasing used by transgender people:
Being Transexual is the same as being TRANSRACIAL because you are born in the wrong body.

— Oli London (@OliLondonTV) June 28, 2021
More telling, however, was that London pled for anti-transgender media personalities to respond to their newest videos, retweeted critical articles, and responded to solicited responses with gratitude:
I am again calling on @TuckerCarlson & @seanhannity to defend me and call out the trolls and woke bullies targeting me for my non-binary Korean identify! @FoxNews @foxnewsdesk 🙏🏻🇺🇸🙏🏻 #olilondon

— Oli London (@OliLondonTV) June 23, 2021
Please defend me from the woke Twitter mob: @TuckerCarlson @seanhannity @piersmorgan 🙏🏻🙏🏻🙏🏻🙏🏻 #olilondon

— Oli London (@OliLondonTV) June 22, 2021
Help me speak out against the injustice I am facing, the racism & transphobia from the WOKE MOB @seanhannity @TuckerCarlson 🙏🏻🙏🏻🙏🏻🙏🏻

— Oli London (@OliLondonTV) June 28, 2021
Leftist Logic: You Can Have Surgery To Change Your Sex But Not Your Racehttps://t.co/zmkgGEIFSJ

— The Federalist (@FDRLST) June 28, 2021
In between tweets sharing tabloid articles which took London's claims at face value, they also tweeted advertising their services on Cameo, and soliciting additional media coverage.
As recently as June 6 2021, London shared an item about their upcoming procedure — which was described in the linked article as a "smile makeover":
Oli London causes social media frenzy after arriving in Turkey to undergo his latest makeover https://t.co/h7Nzp4sMNX

— London TV (@LondonTVUK) June 6, 2021
The brief attached link reported:
London is currently in Antalya, Turkey with celebrity socialite Aneece Malik, who is dubbed 'The Veneer King', to have a total and complete smile makeover [on or around June 6 2021].
On June 16 2021, ten days after London retweeted the tweet, they indicated they were still in Turkey and tweeted:
I'm pleased to announce I have undergone multiple surgeries in the past few days as part of my transition. I finally am able to live my life as the person that has been trapped inside my body for so long. 🙏🏻🏳️‍⚧️⚧ #olilondon

— Oli London (@OliLondonTV) June 16, 2021
In the July 6 2021 press mention London scored, they reportedly had traveled to Turkey for dental work. Ten days later, London began asserting they had "multiple surgeries," a detail absent from the article they had shared.
Within a day of the second tweet, London began inserting subsections of discourse about transgender people into their tweets:
I want to represent Korea in the Tokyo Olympics and be in the running competition. I am really fast at running especially when I listen to Dashi Run at the same time. I would be honoured to represent my native Korea 🇰🇷🇯🇵🏃🏈🎾 #olilondon #olympics

— Oli London (@OliLondonTV) June 17, 2021
London was the subject of at least one other June 2021 internet controversy prior to the "identifies as Korean" kerfuffle. A June 2 2021 Korea Portal post titled "K-Pop Fans Cancel Oli London Again After Suicide Prank" said:
A couple of days ago, Oli London officially met his match as the infamous UK-based K-pop artist faced continuous backlash after faking a suicide online.

A report on May 27 said that Oli London was announced dead in his mansion in London. A suicide note was found. His official Instagram page was Memorialized after the news spread like wildfire on social media. Later on, it was to find out that the suicide was a prank organized by himself, obviously to seek attention.

K-pop fans, most especially the ARMY (BTS fandom), stormed and criticized the Korean-wannabe star for his disrespectful act. Fans thought it was insulting, especially since many worldwide are dealing with mental illness, especially under this global pandemic.
In short, Oli London solicited (and received) viral attention by claiming to be "transracial" and stating they "identified as Korean." The many outlets repeating the claims without additional verification did not seem to scroll back through London's June 2021 social media activity to see that they appeared to have a history chasing (and perhaps fabricating) sensational claims in order to receive media attention.