A property management company in Asheville, North Carolina became one of several symbols of landlord excess for social media users in June 2020, after a prospective tenant revealed that she was asked to provide a year's worth rent before moving in.
"I just feel stressed out about finding a spot to move in," Rachel Atkins said about her dealings with WNC Property Management. "It's already a tricky market without adding in all these layers."
As the local Mountain Xpress reported, Atkins and her partner sent an application to the company to rent a local house. She later posted the response online: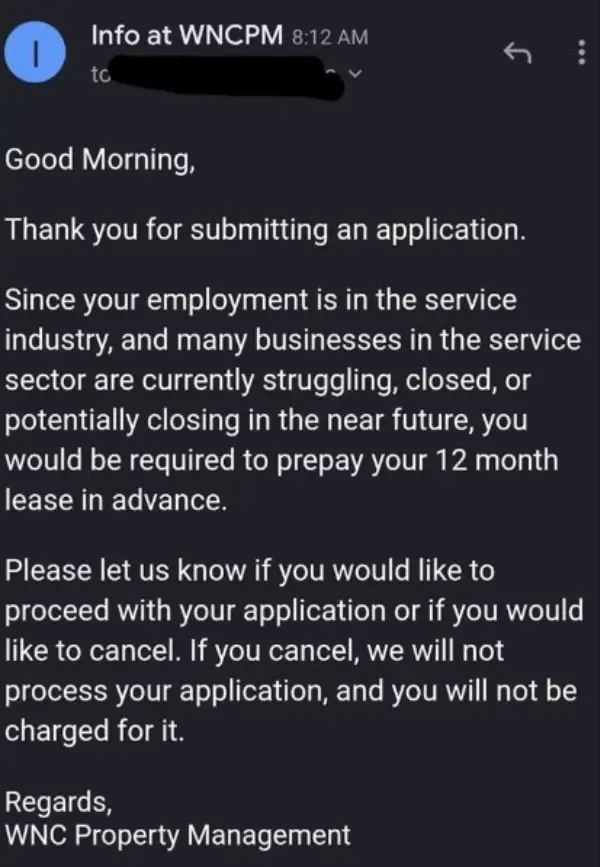 Since your employment is in the service industry, and many businesses in the service industry are currently struggling, closed or potentially closing in the near future, you would be required to prepay your 12-month lease in advance.
According to Atkins, paying twelve months of rent up front would have cost her $14,400. When she offered to provide pay stubs and verification of her employment, WNC reportedly said in response, "There is a good chance that many businesses in the service industry will be closing over the next twelve months."
While state law does not address advance rent payments, it does stipulate that security deposits "shall not exceed an amount equal to two weeks' rent if a tenancy is week to week, one and one-half months' rent if a tenancy is month to month, and two months' rent for terms greater than month to month." However Jim Barrett, executive director of the non-profit group Pisgah Legal Services, said that WNC's request probably would not have violated the law.
"This practice probably does not violate the Fair Housing laws because working in a particular job is not a protected class, ordinarily," he told the Xpress. "Landlords can discriminate based on credit checks, so I guess landlords can require a prospective tenant to demonstrate ability to pay."
Atkins' case received more attention online after a separate user reprinted her photograph of WNC's response on Facebook on June 26 2020. As the posts spread, criticism of WNC took on other forms online; the company's Yelp page now carries a one-star rating, and a Google search for the company now shows that a user suggested "garbage dump" as a suitable category listing: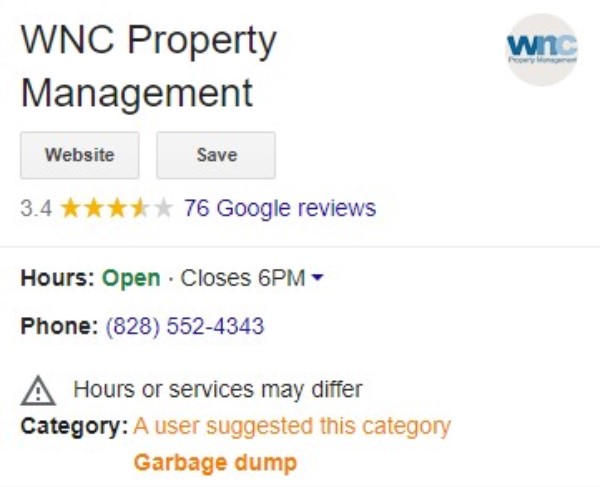 The company responded with a statement on its own Facebook page:
First, we'd like to stress that prepaid lease agreements are not our company policy. For this one particular property however, the homeowner required us to request 12-months upfront for anyone who could not verify a substantial income. This is simply due to a recent situation they went through, and they rely on rent income to get by, and we are obligated to uphold our client requests as they are the official owners.

This policy is NOT in place for any other property. And we have since chosen to remove this property from the market and not to relist the property unless it can be offered without the prepaid requirement.

As for everyone in this community – we stand with you! We're sorry that our initial email didn't fully explain the situation, and aside from 12-months being extremely rare for someone to have onhand, we know these are really tough times for everyone. We have also been heavily impacted over the last few months and have even stopped services that we've offered since 2014.

We want to do the right thing and we support the community. We hope we come out at the end of this pandemic soon, and stronger together.
WNC subsequently added that it had taken the listing off of the market, adding, "The only way that we will continue to represent that property is if there is no rent prepayment requirement for qualified applicants, regardless of the industry they work in."
It is unclear if the "recent situation" mentioned by WNC is related to the spread of the COVID-19 pandemic and its effects on the local service industry. According to the local Citizen Times newspaper, restaurants in the city have been allowed to reopen with a limit of 50 percent capacity, though visitors are required to wear face coverings to enter.