On June 14 2020, the Facebook page "The Sharp Truth" shared the following post and lambasted Black Lives Matter activists for purportedly vandalizing the Powdersville Cemetery in Anderson County, South Carolina:
The text, which appeared with five photographs showing destroyed gravestones, said:
This is who BLM really is. They defaced and desecrated a Cemetery. Don't let the media and Facebook lie to you. BLM is a violent cult that wants to destroy America and the family.
On the main "The Sharp Truth" Facebook page, a litany of questionable racism-related posts appeared, alongside screenshots of warnings received by page owners over notices from Facebook regarding shares of false information or hate speech:
The post appeared ten days after a June 4 2020 article by Greenville News, which featured a far less inflammatory headline: "Powdersville cemetery vandalized with tombstones knocked over and graffiti left." It reported:
Several tombstones were knocked over and graffiti was left [on June 2 or 3 2020] at a Powdersville cemetery.

[…]

The damage to about 20 stones appears minimal, most were tipped and only one appears to have an obvious break, and the insurance company has already been contacted, he said.

The graffiti included "Black Lives Matter," "George" and "Floyd."
Troy Harrison, senior pastor of Siloam Baptist Church (which maintains the graveyard), spoke to the news organization about the vandalism, and he speculated that it might have been intended to reflect poorly on the Black Lives Matter movement:
The graffiti may not reflect who did the vandalism, Harrison said. The stones will be cleaned and put back in place soon, Harrison said.

"It's incredibly sad that someone would do something that would cause so much pain," Harrison said.
On Facebook, the official page for the Anderson County Sheriff's Office shared a post about the incident on June 4 2020:
However, no updates about the investigation or any suspects had been shared by the Office on Facebook. We were unable to locate any news reports about whether the Sheriff's Office made any progress in locating the person or people responsible.
Greenville News reported the incident on June 4 2020, and "The Sharp Truth" shared the post on June 14 2020. The page either failed to find or neglected to mention a June 12 2020 report from WYFF, indicating that community volunteer Remar Rucker had power-washed the affected headstones:
Remar Rucker, owner of BEE Clean Pressure Washing Services, cleaned over 20 tombstones in Siloam Cemetery in Powdersville free of charge after someone spray painted "Black Lives Matter," "George Floyd," and other messages across the tombstones in black paint.

"Of course, when I saw it, I knew there was something I could do to help," said Rucker. "I'm just a helping guy. I like to see people smile."

Rucker arrived unannounced at Siloam Cemetery in the evening hours of Friday, June 5 [2020], and began cleaning the graffiti off the tombstones. WYFF News 4's Allen Devlin was scheduled to photograph the tombstones that evening and coincidentally arrived at the same time as Rucker and began documenting the cleaning process.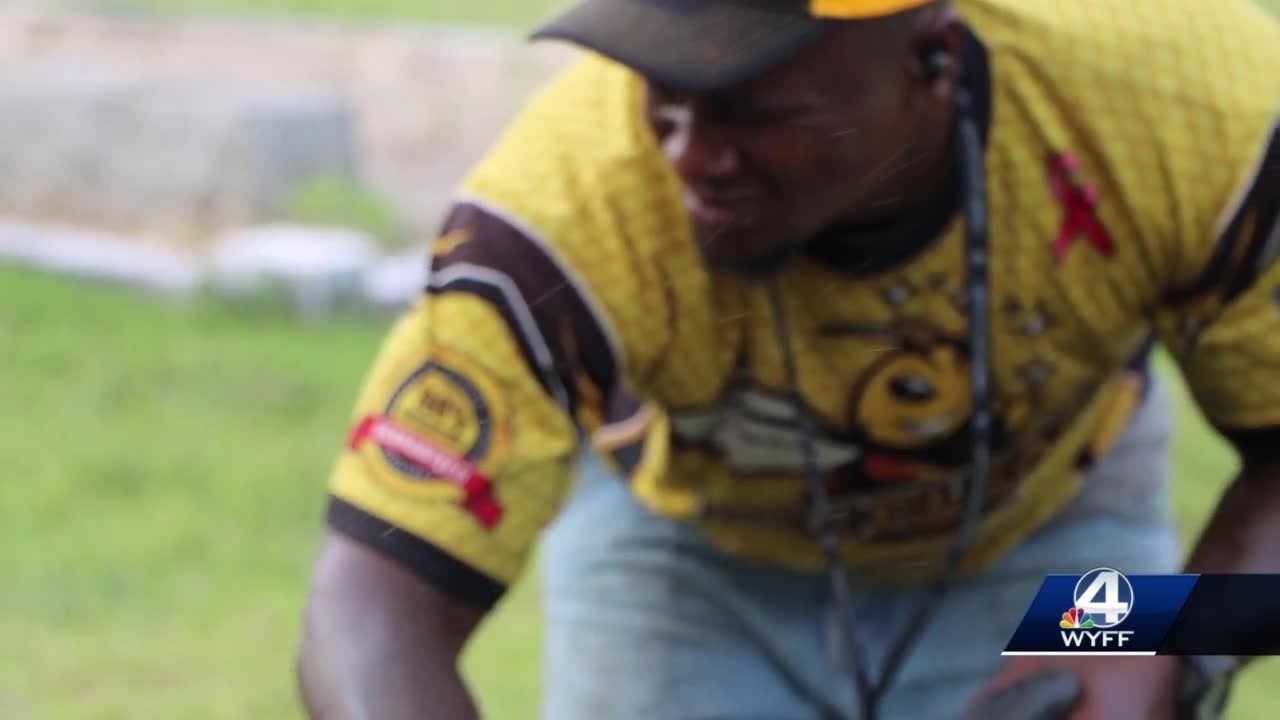 Per that story, the Anderson County Sheriff's office was "still investigating the vandalism" as of June 12 2020.
The Sharp Truth's post about the Powdersville Cemetery appeared just a few days after a viral false claim about Black Lives Matter protesters vandalizing a Pensacola war memorial. In actuality, the damage was several years old, and occurred during what was described as a "lawnmower accident":
On June 13 2020, KTRK-TV in Houston covered a spate of similar false claims about ongoing protests, Black Lives Matter, and in one instance, a rumor the Lincoln Memorial was vandalized. PolitiFact examined a similar claim about damage to a Vietnam War memorial in California — also false.
Back on June 3 2020, FactCheck.org looked at another cluster of rumors about damage purportedly done by protesters to various memorial sites and monuments. Three of the four images in that post were old and unrelated to the protests:
One image is a police department photo from Henderson, Kentucky, from 2016 that shows a wrecked Memorial Day display of crosses at a park. A man was arrested for driving his car through the display, according to Time.
Another image, also from 2016, shows graffiti on a memorial for Vietnam War veterans in Los Angeles. The same photo can be seen in an Associated Press report about the sentencing of the 24-year-old man responsible.
A third image depicts a smashed stone memorial for Lt. Michael P. Murphy in Suffolk County, New York. Murphy was a Navy Seal killed in Afghanistan who received the Medal of Honor posthumously. A 14-year-old boy was arrested in July 2018 for vandalizing the memorial, according to the Suffolk County Police Department
The only image from 2020 out of those four appeared in a May 31 2020 tweet by the National Parks Service/National Mall and Memorial Parks:
It is true that between June 2 and June 3 2020, "BLM," "George," and "Floyd" were spray painted on headstones at a South Carolina cemetery, and it is further true that as of June 14 2020, the local police had provided no updates about whether any suspects had been identified. A viral post about the damage seemed to be designed to stoke racial animus during a time of extreme tensions. Finally, the post went viral during a time when disinformation purveyors had already spread several false rumors about Black Lives Matter activists desecrating cemeteries; Siloam Baptist Church pastor Troy Harrison noted that the damage inflicted might be done in an effort to reflect poorly on the movement.